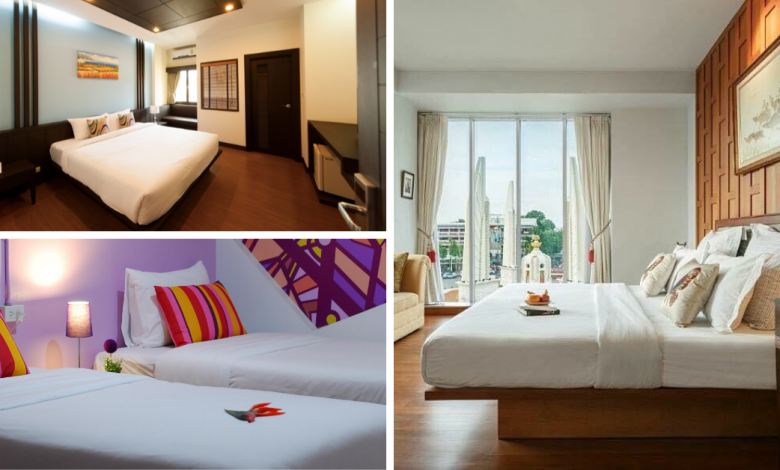 Hello, travellers! Any seasoned traveller would know that finding a perfect hotel is just as important as finding the best places to eat. In a vibrant city like Bangkok, there are more than 300 hotels to choose from and you'd spend hours browsing to find the perfect hotel. If hotels are your usual go-to, why not let the charm of a guesthouse enchant you this time round? This is a list of 10 affordable guesthouses that include all essentials like bathrooms, free WiFi, and 24-hour reception desks!
10 Affordable Guesthouses In Bangkok That Are Clean And Comfortable
1. Baan Dinso Hostel
First off, Baan Dinso is a boutique hostel with nine rooms for accommodation. The hostel is decorated with 1950's Thai house styles. This hostel features all basic amenities that you can find in a standard hotel such as wireless internet.
Plus, they have a computer room that guests can use free of charge. Besides that, there are a selection of DVD movies that guest can borrow to watch in their rooms! Guests can also enjoy fresh breakfasts every morning at the front porch of the house with both continental and Thai style breakfast servings.
Address: 113 Trok Sin, Dinso Rd. Pranakorn Bovornnivate, Bangkok, Thailand 10200
Telephone: +6696-565-9795
Rate: THB 800 – THB 2,400
2. Padi Madi Boutique Guest House
Padi Madi is a guest house that has modern and comfortable retreat vibes right in the heart of Bangkok. They pride themselves on providing quality service, comfort, style and value for money. Plus, reviews have noted that their staff welcome you in a warm and friendly environment!
This guesthouse is located in the trendy area of the "Thonglor" neighbourhood that is right in the center of Bangkok. Padi Madi is perfect for vacationers and business travellers alike. This place is also surrounded by the best dining, shopping, leisure and also, nightlife! Check-in this place if you really want to get the best of what Bangkok has to offer!
Address: 2/7 Sukhumvit 53 Alley, Khwaeng Khlong Tan Nuea, Khet Watthana, Bangkok 10110, Thailand
Telephone: +6693-016-6927
Rate: THB 2,400 – THB 3,750
3. 63 Bangkok Boutique Hostel
This boutique hostel located in Sukhumvit, Bangkok is perfect for young travellers because it's really trendy! 63 Bangkok has 42 chic rooms that has high-speed internet all over the residence. You can rest assure that your comfort will be guaranteed when you stay at 63 Bangkok!
They've also got a co-working space if you're looking to do some work or even better, some research on where to eat in Bangkok! It's cosy and quiet, perfect for when you need some me-time. If you are reading this article, you're probably heading to Bangkok, so, why not check out this article herefor where you can find the best tom yum goong around town!
Address: 1323 / 2 Sukhumvit Rd, Khlong Tan Nuea, Watthana, Bangkok 10110, Thailand
Telephone: +6694-493-3518
Rate: THB 999 – THB 1,599
4. Tara Place
Tara Place is in the Banglumpoo area, where traditional culture of the old Bangkok city still remains for foreigners to experience. This hotel contains modern lifestyle interiors that have a perfect combination of being lively yet peaceful.
Tara Place is also near Khaosan Road, it is a 5-minute walk away where tourists can enjoy some sight-seeing and of course, Thai food! Another plus, an old Thai fortress, Pom Phra Sumen is also nearby and is within walking distance. If location is important to you when travelling, this guesthouse is your go-to!
Address: 113,117 Samsen Road, Samphraya, Phra Nakhorn, Bangkok 10200
Telephone: +6626-271-0013
Rate: THB 1,875 – THB 3,750
5. River View Residence (formerly River View Guest House)
After 35 years in operation and a major transition, this residence run by a Thai family has refurnished their guest house into a stunning hotel-like residence. River View Residence will certainly delight international travellers with their new rooms and better service.
They offer authentic Thai service in the heart of Talad Noi, that is adjacent to Chinatown. And, this place offers the best view of the Chao Phraya river and there's no better place than this to enjoy scenic views of the famous Thai river.
Address: 768, Trok Wanit 2, Songvard Road Talad Noi, Sampanthawong, Bangkok, 10100
Telephone: +6697-129-5429
Rate: THB 850 – THB 1,800
6. The Bangkokians City Garden Home
Rooms at The Bangkokians City Garden Home is delicately designed with the concept of Thai living in a contemporary age giving a boutique atmosphere to the entire accommodation. With four different houses named after a colour, each of the rooms in the house has its own unique layout and style.
This guesthouse is complete with beds, comfy mattresses, FREE Internet WiFi, hot showers, refrigerators, clean towels and even, shampoo and shower gels! More good news, they provide complimentary bottled water! This place is great for a quick cat-nap and rest before you head out and about to explore Bangkok city!
Address: 335 /1 Ratchaprarop Soi 12, Ratchaprarop Road, Makkasan, Ratchathewi, Bangkok 10400
Telephone: +6602-245-4472
Rate: THB 855 – THB 1,450
7. Sakul House
Sakul House is a brand new hotel, located on Soi Rambuttri, one small block from the renowned Khaosan Road, with similar atmosphere and activities. This guesthouse is a good pick for those looking for cosy, simple, and comfortable room settings.
Address: 108/17 Soi Rambuttri, Banglumpoo, Bangkok 10200 Thailand
Telephone: +6622-816-6267
Rate: Unavailable at time of publishing (check website for more details)
8. Bangkok Bed & Bike Guesthouse
Bangkok Bed & Bike is a guesthouse for all holiday makers who enjoy backpack travelling. This place has super easy walking access to different wonders of Bangkok! For instance, there's the Grand Palace, Bangkok Pillar City Shrine, and the National Museum which are 5 minutes walk away.
This guesthouse is great for solo-travellers or couples because they'e got single beds and bunk beds. Also, this place is great for meeting travellers from all around the world so it's good for making new friends if you like to do that when you're travelling.
Address: 19/6-7 Sikak Phrayasi, Wangburaphaphirom, Phra Nakorn, Bangkok, Thailand 10200
Telephone: +6694-487-8058
Rate: THB 400 – THB 2,300
9. Buddy Lodge Hotel
Buddy Lodge is actually a hotel but it's definitely a really cosy hotel that guests can relax in. It is a Thai colonial hotel that is right in the middle of the shopping and entertainment street of Khaosan Road. The hotel is located at the historical core of Bangkok so be sure to check out historical attractions within the area!
This hotel is in the best and most convenient location because it allows tourists to wander around historical attractions near Khaosan Road and also return to the hotel for a quick cat-nap if they need it. It provides comfortable facilities and friendly service to cater to travellers from all over the globe!
Address: 265 Khaosan Rd, Taladyod Pranakorn Bangkok 10200, Thailand
Telephone: +6602-629-4477
Rate: THB 1,189 – THB 1,870
10. Around The World Bed And Breakfast
This place is called Around the World (ATW) and it is a newly opened unique bed and breakfast guesthouse right in Bangkok city. As the name suggests, rooms at this guesthouse have their own theme depending on different regions and cultures from around the world.
This guesthouse prides themselves on providing wonderful experiences and stories to their guests with their welcoming hospitality. Be sure to check them out if you want to feel like you've travelled to so many places even when you're just in Bangkok!
Address: 2043 Phatthanakan Rd, Suan Luang, Bangkok 10250, Thailand
Telephone: +6695-390-0523
Rate: THB 950 – THB 1,300
10 Affordable Guesthouses and Hotels That You Should Check Out In Bangkok
So, that makes the list of 10 accommodation places that you should definitely consider staying in because they've got everything you need and a bonus, they're really affordable! It'll be great for saving up more money to spend on food, simply because you're in the food haven of Thailand! Bye for now and we hope you enjoy your stay!
Read: 8 Places For The Best Tom Yum In Bangkok
–
We would like to invite you to join our New Private Community Group! Here you are free to ask questions, share your love for food, and explore the Bangkok community! We will also regularly post about casual promos and latest findings.
Click on the button below and hunt good food with us today!