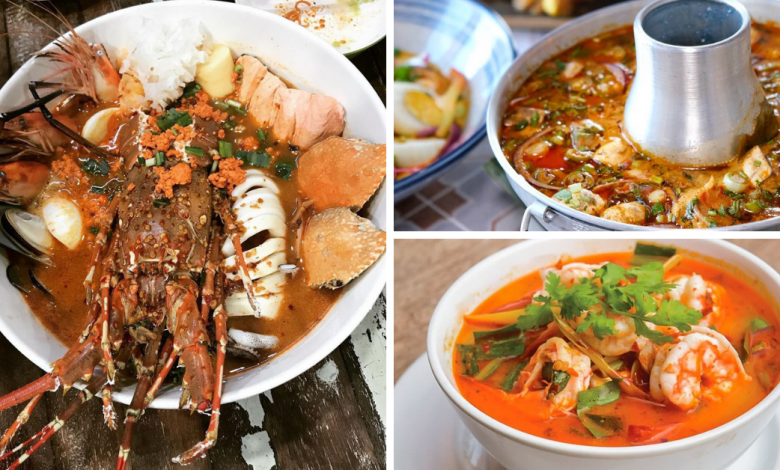 Sawasdee, foodies! There is no doubt that tom yum soup or tom yum goong is probably one of the most famous Thai dishes in the world. "Tom" is the Thai word for "boil" and "yum" in Thai literally means marrying together ingredients to achieve sweet, sour and spicy flavour notes all at once. Put them together and you get one super yummy bowl of Thai soup! Besides that, add the word "goong" which is "prawns" in Thai and it becomes a seafood broth delight!
8 Must-Try Places For Delicious Tom Yum Goong And Tom Yum Noodles In Bangkok
1. Tom Yum Kung Banglamphu [ร้านต้มยำกุ้งบางลำพู]
Tom Yum Kung Banglamphu (ร้านต้มยำกุ้งบางลำพู) is a Thai street food stall in front of the Banglamphu parking lot. This Thai street food stall specialises in "goong", which means prawns in Thai. And, you can bet that their tom yam broth is full of shrimp flavour! It's deliciously sweet and spicy!
You can also enjoy other dishes here like garlic fried shrimp, fried fish cake, stir fried kale, and stir fried clams! But, be sure to order their Tom Yum Kung because it's truly authentic and is bursting with Thai flavours!
Tom Yum Kung Banglamphu
Address: Soi Kraisi, Talat Yot, Phra Nakhon, Bangkok 10200, Thailand
Operating hours: Daily; 9AM to 2PM; Closed on Mondays
2. Tom Yum Kung Restaurant
This restaurant in the Banglamphu district in Bangkok has indeed created the perfect tom yum goong! Their tom yum goong has the perfect balance of flavours, you can literally taste all the sweet, sour and the salty in one sip! Plus, they serve it with huge prawns so it'll be a shrimp fest!
Having recently renovated their interiors and exteriors, Tom Yum Kung Restaurant has definitely done their in part in attracting foreigners who want a good taste of authentic Thai food.
Address: 9 Khaosan Rd, Taladyod Phra Nakhon, Bangkok 10200, Thailand
Operating hours: Daily; 11AM to 2AM
3. T&K Seafood
You can find T&K Seafood in one of the busy streets in Bangkok's Chinatown. This restaurant serves one of the best tom yum soups in the city and you'll definitely love it! It comes to the table in a Thai hot-pot style pot with a fire beneath so that their yummy broth stays warm and heated for you to enjoy.
Their tom yum goong is not the only thing to be enjoyed, you should check out their other local Thai dishes too! This is the only T&K Seafood restaurant outlet in Chinatown so, do manage expectations about having to queue for quite a while for a table! Nevertheless, it'll definitely be worth the wait!
Address: 49 51 Phadung Dao Rd, Samphanthawong, Bangkok 10100, Thailand
Operating hours: Daily; 4PM to 2AM
4. Somboon Seafood
Somboon Seafood Restaurant in Bangkok is no ordinary restaurant because this place is Michelin-starred! It is a 5-star Thailand restaurant that has over 7 branches in Bangkok so you'll definitely be able to find the nearest wherever you are. Order their tom yum goong and be delighted with impeccable cooking as well as reasonable prices because Somboon Seafood has plenty to offer!
Besides their delectable tom yum goong, you should also try their other traditional Thai food such as garlic fried mantis prawn, glass noodles, and of course, their famous crab! We have no doubt that it'll be a delicious Thai food feast!
Address and operating hours: Multiple outlets; see here.
5. Rung Reung Pork Noodles
Rung Reung is a noodle house, mostly selling pork noodles in different cooking styles. They have dry pork noodles and soup pork noodles that are either in regular broth or tom yum broth. And of course, you can't leave without trying their tom yum pork noodles! Be careful because their tom yum soup is tangy and has a real spicy kick!
You should also try their crispy fried fish skin, it's salty and goes so well with their pork noodles! This is the go-to place for those looking for a hearty bowl of noodles! Plus, it's hot and spicy tom yum noodles, so yums right?
Address: 10 3 Sukhumvit 26 Alley, Khlong Tan, Khlong Toei, Bangkok 10110, Thailand
Operating hours: Daily; 830AM to 5PM
6. P'Aor Restaurant
If you're looking for your taste buds to be impressed, you've got to try lobster tom yum noodles at P'Aor. When you are served, you'll be wowed by a giant bowl of tom yum noodles with a beautiful lobster right in the middle of it. Their broth is creamy and you can taste plenty of seafood like prawns, squid and even mussels!
When you dine at P'Aor, it's really eating like a local because it's completely authentic Thai flavours that aren't watered down to suit foreign tastes. Other must-tries: kuay teow tom yum goong nam khon, ba mee yok gai ob and khao goong rad sauce man boo.
Address: 68 51 Phetchaburi Rd, Thung Phaya Thai, Ratchathewi, Bangkok 10400, Thailand
Operating hours: Daily; 10AM-9PM; Closed on Mondays
7. Ban Khun Mae
Ban Khun Mae prides themselves for serving authentic Thai cuisine because their recipes have been passed down from generation to generation. Therefore, you can guarantee that their tom yum goong would be super yummy because its secret recipe has been exchanged over generations of local Thai people!
You can find this restaurant at the heart of Bangkok city, right at Siam Square! Be sure to try out their other Thai dishes too because we bet it'll be experiencing Thai food like a local!
Address: 458/7-9 ซอยสยามซอย 8 Rama I Rd, Pathum Wan, Pathum Wan District, Bangkok 10330, Thailand
Operating hours: Daily, 11AM to 10PM
Check out: 10 Best Breakfast You Have To Try In Bangkok (2019 Guide)
8. Laem Charoen Seafood
Their bestseller would be the tom yum goong that's served in a hot-pot style. Being a seafood restaurant, don't be shocked to find so many different kinds of seafood in your soup! You'd be able to taste fresh seafood like fish, prawns, crabs, and mussels! It'll be a seafood galore dinner date!
Laem Charoen Seafood has been around since 1979 so you can bet that they serve up Thai dishes that are true to the local flavours! In addition, this restaurant chain has over 15 branches in Thailand. The most popular branch would be the Siam Paragon branch on the 4th floor which has a warm and cosy atmosphere!
Laem Charoen Seafood
Address and operating hours: Multiple outlets; see here.
8 Best Places For Tom Yum Goong You Should Try In Bangkok (2019 Guide)
There you have it, those are the 8 best places where you can find authentic tom yum goong in Bangkok, Thailand. Don't worry about these soups being watered down or made less spicy because these restaurants stay true to their Thai roots and ensure that they bring the heat to what a bowl of tom yum goong should be! Sluuuurp away and enjoy!
Feature image credit: @joannesh11 (Instagram), @chiangraito (Instagram), @anytimecafe_pattaya