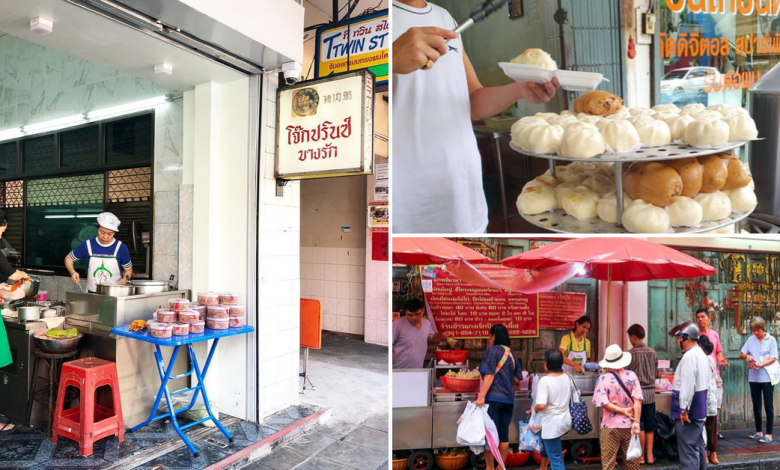 Hello, foodies! Bangkok is inevitably one of the most popular food scenes in the world. There's almost nothing quite like Thai street food. It is a quintessential part of the local culture and experience in Thailand to delight your palate with street food. What better way to start of your days in a city like Bangkok than with Thai breakfast dishes! Check out this list below for 10 super yummy breakfast food that the Thai locals love to enjoy!
10 Most Popular Breakfast Food You Can Find In Bangkok, Thailand
1. Joke (โจ๊ก) – Porridge
When in search for comfort food, this Thai version of congee or porridge is as comforting as it gets. Jok (pronounced as joke) is usually served with a cracked egg, some minced meat, spring onions, ginger and soy sauce. At every morning market in Bangkok, you should be able to find at least one vendor selling this hearty Thai breakfast. But, you should try Jok Prince because this congee stall has a Michelin star!
Must-try: Jok Prince
Address: 1391 Charoen Krung Road, Silom, Bangkok
Operating hours: Daily, 6AM-12PM; 4PM-10PM
2. Patongo (ปาท่องโก๋) – Fried Donut
The equivalent to Chinese fried dough (you tiao), Patongo (ปาท่องโก๋) is a bit different because it is salty instead of sweet. This is a very common breakfast snack among Thai locals. Plus, it's great for on-the-go because you can buy a bag to takeaway. Not to mention the fact that it'll taste amazing with a hot cuppa coffee or tea!
You'd think that something as simple as fried dough wouldn't get the attention of food critics like Michelin but, think again! This street food vendor in Bangkok has earned the coveted Michelin star for his handmade patongo (ปาท่องโก๋)! It's definitely worth making a stop at Pa Tong Go Savoey to snack on these golden brown delights! The stall only opens at 6PM but who's to say no to a famous Thai breakfast snack for dinner?
Must-eat: Pa Tong Go Savoey 
Address: 489 Song Sawat Intersection, Yaowarat Road, Bangkok
Operating Hours: Tuesday to Sunday, 6PM-1030PM; Closed on Mondays
3. Khao Tom (ข้าวต้ม) – Boiled Rice Soup
Khao tom (ข้าวต้ม) is quite similar to joke (โจ๊ก) because they are both rice dishes. But, khao tom (ข้าวต้ม) is more of cooked rice in soup and it usually comes with different types of seafood or commonly with fish. In addition, khao tom (ข้าวต้ม) is not just a breakfast favourite, lots of Thai folks like to eat it for a late night dinner.
Sometimes, even a plain bowl of rice soup and some fresh seafood becomes a great meal. That is the case for khao tom and if you're in Bangkok, you should head to Khao Tom Pla Kimpo for the freshest of fish meat in your rice soup bowl. Once again, another simple food stall in Bangkok earns its Michelin star!
Must-eat: Khao Tom Pla Kimpo
Address: 1897 Charoen Krung Road, Bangkok
Operating hours: Daily, 6PM-12AM
4. Kai Luak (ไข่ลวก) – Soft Boiled Eggs
For traditional breakfast goers, nothing brightens your day than simple soft boiled eggs. In Thailand, soft boiled eggs usually come in a shot glass, known locally as kai luak (ไข่ลวก). You can find kai luak (ไข่ลวก) at street food stalls and even restaurants that serve tea and coffee for breakfast.
It is said that kai luak (ไข่ลวก) is more known as a manly breakfast because it is mostly popular with working class men who usually make a quick stop to drink a few eggs and have coffee. Besides that, kai luak (ไข่ลวก) also goes really well with patongo (ปาท่องโก๋) too! Doesn't fried donuts and soft boiled eggs sound like a great meal? We think so!
5. Tom Luad Moo (ต้มเลือดหมู) – Boiled Pork Soup
Another local Thai breakfast must-try, this breakfast dish is called Tom Luad Moo (ต้มเลือดหมู). This dish is quite a filling breakfast meal because it translates to "boiled pork blood". So, you can already tell that it's going to be a protein packed morning meal! A bowl of tom luad moo (ต้มเลือดหมู) comes with different pork parts like intestines, liver, lungs and then the coagulated pig's blood that's essentially the core of the dish.
The broth is mostly pork flavoured but you can always add chilli or even vinegar to level up those Thai flavours. Tom luad moo (ต้มเลือดหมู) usually comes with a bowl of rice, making it a complete breakfast! This dish is quite a Thai breakfast staple so be sure to try it!
6. Salapao (ซาลาเปา) – Steamed Buns
Every once in awhile, we are all in search for a good steamed bun to soothe our tummy and Bangkok is not short of these buns because you can find them almost anywhere! Another easy on-the-go Thai breakfast option, salapao (ซาลาเปา) are steamed buns with different fillings. Usually smaller in size and popular filling options include barbecued pork, minced pork, sweet red beans or even cream!
Don't you worry about finding these just in Bangkok, you can find many street food vendors selling salapao (ซาลาเปา) all over Thailand! But we're here to help, you should check out Waraporn Salapao for some delicious steamed buns and other Thai dishes too!
Must-try: Waraporn Salapao
Address: 594 Nakhon Sawan Rd, Si Yaek Maha Nak, Dusit District, Bangkok 10300, Thailand
Operating hours: Daily, 6AM-7PM
7. Khao Kai Jeow (ข้าวไข่เจียว) – Rice And Omelette
This is an eggcellent breakfast dish because it's eggs – fried eggs to be specific, and who doesn't want that? Stroll along the streets of Bangkok in the morning, and there will definitely be locals eating this classic Thai breakfast dish. The best part of this dish is that you can pick your own omelette fillings! Choose from minced pork, onions, and different types of small vegetables.
When there's a mention of Thai-style omelette, word straight goes to Jay Fai and her famous crab meat khao kai jeow (ข้าวไข่เจียว). If it's one thing you must do in Bangkok or in Thailand, this would be it. Head over to her Michelin star awarded restaurant for amazing Thai street food.
Must-try: Raan Jay Fai 
Address: 327 Maha Chai Rd, Samran Rat, Phra Nakhon, Bangkok 10200, Thailand
Operating hours: Tuesday to Saturday, 2PM-12AM; Closed on Sundays and Mondays
8. Khao Neow Sang Kaya (ข้าวเหนียวสังขยา) – Sticky Rice With Custard
Sweet eats for breakfast is always a good idea! If you've got a sweet tooth, this Thai breakfast dish called, khao neow sang kaya (ข้าวเหนียวสังขยา) is perfect for you! It's basically sticky rice topped with some custard and then wrapped in a banana leaf package.
You can opt for both black sticky rice and white sticky rice but, we bet it'll both be really yummy! If you're keen on trying one of the best versions of khao neow sang kaya (ข้าวเหนียวสังขยา), head to Silom, a popular street in Bangkok for loads of delicious street food!
9. Khao Neow Moo Ping (ข้าวเหนียวหมูปิ้ง) – Grilled Pork Skewers
Moo ping (หมูปิ้ง) are essentially grilled pork skewers and you can find them at every corner in Thailand. In addition, these pork skewers are available almost anywhere in Bangkok. At any time of day, there will definitely be a street vendor selling moo ping (หมูปิ้ง)! That's exactly why you can also eat it for breakfast, and wouldn't that be glorious? (Our kind of breakfast, really!)
Moo ping (หมูปิ้ง) is usually combined with sticky rice so that makes it a full meal. Just perfect for starting off your day with something filling! You can find them along the street at the morning markets in Bangkok, we're sure you won't miss them!
10. Khao Rad Gaeng (ข้าวราดแกง) – Rice And Curry
If you truly want to eat like a Thai local, you've got to eat Khao Rad Gaeng (ข้าวราดแกง) for breakfast. This is ideally breakfast for champions, we would say. Khao Rad Gaeng (ข้าวราดแกง) is simply just rice and curry. Be it red curry or green curry, it's going to be heavenly Thai curry! Don't worry about limited choices because curry vendors will be selling so many different varieties of curry. Time to move to Bangkok, am I right?
Read also: 10 Romantic Restaurants With A View In Bangkok
Thai curry goes so well with rice, we bet you couldn't just eat one plate of it! Plus, add a fried egg on top to make it a breakfast meal, why don't you! For one of the most famous Thai curries, you must visit this street food vendor called, Jek Pui Curry! Their curries are simply divine, we're absolutely sure you'd love it.
Must-eat: Jek Pui Curry 
Address: 19 25 Mangkon Rd, Pom Prap, Pom Prap Sattru Phai, Bangkok 10100, Thailand
Operating hours: Daily, 3PM-8PM
10 Breakfast Bangkok That Is Worth Trying 2020
It's no doubt that Bangkok has one of the best food scenes in the world and this list only summarises breakfast food! There's so much more to discover and enjoy for lunch and dinner, it's best if you do it like a local Thai. Time to book a flight to Bangkok because these dishes will definitely be worth it!
Feature image credit (from left to right): @parenthetical.pilgrim (Flickr); @btongcs (Pinterest); @trippy.bear_ (Instagram)