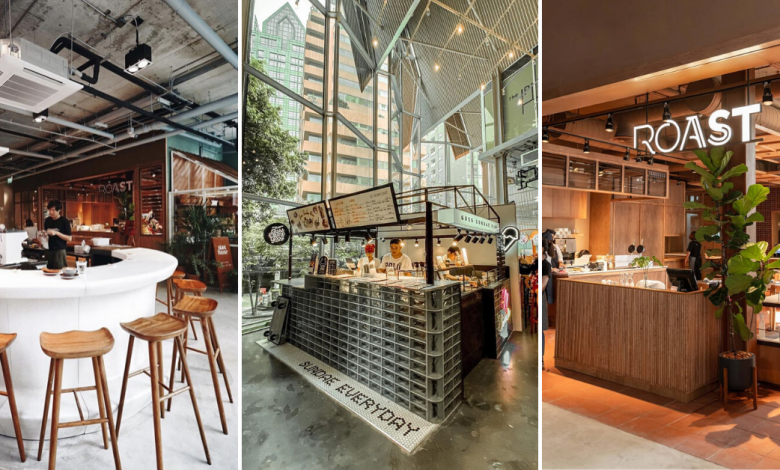 Hello, our dearest foodie! If you're lost on track for new places to eat and want to make sure it'll be gorgeous enough to feed your 'gram, then we've got you covered. Today, we're not going to explore just one cafe or restaurant but a community mall that's home to chic cafes and trendy eateries. From the much-raved Bun Meat & Cheese to specialty coffee cafe Roots, here are the 7 spots to eat at the most hipster ground in Bangkok, The Commons Saladaeng.
Bangkok's Newest Trending Ground: The Commons Saladaeng
Designed by the same architecture firm as its sister mall The Commons Thonglor, The Commons Saladaeng is divided into three main floors. Each given with a unique name like The Ground, The Market and thePlatform.
Spread over these floors, this industrial themed community mall houses more than 20 cafes, dining options and a dedicated open space for events and workshops. Anyways, since we've talked about how cool this place is, let's kick start with the top 7 spots to eat here!
1. Roots
A specialty coffee roaster that dedicates their time in producing quality coffee, Roots is a coffee pioneer that focuses on Thai coffee. Tucked in on the first floor (The Grounds), you'll easily spot this place even with your eyes closed because coffee aroma just rushes out from here. Here, expect to find a traditional range of coffee from espresso to drip brews and fresh homemade pastries that go perfectly with your coffee.
Operating Hours: 7AM – 7:30PM
2. Roast
Another must-visit spot that's located on The Grounds is Roast. This is a place that uses the freshest ingredients to make high-quality comfort food. Serving mostly Western-based dishes, they've got it covered from typical brunch menu to pasta and even strawberry waffles! Here's a little tip to get you started if you're stuck with what to order: Try their Truffle Alfredo! Thin pasta noodles that soak up the rich truffle fragrance from the creamy sauce, you won't regret this!
Operating Hours: 10AM – 10PM
3. Bun Meat & Cheese
Next up the list is Bun Meat & Cheese. As straight forward as the name itself, have you guessed what this shop sells? If you guessed burger, then you've got it right! Originally a burger pop-up store with a 'pay what you feel' system, Bun Meat & Cheese broke the internet in 2018 with a long waitlist. Famous for juicy patties that is cooked to medium-rare and sandwiched between fluffy Japanese buns, it's something you'll come back for more!
Operating Hours: 11:30AM – 10PM
4. The Lobster Lab
Any seafood lovers here? If you're one seafood fanatic, then this place is dedicated to you. Serving only lobster dishes, The Lobster Lab is the first spot in Bangkok to do so. And the best part of all, all their lobsters are fresh from the farms of Maine and Canada! With options of whole or half split lobsters to lobster sandwiches, they're all available at an affordable price. It's definitely a place you can't find elsewhere.
Operating Hours: 11AM – 11PM
5. Boon Tong Kee
Sound a bit familiar? Well, don't worry if you haven't tried it before because this is a popular chicken rice food chain from Singapore. Established in 1979 and still consistent in quality, Boon Tong Kee is the place to go for tender smooth chicken. Paired with their chicken rice that isn't too oily and refreshing chili sauce, this is a dish that can't go wrong.
Operating Hours: (Sat-Thurs) 10AM – 9PM | (Fri) 10AM-10PM | Closes on Sunday
6. Cantina
Pizza lovers, it's your turn to shine now! If you asked us what's the one thing to order at Cantina's Pizzeria, then it's got to be their pizza. Offering unique styles of pizza that originates from Naples, Italy, the ingredients they use are simple, natural and high quality. Topped with overflowing tomato sauce that rests on the thin crust, it's a place in Bangkok that brings you the best of what Italy can offer!
Operating Hours: 12PM – Midnight
7. Lykke
Last but not least, we've got a sweet place to cleanse your palate! If you're expecting cakes and ice cream, then we're here to introduce a new type of dessert. Specialising in yogurt, Lykke is a place where you can customize your own Greek yogurt with toppings. Otherwise, you can also try their signature Strawberry Honeycomb or Honey Yuzu to kick it off!
Operating Hours: 10AM – 10PM
Alright, foodies! We hope we've added a new trendy spot to your to-do list for the weekends. And if you're a visitor to Bangkok, we recommend you to give this place a visit because the architecture and eateries are worth thousands of photos. Anyways, will you visit this spot? Let us know in the comment box and see you in the next post.
–
We would like to invite you to join our New Private Community Group! Here you are free to ask questions, share your love for food, and explore the Bangkok community! We will also regularly post about casual promos and latest findings.
Click on the button below and hunt good food with us today!