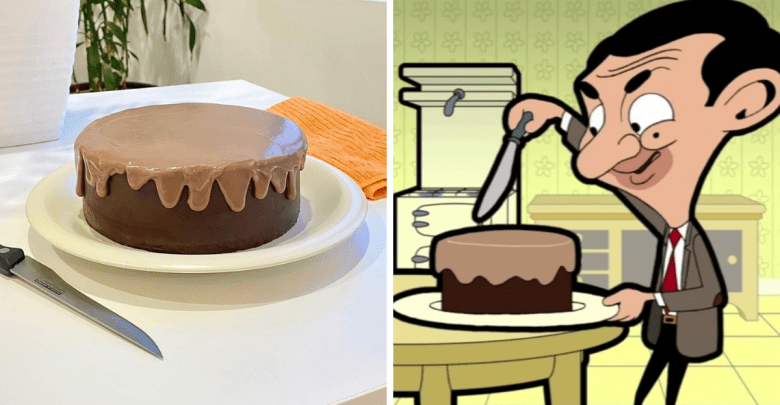 Hello, foodies! Have you ever watched a cooking show on television and wanted to eat whatever they were cooking right away? Well, this cartoon series is not a cooking show but we can call agree that we feel that way. We are talking about none other than Mr. Bean's Chocolate Cake episode (watch the episode here) that we all used to watch on telly and drool over. Well, this netizen from Malaysia recreated that exact chocolate cake and she blessed us all with the recipe.
This Netizen Recreated The Classic Chocolate Cake From Mr. Bean & The Results Are Amazing
We know, you're probably thinking: can this be true? Well, we bet our hungry bellies on it that you can now most certainly taste this cake (after you bake it of course, it's not for sale!). In a series of photos, this young Instagram user, @nahlahrsl, posted pictures of the chocolate cake that she baked, inspired by the Mr. Bean Chocolate Cake episode. And, it's safe to say that the results are amazing and we bet that it tastes good too. If you don't know what we are talking about (how could you!), you can watch the episode below.
Here's The Recipe That Has Us All Drooling
That's right – bookmark this recipe now because you will never need another chocolate cake recipe ever again. That being said, we give full credit (and a ton of appreciation) to @nahlahrsl for sharing this recipe with all of us. You can also find this recipe (and other recipes) on her Instagram highlights on her account page.
Thanks Mrs. Wicket, For The Best Chocolate Cake Ever
The cake looks identical to the one in the episode and we are just so excited that we just know it tastes amazing too! This is definitely the chocolate cake of your dreams and we can all now actually have it in real life. So, what are you doing today? – Baking this chocolate cake, of course! Even if you are not a baker, tag someone you know who can bake this for you and enjoy! Bye for now!
Photo(s) and recipe credit: @nahlahrsl (Instagram), @nahlahrsl (Twitter)
Also read: Viral Cookies Ala Famous Amos: You Can Now Make Delicious Chocolate Chip Cookies At Home
–
We would like to invite you to join our New Private Community Group! Here you are free to ask questions, share your love for food, and explore the Klang Valley community! We will also regularly post about casual promos and latest findings.
Click on the button below and hunt good food with us today!