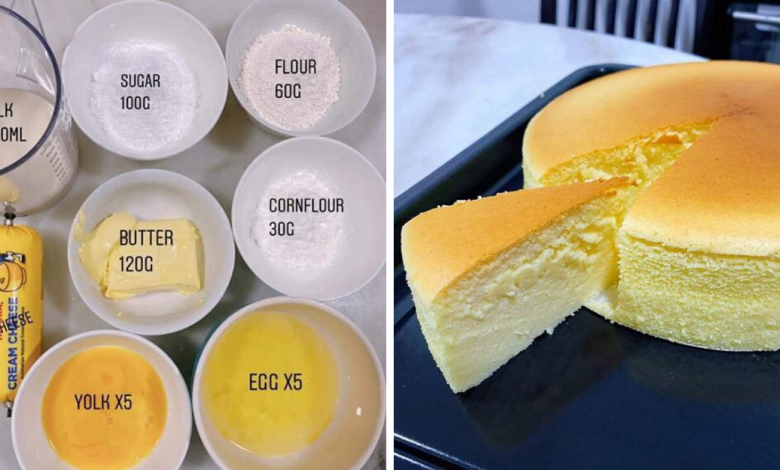 Sawasdee, foodies! How are all of you holding up? Hope that all of you are abiding to the night curfew rule and that you are staying safe at home. What are you most looking forward to eating once this is all over? Thai BBQ or classic Pad Thai? Calling all dessert-goers because we've got another recipe for you to try while you are still at home that'll satisfy all your cake cravings!
Make This Fluffy Cheese Cake To Sharpen Your Baking Skills
Craving for some delicious cake while you sip your warm cuppa coffee? If you have some extra time on your hands, gather up some ingredients and get baking because this Japanese Cotton Cheese Cake is absolutely delectable! See below for what you will need to make this cake.
Ingredients (A):
250g cream cheese
200ml fresh milk
120g butter (at room temperature)
Ingredients (B):
5 egg yolks
60g plain flour
30g corn flour
Ingredients (C):
5 egg whites
100g icing sugar
Tartar powder (optional)
Step 1: Combine ingredients (A) into a small pot and let melt over low heat or until mixture has a smooth consistency. Then, transfer into a small mixing bowl (i).
Step 2: Then, add ingredients (B) – flour only. As you are mixing, add in egg yolk one by one and mix well.
Tip: Sift the plain flour and corn flour to get rid of lumps. 
Step 3: In a separate mixing bowl (ii), beat ingredients (C) until the mixture has stiff peaks. Then, take 1/3 of the mixture and add it to mixing bowl (i). Mix and continue to add the remaining mixture from mixing bowl (ii) until all is combined.
Step 4: Preheat oven to 130°C. Transfer cake batter into an 8-inch cake pan.
Step 5: Bake for 90 minutes at 130°C. Then, allow to cool before removing cake from cake pan.
Are You Excited To Bake This Delicious Japanese Cotton Cheese Cake?
This recipe won't take more than two hours of your time, so, what are you waiting for? If you're stressed about work, take some time off and do some baking. You might find out that baking could be your new hobby! And, you could be really good at it too. Put on an apron and let's get baking. Stay home and stay safe, foodies! Bye!
This recipe is originally from Charmaine Liow.
Read: 10 Famous Bangkok Street Food Stalls That Are Available For Delivery
–
We would like to invite you to join our New Private Community Group! Here you are free to ask questions, share your love for food, and explore the Klang Valley community! We will also regularly post about casual promos and latest findings.
Click on the button below and hunt good food with us today!