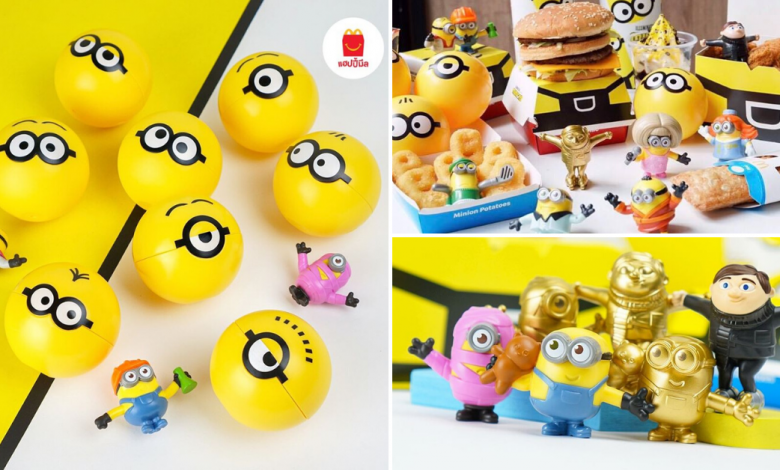 TL:DR
McThai launched 'Minion: The Rise of Gru' Campaign
Happy Meal capsule toys feature 20 types of minion characters.
Happy Meal starts from 99 Bath each.
The capsule toys will be available from 24th June – 13th August.
Get a Minion Combo Set for 159 Baht each.
Looks like McThai is going all out with the Minion theme this time around. As we are all aware, our beloved yellow blobs are coming back to the big screen! The "Minion: The Rise of Gru" movie is here to once again brighten our days and McDonald's just knows how to crank up the excitement.
Minion Capsule Toys
The most anticipated item from this campaign will be the quirky yellow capsule that comes with your Happy Meal. Each capsule will carry 1 Minion character. Just so you know, there are 20 types of Minion toys to collect all together, so, getting your hands on each and every one of them won't be an easy feat. If you are lucky, you will get the chance to win Limited Edition Golden Minions. The set starts from 99 Baht each.
McDonald's Minion Combo Set
Furthermore, let's not forget these cute Minions Combo Set that comes with fried minion taters! So Adorable! Get a Minion Combo set for 159 Baht and two sets for only 299 Baht. For those of you who have a sweet tooth, you should definitely try their Chocolate Banana Pie, Chocolate Banana Sundae, and McFlurri Party Chocolate Banana. The only desserts that any Minion needs.
Minions As Far As The Eyes Can See
Clearly, McDonald's is embracing the minion theme to the fullest. Even their food packaging is adorned with minion illustrations. Not that anyone is going to complain about it. In addition, you should keep your eyes out for DIY Minion Masks and Minion Photo Booths that will be available within each restaurant in July.
Available At All Branches
That's right, you can get them at any McDonald's outlet near you. Meanwhile, the toys will be available from 24th June – 13th August. However, McDonald's will stop selling them if the stocks run out as well. So don't be shy to quickly jump onto the bandwagon. Click here if you want to know more about this campaign. That's it for this article, happy hunting everyone!
Date: 24th June 2020 – 13th August 2020
Link(s): Facebook | Instagram | Twitter
Also Read: Phuket Great Time Rolls Out Up To 65% Of Amazing Discounts On 5-Stars Hotels And More
–
We would like to invite you to join our New Private Community Group! Here you are free to ask questions, share your love for food, and explore the Bangkok community! We will also regularly post about casual promos and latest findings.
Click on the button below and hunt good food with us today!