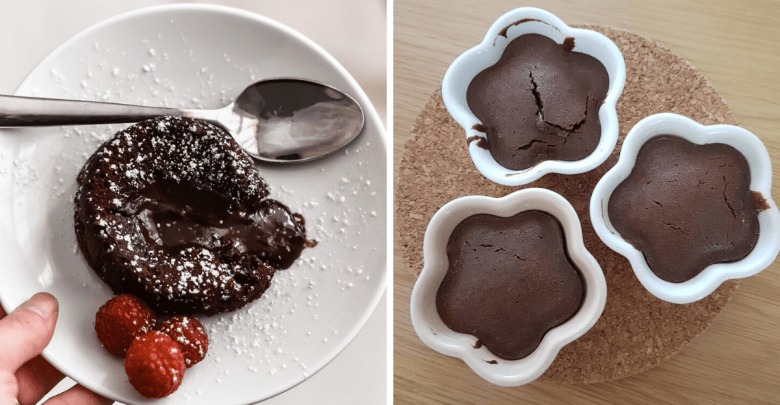 Hello, foodies! Today, we are going to talk about chocolate. Chocolate is happiness you can eat, don't you agree? Whether it is a chocolate bar, a scoop of chocolate gelato, or a slice of chocolate cake, chocolate is heaven in a bite. If you love all things chocolate, you have to try this viral chocolate molten lava cake recipe that's super simple because you don't need an oven. You can make them using an air fryer!
Try Making This Viral Chocolate Molten Lava Cake Recipe From Singaporean Actress, Cynthia Koh
Originally posted on AsiaOne, this viral recipe for making molten lava cakes using an air fryer has gotten over 3,000 shares on Facebook. This recipe is from Singaporean actress, Cynthia Koh, who experimented with her air fryer to make these delicious chocolate molten lava cakes. Posting the recipe on her Instagram stories, this recipe is super simple and you only need five ingredients. Check it out below!
Ingredients:
75g chocolate chips
75g unsalted butter
40g plain flour
1 egg
A pinch of salt
Gooey And Delicious Chocolate Molten Lave Cakes To Enjoy At Home
Step 1: Using a double boiler method, melt chocolate chips and butter. Stir until the mixture is smooth.
Step 2: Let mixture cool for a while. Then, add egg and stir well. (Do not add eggs into hot chocolate mixture)
Step 3: Add salt and flour to the mixture. Then, mix well until smooth.
Step 4: Coat the sides of ramekins (or little cups) with butter. Add in the mixture.
Step 5: Preheat air fryer to 180°C and cook for 5-7 minutes. And, voilá – time to enjoy!
*Pictures used are for illustration purposes only
Feature image credit: (left) @salt_jar (Instagram), (right) @iammissling (Instagram)
Recipe credit: Cynthia Koh (via AsiaOne)
Read: Here's How To Make The Classic Chocolate Cake From The Mr. Bean Cartoon Series
–
We would like to invite you to join our New Private Community Group! Here you are free to ask questions, share your love for food, and explore the Klang Valley community! We will also regularly post about casual promos and latest findings.
Click on the button below and hunt good food with us today!