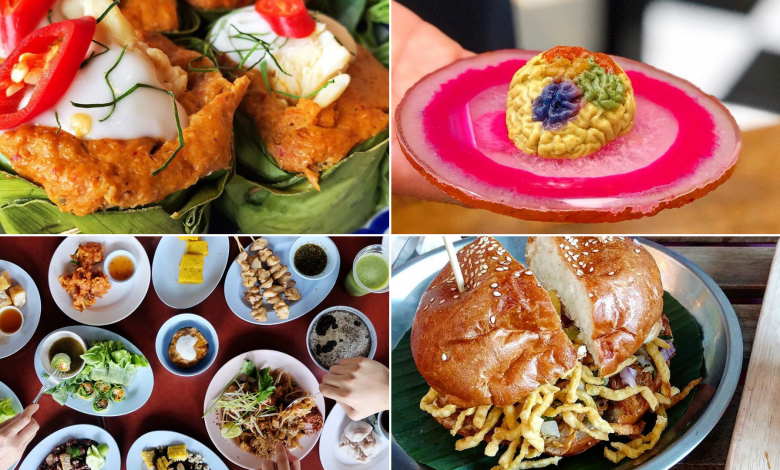 When you think Bangkok, you'd think of street food and shopping. But despite the array of street food available, let's be realistic — many would want to try out restaurants and cafes as well for a good mix. Here are 10 restaurants we recommend you try in Bangkok!
10 Restaurants Not To Be Missed in Bangkok!
1. Eat Me Restaurant
A piece of bacon atop a glass of cocktail? Yes please! Eat Me Restaurant offers a range of unique eats that fuse inspiration from different cuisines all over the world. Their dishes are characterised by daring flavour combinations that are sure to leave you wanting more!
Location: 1-6 Convent Rd, Silom, Bang Rak, Bangkok 10500, Thailand
Opening Hours:  3pm – 1am, Daily
Read Also: 25 Best Street Food In Bangkok
2. Issaya Siamese Club
"Issaya" is an old Thai word for the rainy season. The garden at Issaya Siamese Club flourishes because of the rainy season, hence its name! Issaya Siamese Club was also listed in Asia's top 50 restaurants, so you definitely will not be disappointed by its classic Thai dishes with modern twists!
Location: 4 Soi Si Akson, Thung Maha Mek, Sathorn, Bangkok 10120, Thailand
Opening Hours: 11.30am – 2.30pm and 6pm – 10.30pm, Daily
3. Steve Cafe
Steve Cafe & Cuisine is tucked away on the riverside, far from busy streets. It offers a relaxing ambience which is perfect for a quiet evening getaway! In addition to its unique dining experience, it also serves authentic Thai dishes you are sure to love. The restaurant recommends taking off your shoes before entering in order to relax better!
Location: 68 Sri Ayuthaya road, Soi Sri Ayuthaya 21 (Devet), Vachiraphayabaan, Dusit, Bangkok 10300
Opening Hours: 11.00am – 10.30pm, Daily
4. Sensi Restaurant
Sensi Bangkok is a family run business started by an Italian chef. His wife takes care of the front of the house, and you can sense their passion upon entering the restaurant from the smell of good ol' Italian food and the hospitality of the staff! If you pay them a visit, their deconstructed Tiramisu is a must-try!
Location: 1040 Soi Naradhiwas Rajanagarindra 17, Thung Maha Mek, Sathorn, Bangkok 10120, Thailand
Opening Hours: Mon – Sat:  5.30pm – 11.30pm, Closed on Sun
5. Supanniga Restaurant
Inspired by his grandmother traditional recipes, the owner, Eh, opened Supanniga Eating Room serving a range of Thai dishes from both her hometown in Trat, and Khon Kaen where the family is now based. With its comfortable ambience and delicious food, it's definitely worth a visit if you're in the area!
Location: Next to 'Ei8ht' shopping complex, 160/11 Sukhumvit Rd, Thong Lor
Opening Hours: 11.30am – 2.30pm, 5.30pm – 11pm, Daily
6. Gaggan Bangkok
Gaggan Bangkok is a unique Indian molecular dining experience. Behind these doors is some of most daring Indian food from Kolkata, which is the hometown of chef Gaggan Anand. From cooking for Bill Clinton to interning at the world-famous El Bulli in Spain, to opening his very own restaurant in Thailand, you are promised an experience like never before!
*Although Gaggan himself had resigned in 2019, the restaurant is still continuing its operations and he is now a shareholder of the company.
Location: 68/1 Soi Langsuan (opposite Soi 3), Ploenchit Road, Lumpini, Bangkok 10330
Opening Hours: 5pm – 11pm, Daily
7. Water Library Restaurant
The Water Library Restaurant at Chamchuri has been one of the key players in Bangkok's fine-dining scene since it first opened its doors. Although they have gone on to open up half a dozen other venues around the city, the Silom spot still remains the Water Library's flagship restaurant, and probably also the most exclusive. You can expect premium food and lots of special drinks here!
Location: Chamchuri Square, 2nd floor, Phaya Thai Road, Pathumwan, Bangkok 10330, Thailand
Opening Hours: 11.30am – 2.30pm and 6pm – 10pm, Daily
8. Chamlong Asoke
Chamlong Asoke is a great choice for our vegetarian friends! It is more of an affordable all veg hawker centre rather than a singular restaurant. However, it runs on coupon currency, which means you would need to exchange cash for paper coupons before you can place your order! Here's a place you won't run out of options at!
Location: 586 26 586/26 Kamphaeng Phet 1 Alley, Chatuchak, Bangkok 10900, Thailand
Opening Hours: Tues – Fri: 6am – 2pm, Sat & Sun: 6 am – 3 pm
9. La Table de Tee
La Table de Tee offers well-presented, mouth-watering French food in an intimate and romantic setting. The five-course inspired set menu is only 1,150 baht per person (excluding service charge), so if you're looking for a relatively affordable dating spot that won't break the bank, this is it!
Location: 69/5 Soi Sala Daeng, Silom Rd., Bangkok

Opening Hours: Tues – Sun: 5.30pm to 10pm

10. Soul Food
Soul Food Mahanakorn is actually run by an American, who serves up creative spins on traditional street food favourites that are sure to impress! They keep things fresh with weekly specials and a list of creative cocktails that will certainly blow your mind!
Location: 56/10 Khlong Tan Nuea, Watthana, Bangkok 10110, Thailand
Opening Hours: Mon – Fri: 5.30pm – 11pm, Sat & Sun: 11.30am – 3.30pm, 5.30pm – 11pm
10 Restaurants You Must Try in Bangkok!
*The post is curated by Bangkok Foodie.
The next time you head to Bangkok, be sure to check these restaurants out! As good as street food is in Thailand, you can't miss out on what their restaurants have to offer. We hope you found this list of 10 restaurants in Bangkok helpful, happy eating!