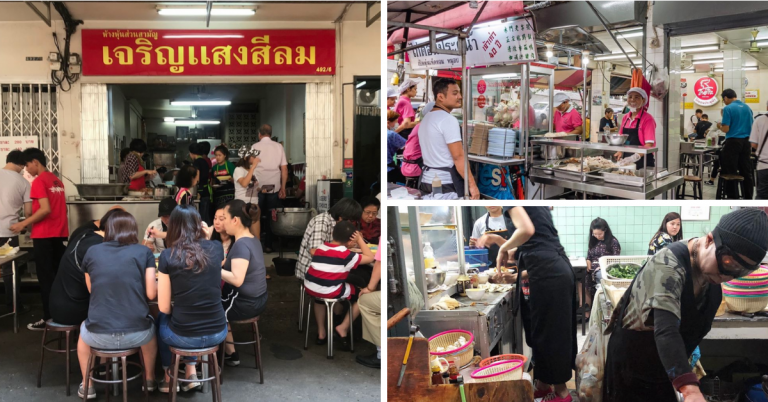 Food in Bangkok is awesome! Even Netflix's Street Food showcased it. The story of street food chef Jay Fai, who puts a spin on tom yum soup and boasts a Michelin star for her crab omelets make Bangkok food even famous!
With that being said, this blog is all about the best street food in Bangkok the locals love. Bangkok, Thailand's capital, is a large city known for ornate shrines and vibrant nightlife and food. No visit to the Thai capital is complete without trying some. Although the city's many street food stalls may seem overwhelming, it's actually an exciting scene to navigate. It's also one of my favorite city for food!
Food In Bangkok: 25 Dishes You Need To Try
Want to get a real, authentic taste of Bangkok, Thailand? Check out our list of top 25 best places in Bangkok for must-try and famous local Thai food. From homestyle mango sticky rice in the heart of town to the best tomyum in Bangkok, we've got you covered. Let's eat!
1. Raan Jay Fai
Jay Fai is a street-side restaurant in Bangkok and a nickname of its eponymous owner, whose real name is Supinya Junsuta.
A place that both taxi drivers and foodies wax lyrical about and it's easy to see why. Wearing her signature goggles, the local legend that is Jay Fai continues what her father started 70 years ago and makes crab omelettes, crab curries and dry congee.
She became a national celebrity in December as the first Thai street food chef to be awarded a prestigious Michelin star, with her face splashed across Thai and international media.
Michelin Guide classifies Jay Fai as 'One Star & High quality cooking, worth a stop'. So if you're looking for legendary Bangkok street food, this is the right place to be.
Address: 327 Maha Chai Rd, Khwaeng Samran Rat, Khet Phra Nakhon, Krung Thep Maha Nakhon 10200, Thailand
Operating hours: 2pm – 12am ; Sunday & Monday closed
Tel: +66 92 724 9633
Watch Jay Fai in action:
2. Khao Tom Pla Kimpo
This long-standing boiled rice and fish spot is near Bangkok's biggest fish market, and that's where the owner sources ingredients. The distinguishing element is the broth, made mainly from pork and fish bones for a sweet soup that comes with fresh seafood, rice and garlic chips.
Hia Wan Khao Tom Pla (ร้านเฮียหวานข้าวต้มปลา) is right along Thanon Chan. All the seafood is lined up and sits on ice at the front of the restaurant, where there's also a shophouse, but all the tables are set up on the sidewalk and in front of the neighbors business. This food would fall under the Bangkok street food category due to its atmosphere, yet it's high end and high-quality street food dining.
Look out for big fish hanging in front of a food stall, and you'll know that you're at the right place. The fish are the catches of the day, and what you see is what will go into the soup. It's guaranteed to be fresh! The must-try here is Fish Soup or Seafood Medley Salad.
In short, Khao Tom Pla Kimpo is a street food Bangkok that serves really good quality seafood. Bookmark this now.
Address: 1897 Charoen Krung Rd, Khwaeng Wat Phraya Krai, Khet Bang Kho Laem, Krung Thep Maha Nakhon 10120, Thailand
Operating Hours: 6pm – 12am (opens daily)
Tel: +66 2 675 2598
3. Nhong Rim Klong
The next Thai street food in Bangkok you need to try is Nhong Rim Klong. Why? Listen to some of the reviews from Google Local Guides:
"Must try cabbage with egg and crab, basil crab, garlic fish and garlic prawn." – Chan Wern Shen
"A tiny shop just off Ekamai road serves high-quality fresh seafood Thai dishes." – Okipanda Chan
Amazingly delicious seafood dishes with generous portion sizes at an affordable price! 660 baht for all these seafood dishes and we are absolutely stuffed! 20 baht/container so try to finish all your food to save money! Highly recommend! – Gwen Tan
Most of the must-try dishes here are all crab-based. The Drunken Crab might be a plain looking dish of huge white chunks of crab meat, but it's so, so unbelievably good.
Address: Ekkamai 21 Alley, Khwaeng Khlong Tan Nuea, Khet Watthana, Krung Thep Maha Nakhon 10110, Thailand
Operating Hours: 8:30am – 4pm (Closed on Sunday)
Tel: +66 86 044 9478
4. Rung Rueang
Rung Rueang is crowned as the best pork noodles in Bangkok. Located along Sukhumvit Soi 26, a tree-lined street where hotels, massage parlours and quirky coffee bars rub shoulders amiably. It's less than a five-minute walk from the Phrom Phong BTS station; take exit 4.
Sweet broth, deceptively clear but brimming with the wholesome flavour of pork bones. Smooth rice noodles, slick and slippery. All manner of pork — sliced meat, pork balls and entrails — finish off a bowl designed to nourish.
So if you love pork noodles, Rung Rueng is something to die for!
Address: 10 3 Sukhumvit 26 Alley, Khwaeng Khlong Tan, Khet Khlong Toei, Krung Thep Maha Nakhon 10110, Thailand
Operating Hours: 8:30am – 5:00pm
Tel: +66 2 258 6746
5. PeAOR
Bangkok trip isn't complete without a bowl of hot and yummy tom yum!
If you're looking for some fancy Tom Yum Noodles, their lobster noodles come served with Crab stuffed with minced meat and roe, a medium-sized lobster, mussels, salmon, squid stuffed with minced meat and tang hoon, an onsen egg and noodles. While this comes at a price tag of THB 1200, it can feed up to 6 people!
Prepare to eat like a local because at PeAor, there's no watering down of soups, no dumbing down of Thai classics. Add to that, there are no English translations on the menu – so be prepared. Practice the pronunciation of these dishes: Kuay teow tom yum goong nam khon, Ba mee yok gai ob, and Khao goong rad sauce man boo – these are all must-tries.
Despite all the awards and accolades on display, PeAor doesn't aim to impress its customers, only to keep dishing out plates and bowls of well-loved P'Aor recipes which launched them onto the culinary map. Do not miss the tom yum noodles!
Address: 68 51 Phetchaburi Rd, Khwaeng Thung Phaya Thai, Khet Ratchathewi, Krung Thep Maha Nakhon 10400, Thailand
Operating Hours: 10am – 9pm (Closed on Monday)
Tel: +66 2 612 9013
If you're wondering what are some popular food in Bangkok, you should keep reading!
6. Somsak Boo Op
Another best Thai street food in bangkok is Somsak Boo Op. The expert chef adds shrimp to the bottom of the pan, cooks them precisely, adds a mixture of glass noodles and soy sauce, and finishes the dish up with a handful of green onions.
If you're a fan of crab, you'll definitely want to try one of the best Crab Vermicelli in Bangkok. Head over to Somsak Boo Op, a humble establishment with only 1 thing on their menu, vermicelli with seafood.
The smoky flavour of the seafood and the perfectly seasoned noodles are reason enough to join in the queues! The Steamed Crab with glass noodles is priced at THB 310.
Address: 6 Thanon Chroen Rat, Khwaeng Khlong Ton Sai, Khet Khlong San, Krung Thep Maha Nakhon 10600, Thailand
Operating Hours: Monday to Saturday, 5pm to 10pm ; Sunday, 4pm to 10pm
Watch the video by Mark Wiens during his food trip in Bangkok:
7. Charoen Saeng Silom
What should I eat in Bangkok for breakfast? Charoen Saeng is one of our favourite places!
Braised pork leg and rice (khao kha moo ข้าวขาหมู) is one of the standard Thai street food dishes. And typically, it really is a pretty standard tasting and eating dish. It's available at hundreds of street food corners, kind of like the pork version of chicken rice.
However, there are some extremely notable khao kha moo stalls in Thailand, one of the more legendary being the unforgettable Cowgirl lady in Chiang Mai.
But in Bangkok, one of the ultimate places to eat Thai Chinese braised pork leg and rice is Charoen Saeng Silom (ร้านเจริญแสง สีลม), and it's one of my favorites in all of Thailand.
Moreover, it has been serving stewed pork knuckle in Bangkok since 1959. What sets this shop apart from the hundreds of others is their meltingly soft, caramelized pork in a rich and aromatic gravy with Chinese herbs. Enjoy the pork with their homemade spicy sauce and pickles. Great value.
Address: 492/6 ซอย เจริญกรุง 49 Si Lom, Suriya Wong, Bang Rak, Bangkok 10500, Thailand
Operating Hours: 7:30am – 1:30pm (Opens Daily)
Tel: +66 2 234 8036
8. Ko Boo Rod Zing Noodle
Ko Boo Rod Zing Noodle is known as best street food in Bangkok that opens 24/7.
We are almost certain that you've never tried tom yum like this before. Located on Khlong Chan, an area filled with local food stalls selling hot meals, street food, and fresh fruit, is Ko Boo Rod Zing Noodle. This tom yum is served with two kinds of noodles – rice noodles or the special egg noodles.
These freshly-prepared noodles are served in a bowl of soup or dry with the broth on the side. However, both come with incredibly runny soft-boiled eggs which coat the noodles beautifully when broken. The soup is sour, spicy and umami, made from a base of pork. Furthering the depth of flavour are toppings such as sliced pork, meatballs, innards, green onions, bean sprouts, crushed peanuts, and cilantro.
As mentioned, this stall is open around the clock, so come by after a night out on the town!
Address: 93 Nawamin Rd, Khwaeng Khlong Chan, Khet Bang Kapi, Krung Thep Maha Nakhon 10240, Thailand
Operating Hours: Open 24 hours
Tel: +66 85 180 8105
9. Lek Seafood
Finding seafood that's cheap and tasty is becoming more and more of a rarity in Bangkok. However, no-frills eatery, Lek Seafood offers just that. This corner restaurant, which is open from 5 pm until midnight, offers fresh, succulent local dishes at prices that you can afford. An ideal spot for dinner in Bangkok too!
There's a real variety of dishes to be had here, but you won't go wrong with the signature yellow curry crab that comes swathed in a flavoursome egg mixture. Also worth ordering is the oyster omelet, fried shrimp cakes, boiled cockles and steamed catfish with lime and chili.
Address: 89 Soi Naradhiwas Rajanagarindra 3, Khwaeng Silom, Khet Bang Rak, Krung Thep Maha Nakhon 10500, Thailand
Operating Hours: 5pm – 12am (Closed on Sunday)
Tel: +66 2 636 6460
10. Thanee Restaurant
When we talk about Thai street food in Bangkok, there's one thing we can never miss – Crispy Pork Belly.
Moo Grob or Crispy Pork Belly is a must try when you're in Bangkok! The perfectly crunchy skin that gives you an eargasm when you bite into it, combined with the soft and tender meat makes for the perfect treat no matter what time of day.
Many say the best Moo Grob can be found at Thanee Restaurant. If you're looking for a full meal, order yourself a Khao Moo Grob, a plate of rice with pork belly and a soft boiled egg! They'll also douse your rice with some gravy and give you a side of Chinese sausages.
11. Thipsamai Pad Thai
Thai food lovers are no stranger to Pad Thai.
The dish's exact contents depended on regional availability of ingredients, but generally included some combination of radish, beansprouts, peanuts, dried shrimp and egg, seasoned with palm sugar and chillies.
Ask any local where to find the best pad Thai in Bangkok, and nine out of ten will tell you ThipSamai. Also known as 'Pratu Pee' (meaning ghost gate), this really is the grandfather of Bangkok's most famous dish, opening up shop nearly 50 years ago in the Old City quarter.
Portions here are generous, and the signature egg pad Thai comes with a thin layer of omelet cocooning the moist and fresh noodles that are cooked over a charcoal fire. Prices start at a slightly inflated 60 baht, and go all the way up to 200 baht if you want a huge shrimp too.
Don't forget to order their famous orange juice, which is delivered fresh from the countryside every day. Thip Samai is easy to find; just look for the line of people queuing underneath the bright red sign on Machachai Road, near Wat Saket (Temple on the Mountain).
Address: 313 315 Maha Chai Rd, Khwaeng Samran Rat, Khet Phra Nakhon, Krung Thep Maha Nakhon 10200, Thailand
Operating Hours: 5pm – 2am
Tel: +66 2 226 6666
12. Soi Polo
Soi Polo Fried Chicken ไก่ทอดเจ๊กี (โปโล) is a famous fare for fried chicken in Bangkok.
The place is always crowded especially lunch hours. The chickens are deep fried whole (similar to how a grilled chicken would be cooked in Thailand), and they are pre-fried before the meal rushes.
When someone orders, they pull a crispy bird out of the metal pot and hack it into pieces on the giant cutting board. They have both a Thai and English menu, so if you don't speak Thai, you should have no trouble making your order.
In fact, it's also listed in Michlien Guide 2019 for Bangkok Street Food. This standalone shop has been here for 50 years, and their garlic fried chicken has perfectly crispy skin and is soft on the inside; it's best with warm sticky rice. Other Isan delights include Som Tum, Lap Mu (minced pork salad) and grilled beef. Try it for yourselves!
Address: 137/1-3,9 10 Sanam Khli Alley, Lumphini, Pathum Wan District, Bangkok 10330, Thailand
Operating Hours: 7am – 9pm (Open daily)
Tel: +66 2 655 8489
13. Hoi Tod Chaw Lae
The next must-try dish in Bangkok, Thailand is stir-fried mussel osyter omelette.
Hoy Tod Chaw Lae in Soi Thong Lor is a humble eatery, even if they state themselves to be among the five best Pad thai spots in the world. That said, they are famed for their shrimp pad thai and the stir-fried mussel and oyster omelet (hoy tod), with plenty of appearances on TV-shows.
The Oyster Omelette at Hoi Tod Chaw Lae is one of the crispiest ones you'll find in Bangkok. Topped with plump juicy seafood, it's no wonder this shophouse is a local favourite.
Address: 25 ถนน สุขุมวิท 55 Khwaeng Khlong Tan Nuea, Khet Watthana, Krung Thep Maha Nakhon 10110, Thailand
Operating Hours: 8am – 10pm
Tel: +66 85 128 3996
14. Go-Ang Pratunam Chicken Rice 
This humble chicken and rice stall has drawn a devoted fan base of locals and in-the-know visitors for more than 50 years. The aromatic rice is cooked with chicken oil and perfectly matches the flavour of the chicken, and the double-boiled soup is delicious, or, as the locals say, aroymak.
Address: 960 962 Phetchaburi Rd, Khwaeng Makkasan, Khet Ratchathewi, Krung Thep Maha Nakhon 10400, Thailand
Operating Hours: 6am – 2am ; 5pm – 2am
15. Watsana Khao Man Gai
Despite several moves from its original location, this shop house has kept its customers so expect queues for its famous chicken rice and the recent addition of noodles. Quality ingredients and consistent cooking are the secret of its success.
Address: 9/275 Phuttha Bucha Road, Bangkok
Operating Hours: 7am – 3:30pm
16. Sa-at Sawoei (Kanchanapisek Road)
Come here for fish balls and fish cakes that are soft and bouncy in texture and freshly made using a secret family recipe. Order them with a bowl of noodles in clear Tom Yum-style soup or opt for fluffy fish noodles for an all-fish meal.
Address: 28/131 Moo 9, Kanchanapisek Road, Bangkok
Operating Hours: 7:00am – 8:00pm
17. Som Tam Jay So
Oh, we're on the 17th now! And let me tell you, this is an in-the-know place for spicy (and ridiculously inexpensive) Northern Thai food.
Som Tam Jay So is located down a quiet side street in Bangkok's Silom business district. There's a bright green awning on the front, with rows of red tables and stools inside. Outside, there's a cabinet full of meat and all the ingredients needed to prepare the famous som tam, or spicy papaya salad.
Come here for som tam, a well-known Isaan dish that's an addictive combination of sugar, fruit, garlic, fish sauce, and an overabundance of chilis. To balance out the spice, order some tender marinated chicken, grilled onsite, or go for a variation on the classic papaya salad. The menu is written in Thai, so take a shot in the dark or tell the staff what you want.
Address: Soi Phiphat 2, Khwaeng Silom, Khet Bang Rak, Krung Thep Maha Nakhon 10500, Thailand
Operating Hours: 10:30am – 6:00pm (Closed on Sunday)
Tel: +66 85 999 4225
Now Read: 10 Best Cafe In Bangkok (2020)
18. Thai Beef Noodle Wattanapanit (Ekkamai)
To find one of the oldest beef stew restaurants in Bangkok, head to Ekkamai and look for a large sign in Thai and Chinese. Inside, order a piping hot bowl of stewed beef and noodles; sukiyaki, stir-fried beef in oyster sauce, and garlic pork with rice are other standouts.
This 60-year-old Thai beef noodle still uses the same soup at when it moved to its current premises 40 years ago. The B100 bowls are made from an old family recipe and attract all walks of Bangkok life, from Sukhumvit socialites to taxi drivers and tourists. If there's one Bangkok food you shouldn't miss, this might be the one!
Address: 336-338 Soi Sukhumvit 63, Vadhana, Krung Thep Maha Nakhon
Operating Hours: 9:30am – 10:00pm
19. Choy
Choy is also one of the best Thai food in Bangkok! A little out of the way but this is one of the best-kept secrets for roast duck with egg noodles. Major publications and food bloggers in Thailand also recommended this stall. Give it a shot if you have time in Bangkok.
Address: 9/19 ถนน พุทธมณฑล สาย 2 Khwaeng Bang Khae Nuea, Khet Bang Khae, Krung Thep Maha Nakhon 10160, Thailand
Operating Hours: 7:30am – 5pm (Open daily)
20. K. Panich
The 80-year-old institution is a household name for its sweet sticky rice. The people at Kor Panich claim that the recipe comes from the royal kitchen where the owner's wife's mother used to work. And the standard they've been holding on to is that the sticky rice must be the popular khao niew kiew ngoo type: coconuts must hail from Chumphon and sugar from Kanchanaburi. Plain khao niew costs B200 per kilo; single portions with toppings B35.
Address: 431 Thanon Tanao, Khwaeng Sao Chingcha, Khet Phra Nakhon, Krung Thep Maha Nakhon 10200, Thailand
Operating Hours: 7:00am – 7:00pm
Tel: +66 2 221 3554
21. Pa Tong Go Savoey
This is your bucket-list-food- in Chinatown Bangkok.
Bangkok's most famous husband-and-wife Thai-donut-duo is to be found in the Sao Ching Cha area, close to the City Hall. They have been featured in many TV-shows and magazines. A fact is difficult to escape when looking at the walls of this small shop.
What's unique at this shop?
Deep-fried Chinese dough, called patongo, is a beloved local snack, and this Chinatown trolley is one of the best places to find it. Most order it crispy and deep-fried, or you can try it grilled, then dip it in an array of toppings like pandan coconut sauce or condensed milk.
Address: 489 Song Sawat Rd, Khwaeng Samphanthawong, Khet Samphanthawong, Krung Thep Maha Nakhon 10100, Thailand
Operating Hours: 6:00am – 10:30pm (Closed on Monday)
22. Pondtip
If you're looking for a bowl of delicious duck noodles, the stewed duck at Pondtip Pratunam is one of the best in Bangkok. The broth is rich in flavour and the meat is stewed to perfection and fall off the bone tender. It'll have you slurping up your bowl of noodles in no time. Plus, a bowl of noodles only cost THB 40!
Address: 922, 924 Phetchaburi Rd, Khwaeng Makkasan, Khet Ratchathewi, Krung Thep Maha Nakhon 10400, Thailand
Operating Hours: 6:00am – 8:00pm
23. Sunee Khao Moo Dang
This is where you'll find a popular food stall selling barbecue pork with rice. Having been featured on numerous cooking shows, this stall is a favorite among locals for its tender BBQ pork and heavenly crispy pork belly, both of which are laden with a special sweet gravy with roasted peanuts. And each dish only costs B30!
Address: Soi Toet Thai 25
Operating Hours: 6:00am – 8:30pm
24. Mango Sticky Rice – Yenly Yours
A staple when in Bangkok is definitely Mango Sticky Rice, especially if mangoes are not a fruit you get often back home. Have your fill of this tropical fruit whenever you get to Bangkok at Yenly Yours! The smooth mango pudding coupled with the chewy sticky rice and topped with the sweetest and juiciest mangoes are the perfect sweet treat after any meal.
25. Pad Thai Mae Am
The second restaurant on Bangkok's busy Rama IV Road to make our foodie list is 'Pad Thai Mae Am'. This modest yet highly rated spot is walking distance from Klong Toey MRT Station and right across the road from the huge fresh market. Specializing in only two noodle-based dishes (the second being kuay diow gai or thick rice noodles and chicken), Pad Thai Mae Am really brings things back to basics.
Seating comes in the form of miniature stools and the tired-looking walls are adorned with old photos and magazine cut-outs. The pad Thai recipe is just as old school – which can only be a good thing – with the noodles being prepared before with tamarind paste, palm sugar, and fish sauce, and then given a re-fry to give them a classic pinkish colour. The end result is about the best we've ever tasted in Bangkok – not too greasy to give you a heart attack but not too clean to make you feel like you're on a diet.
Bangkok Food Guide 2020
What should I eat in Bangkok 202? Here are the answers curated by Bangkok Foodie.
If you travel for food, this Bangkok travel guide for food lovers is for you. As we know, Bangkok is one of the most exciting cities in the world, and a paradise for food lovers. We truly hope this foodie guide help you hunt the best possible food in the beautiful city.
If we missed out any great one in today's blog, please share your recommendations in the comment section below. We'll read every comment and share your favorites food to more people!