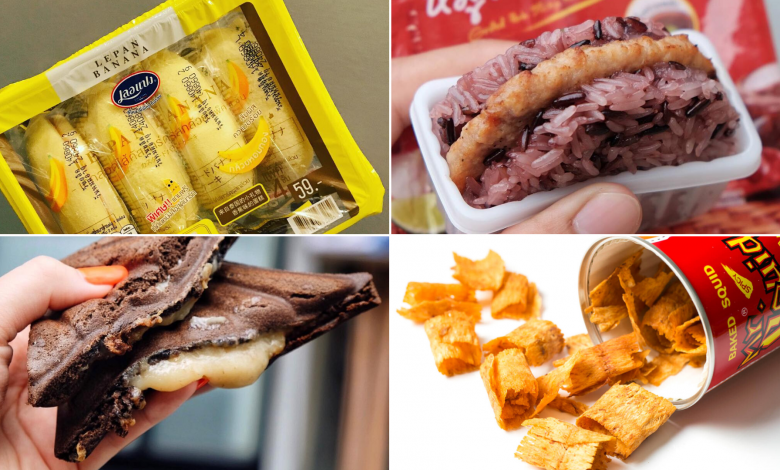 You may be wondering what's so special about a convenience store, but in Bangkok, 7-11 is a food lover's heaven! In fact, the one at Siam Square has so much variety you might be at a loss of what to get. Here are 10 things you simply can't miss when you stop by a 7-11 in Bangkok!
10 Things You Cannot Miss At 7-11 in Bangkok
1. Thai Sandwiches
Regular sandwiches may be great, but filled sandwiches? They're the real game changers. You can find all sorts of filled sandwiches while in Bangkok's 7-11, from chocolate banana to even gooey cheese and ham! Filled sandwiches might just make you never want regular ones ever again!
2. Try the Various Ice Cream Flavours
Bangkok's weather almost all throughout the year is hot. You're going to want something to cool you down on some days, and 7-11 has just the perfect icy treats for you! Since it is a 24-hour convenience store, you can satisfy your sugary cravings at any time of the day. Remember to try their classic flavours like Mango and Coconut Corn while you're there!
3. Edible Insects
We're sure you've heard of edible insects by now, but who knew you could get packaged ones from 7-11? They're really good as gag gifts and instant pick-me-up snacks! Some of the flavours like salted and barbecue are actually (surprisingly) delicious! Don't knock it till you try it.
4. Instant Noodles
Have you really been to Bangkok if you haven't tried the MaMa brand Instant Noodles? Yes, they're the flavoured packet noodles you often get when you eat Mookata! If you fancy the taste, we suggest you buy a few back to share with your friends & family to get a taste of Thailand as well! Of course, there are many other instant noodles that you can check out, so don't miss out on those!
5. Le Pan Banana
Tokyo Banana, who? In Bangkok, it's all about Lepan Banana! The concept is similar, (if not the same) but they also have a special chocolate banana flavour that you have to try! With its taste and price point, there's really nothing to complain about.
6.Thai Sticky Rice Burger
Sure, you might have tried the popular Thai dessert Mango Sticky Rice, but have you tried Sticky Rice Burgers? In Bangkok's 7-11, you can find many different types of Sticky Rice Burgers, both sweet and savoury. For days you feel like eating rice but want something more convenient to eat, consider this!
7. Cuttlefish Snacks
Cuttlefish is an amazing snack to have while you're enjoying beer with your friends and family! It's highly addictive because it is light but is packed with flavour. They have in many different variations including the lightly salted kind, but if it's your first time, your best bet is to get the Tom Yum flavoured one!
8. Thai Spicy Pretz Sticks
While the typical flavours of Pretz like sour cream and onion can still be found in Bangkok, you can't pass up on their spicy Pretz variety. With flavours like Tom Yum and Thai Hot Chilli, one box is just not enough.
9. Bangkok 7-11's Pastries & Baked Goods
Craving baked pastries and goods? Instead of searching on the streets, you can simply enter your nearest 7-11 to look for some freshly baked goods. Although the treats are from a convenience store, you will not be shortchanged in taste!
Read More: MUST-TRY: 10 Best Restaurants in Bangkok (2019 Guide)
10. Corn Chip Snacks
Corn is a big thing in Thailand, and it's not hard to see why! It just goes well with so many things and can be enjoyed in various forms. Corn Chips are great snacks (again) to go with beer or even to have on its own! There are even some with special shapes that may be of interest to your child or the inner-child in you!
The 10 Things You Cannot Miss At Bangkok's 7-11
We love the variety in Bangkok's 7-11, and know you will too! It's honestly a challenge to not want to have all your meals at 7-11. Remember to try all these snacks the next time you're in Bangkok and let us know if we missed out any of your favourites!