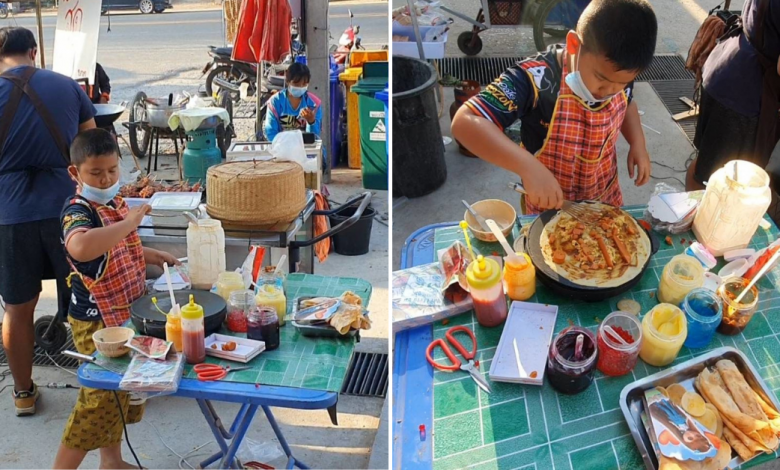 This pandemic has hit all walks of life globally. Many families are now struggling to make ends meets. We've also heard many touching stories of how people are helping out each other during this hard time. This 9-year-old boy in Non Daeng District, Nakhon Ratchasima Province is already helping his family to earn extra income by selling crepes, which he learnt from Youtube.
9-Year-Old Boy Sells Crepes to Help His Family Earn Extra Income: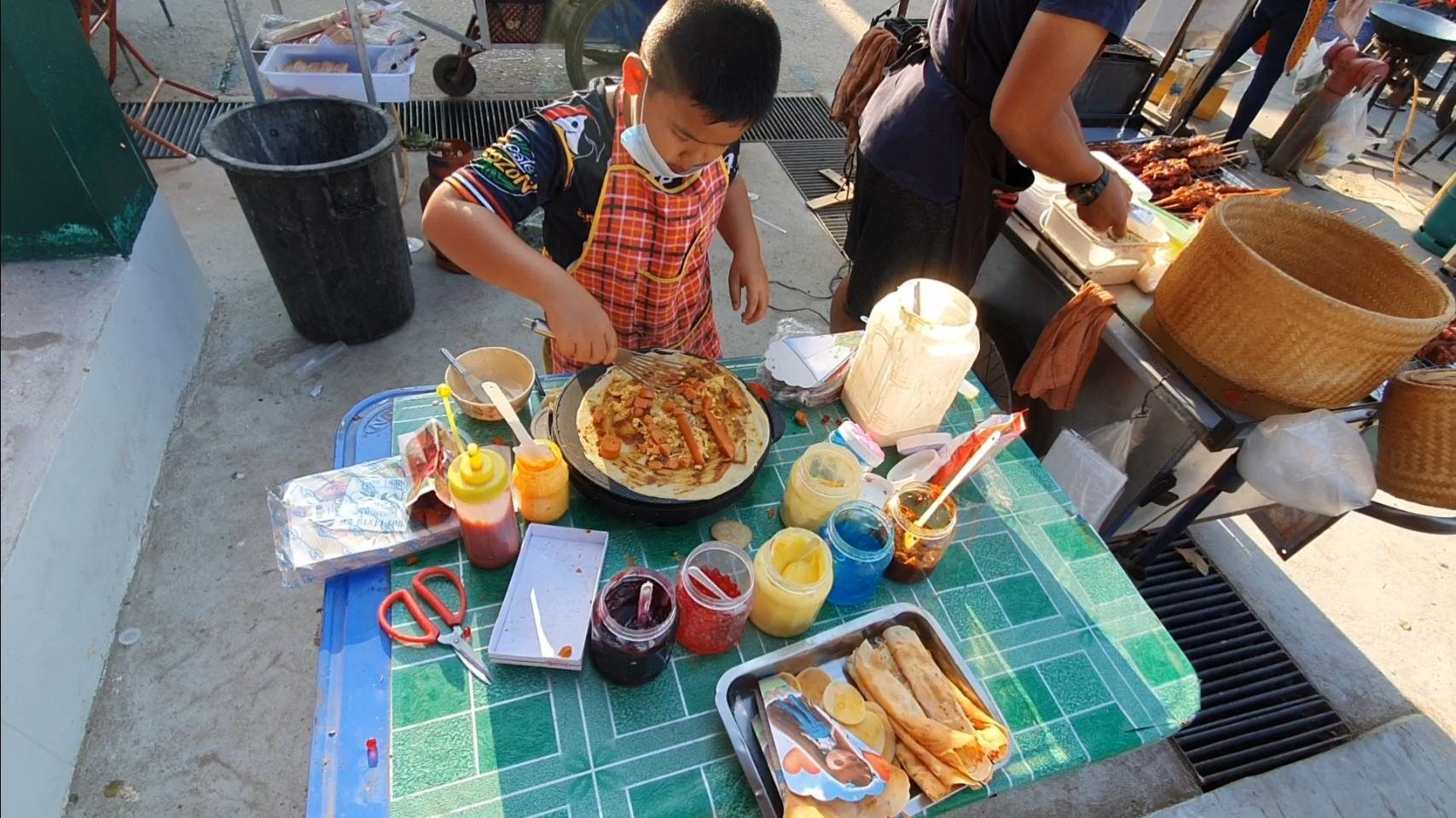 Nong Weir, 9, is only a Grade 3 student in Nondang Community School. Yet, you'll see him selling crepes in his small stall at Yen Daeng Market, Non Daeng District. Sattaya Kham, the boy's brother-in-law, said the boy will sell crepes during his free time, on weekends and during the school holidays. 
This isn't the first time Nong Weir sells things. Previously, the little boy would help Sattaya Kham to sell grilled sticky rice. This sort of inspired the boy to have his own shop to provide for the family during the pandemic. He didn't know how to make crepes at first, so he would learn it step-by-step from Youtube and try out his own crepes before finding the right formula to sell it.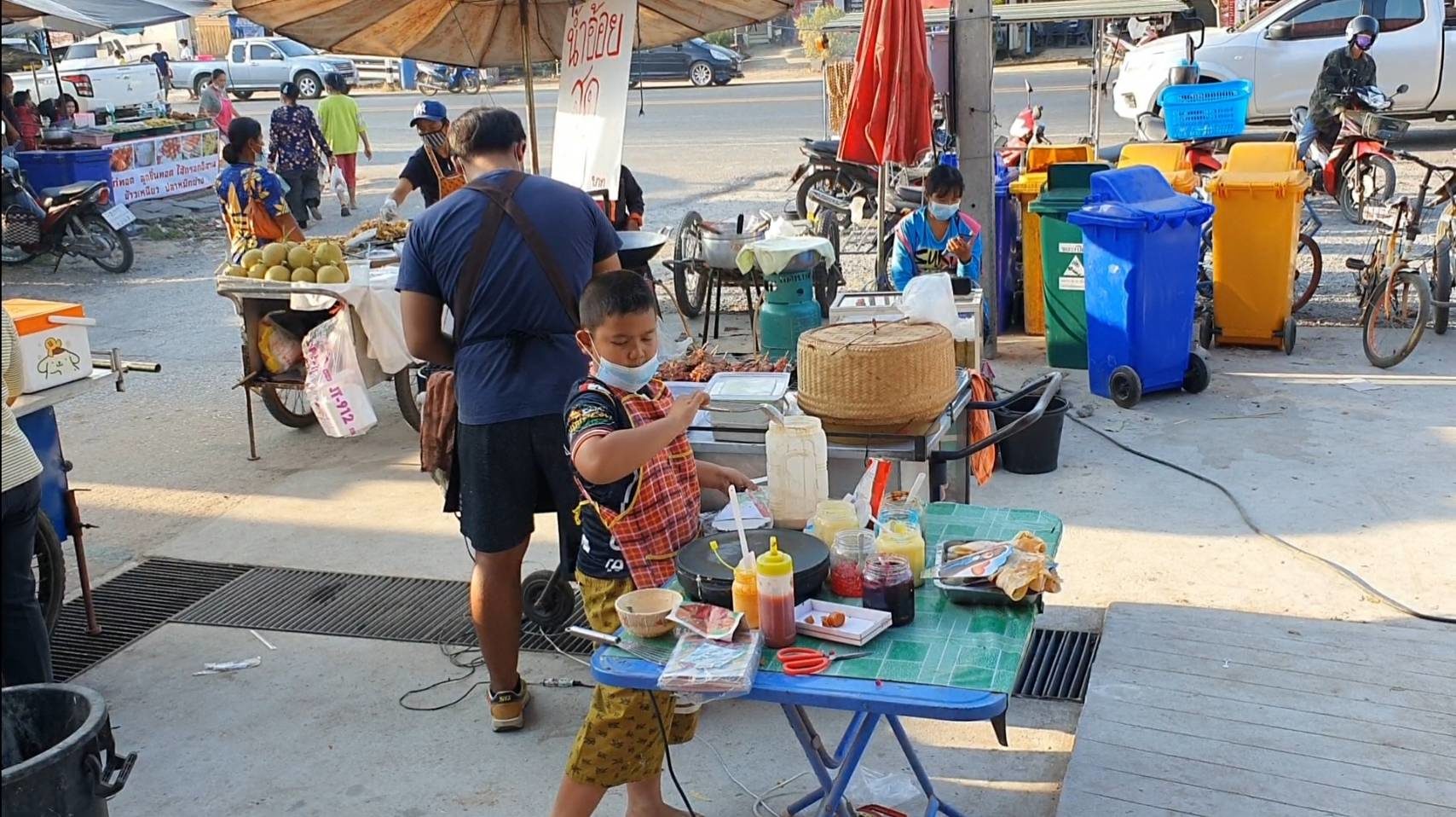 Pay Nong Weir a visit at Yen Daeng Market, Non Daeng District, Nakhon Ratchasima Province to show some support! The crepe shop is called "Nong Weir", Klawat Absom boy," and each crepe prices from 10 Baht. That's all, have a great day ahead, and buh bye!
Source & Photo Credit: Khaosod Online
Check Out: Starbucks Reserve Chao Phraya Riverfront Bangkok Is The Largest Starbucks In Thailand
Also Read: Here's How To Make Refreshing Coconut Jelly Using Only 5 Ingredients
Don't Miss Out: 3-Steps Domino's Grilled Chicken Recipe That You Can Try With An Air Fryer
–
We would like to invite you to join our New Private Community Group! Here you are free to ask questions, share your love for food, and explore the Bangkok community! We will also regularly post about casual promos and the latest findings.
Click on the button below and hunt good food with us today!