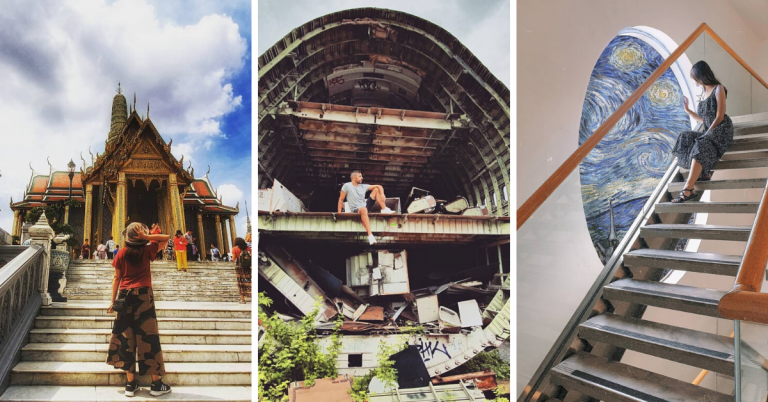 Bangkok is a city full of things to do, both street food and fine dining, and glimpses of a rich culture every corner. Whether you're traveling in Thailand for your very first time or are just looking for something to do in Bangkok during a quick layover, you'll surely find a few of these best things to do in Bangkok that fulfill your inquiry. Here's the list for the ultimate guide to cross out your list when you're in Bangkok!
10 Best Things To Do In Bangkok 2020
What to do in Bangkok this 2020? Check out today's blog now.
1. Take a Food Tour by Experience Street Food
If you're a fan of food, you're going to want to read this. Bangkok is the perfect place to encounter Thai cuisine and go beyond the typical Thai food like Pad Thai and Tom Yum. Take a tour of eating by experiencing Bangkok's most interesting markets – including the Flower Market, a local Muslim market and, of course, to Chinatown!
2. Take a Tuk Tuk
Riding in a tuk-tuk is literally compulsory in Bangkok. Tuk-tuks have become one of Bangkok's most recognizable transportation features and are still popular among tourists and locals. Riding a tuk-tuk is more of an experience than a practical way to get around. Hop-in for a fast ride with a few bumps, flashing lights and face full of fumes.
3. Experience an Authentic Floating Market
A trip to Bangkok is not complete without a visit to one of the famous floating markets. The floating markets in Bangkok are among the famous attractions. Almost every traveler has to visit at least one on their first trip here. The colours, chaos, flavors, and atmosphere are unique, and the novelty of buying a snack from a passing boat takes some beating. Immerse yourself in a whole new way of buying produce from local vendors!
4. Discover the Grand Palace
The Grand Palace is, as the name implies, nothing short of grand. The spectacular Grand Palace is undoubtedly the most famous landmark in Bangkok. It's one must-see sight that no visit to the city would be complete without. The detailed architecture, with precious gem inlays and gold leaf designs, is super inspiring. Definitely one of the best things to do when you're in Bangkok!
Address: Na Phra Lan Rd, Phra Borom Maha Ratchawang, Phra Nakhon, Bangkok 10200, Thailand
Operating Hours: 8:30 AM – 3:30 PM (Opens Everyday)
Check out their website here
5. Explore Bangkok's Airplane Graveyard
The airplane graveyard, as it has been labeled: a large, open wasteland in the suburbs of Bangkok that is now home to an assortment of deteriorating aircraft. Just outside the city, 5 planes sit abandoned and ready to be explored. This so-called airplane graveyard is a hotspot amongst photographers and those seeking an Instagramable experience off the typical tourist path.
Address: Ramkhamhaeng Alley 103, Hua Mak, Bang Kapi District, Bangkok 10240, Thailand
6. Go On A Cafe-Hopping Adventure
Shopping in Bangkok is irreplaceable but you will be glad to know that their café culture is not left behind either. There are endless reasons for café-hop when in Bangkok, as nothing quite compares a coffee break, that comes with such good vibes and atmosphere! Besides enthralling interiors, intriguing concepts and innovative dishes,  Bangkok cafes will certainly be worth your time and money!
7. Experience Soi Cowboy
The journey for one of the best things to do here in Bangkok is by experiencing Soi Cowboy. This red-light district is more laid-back and carnival-like. Flashing neon lights up a colorful streetscape of 20 or so go-go bars that line its sides. It's pretty easygoing and open-minded, entry is always free and drink prices are fixed. Absolutely stunning for photography shot too!
8. Discover Bangkok Art and Culture Centre
If you're an art enthusiast, do not miss the chance to visit Bangkok Art and Culture Centre. Located only a few minutes' walks from National Stadium BTS, it regularly hosts changing exhibitions from both Thai and International artists. Also, you can discover some of the city's most beautiful pieces contemporary of art, music, theatre, film, design and cultural/educational events. Come check out, the entry to BACC is totally free!
Address: 939 Rama I Rd, Wang Mai, Pathum Wan District, Bangkok 10330, Thailand
Operating Hours: 10 AM – 9 PM (Closed on Monday)
Check out their website here
9. Pay a Visit To Pak Khlong Market Flower
Pak Khlong Flower Market is the biggest wholesale and retail fresh flower market in Bangkok. While we were told the Pak Khlong Flower Market is not what it used to be, it's still an interesting place to wander through and be amongst locals. This market is open 24 hours a day, and contrary to what you might think, the busiest time is at night.
Address: ปากคลองตลาด สน พระราชวัง Bangkok, Thailand
Operating Hours: Opens 24 Hours Everyday
10. Have Some Fun at Amusement Parks
Theme parks and amusement parks are essentially thrill and adrenaline rush zones for both the young and the old especially Bangkok, the capital city of Thailand is no stranger to them. When you visit the capital don't forget to visit these theme parks and amusement parks together with friends or family!
There's always a way to having some fun!
That wraps up the top 10 things to do when you visit Bangkok.  Immerse the times,  simply take a pic for your memory or share on your medial social. That's it for now and stay tuned to our other write-ups! Don't forget to follow our list whenever you're in Bangkok!
Also read: Top 10 Cafes For Mouth-Watering Desserts In Bangkok
—
We would like to invite you to join our New Private Community Group! Here you are free to ask questions, share your love for food, and explore the Bangkok community! We will also regularly post about casual promos and latest findings.
Click on the button below and hunt good food with us today!