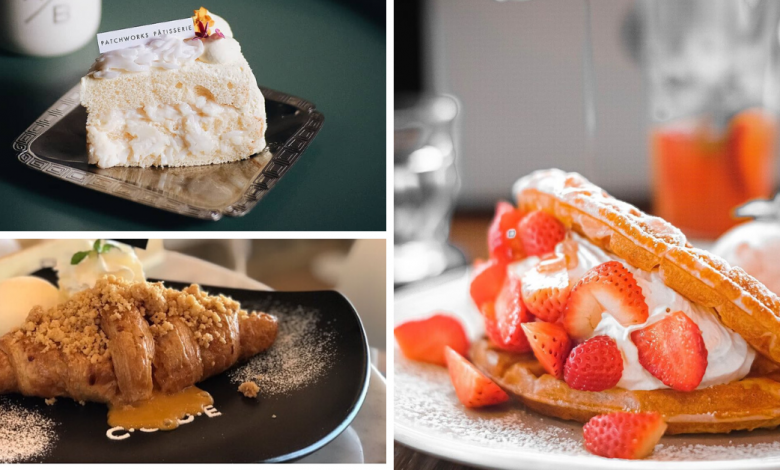 This post is all about dessert in Bangkok!
In a food paradise like Bangkok, there is no shortage of great food. You can eat a lot here and still feel as if you've yet to try everything. Well, now maybe you want to conquer the desserts portion of it all. Here, we will be unraveling the top 10 cafes for mouth-watering desserts in Bangkok! We'll be covering all types of desserts that you crave, including Western pastries and local desserts.
10 Best Dessert Cafes You Must Check Out In Bangkok
Check out Halal cafe in Bangkok too.
1. Patchworks BKK
This glass house concept cafe pops out amongst busy buildings surrounding it. Minimalistic vibes ensues the entire place with monotonous colours and woody elements furnishing it. Patchworks BKK is a patisserie specialist, offering a plethora of cakes and pastries. One of their signature is definitely their Honey Lemon Cheese Tart (180 baht). A crunchy homemade tart with lemon stuffings and cheesecake, drizzled in honey to balance out the savouriness. Other pastries worth trying is their Coconut Cake (120 baht) and Almond Crunchy (180 baht).
Address: Chula Soi 6 (Nap Lab Project), Pathumwan District, Bangkok.
Nearest station: Siam BTS Station
Operating hours: 10:30am – 8:30pm (Tues –Sun), Closed on Mondays.
2. ICI
Next up, if you're looking for something that's out of this world – head over to ICI! This cafe takes pastries to a whole new level, with each of them are gorgeously made. Better charge up your phones/cameras, you'll be snapping away thousands of pictures of their desserts. The famous Starfish (450 baht) embodies the physical form of a starfish, but is actually coffee-vanilla mousse with pineapple compote. Set to not only get your mind blown but also your tastebuds. Another favourite you have to try is their Blueberry Balloon (235 baht) or if you need to run, get their assortments of macaroons (85 baht/piece) to-go. Don't be surprised if they taste differently than the usual flavours.
Address: 24 Soi Sukhumvit 27, Khlong Toei Nuea, Watthana, Bangkok 10110, Thailand.
Nearest station: BTS Phrom Phong
Operating hours: 10am – 6pm (Tues – Sun), Closed on Mondays.
Contact no.: +66 2 007 3113 *Reservation is required to visit this place, so it's suggested to book a date at least 1 week earlier*
Links: Facebook
3. After You Dessert Cafe
This has to be one of the most popular dessert cafes in Bangkok. It's hard to believe that After You has been opened since 2007 and its hype is still going strong. This must only mean one thing – the desserts are truly worth it!
With several branches opened all throughout Bangkok (and the whole of Thailand), After You is well-known for their Kakigori and Shibuya Honey Toast. With various flavours to offer, their desserts start from 130 baht. They're also known for turning local desserts into wonderful shaved ice desserts. Their latest Sticky Mango Rice Kakigori is to die for. There's even huge chunks of mango pieces and sticky rice hidden in it.
Address: Siam Square One, Ground Floor.
Operating hours: 12pm – 12am (Daily)
Check their website for other locations and operating hours.
4. Once Cafe
Want to go all out in desserts? Why not head to this one that serves gigantic three-layered egglette towers and shaved ice. Well, you know what they say, "Go big or Go home!" And indeed, Once Cafe went HUGE. Besides that, crazy drinks are also served here with milkshakes or juices placed in tall mason jars, topped off with more egglettes, ice cream or…cotton candy! If you want something lighter, go for their handmade ice-cream selection. They taste equally amazing as well.
Photo: @mimcando (Instagram)
Address: 228 Siam Square Soi 2, Pathum Wan, Pathum Wan District, Bangkok 10330, Thailand.
Nearest station: Siam BTS
Operating hours: 12pm – 9:30pm (Daily)
5. Souffle & Souffle Pancakes Cafe
For those who want something lighter for the stomach, souffle pancakes are the way to go! By the name of the shop, pretty sure you could guess what kind of desserts you'll be devouring here. This is deemed to be one of Bangkok's best place for utterly soft and fluffy Japanese-style souffle pancakes. Souffle & Souffle offers a variety of flavours to fit your taste buds. Pancake prices start from about 300+ baht per plate.
Address: 56/8 Soi Sukhumvit 55, Klongtan Nuea, Watthana, Bangkok 10110, Thailand.
Nearest station: Thong Lo BTS
Operating hours: 8am – 9pm (Daily)
Links: Facebook
6. The Blooming Gallery
Nevertheless, The Blooming Gallery is one of the prettiest and magical cafes in Bangkok. The floral-themed cafe is a local and tourist favourite. But besides all the hoo ha about it's stunning deco, they have one of the most raved about desserts in Bangkok as well. A Path In The Forest – combines both matcha mousse and soft cheesecake that will melt in your mouth in every bite. The size of it is quite large, so it's best shared among several people.
However, they had just recently pushed out brand new mousse soft cheesecake cups. There's flavours like mango, strawberry, oreo and even Thai Tea! There's nowhere else to fix your cheesecake cravings.
Address: LG Floor, Eight Thonglor Mall, Sukhumvit Soi 55, Wattana, Bangkok 10110, Thailand.
Nearest station: Thong Lo BTS
Operating hours: 10am – 10pm (Sun – Thurs), 10am – 12am (Fri & Sat)
Links: Website | Facebook | Instagram
7. Tealily
Bangkok has its fair share of Japanese inspired cafes and this is one of it. Tealily is a Matcha Heaven for all things matcha! This quaint little cafe is big on their matcha desserts and several houjicha desserts as well. Go all out by ordering their Matcha Latte, Matcha Ice Cream and Matcha Brownie. Their brownie is dense and a mouthful of matcha in every bite. If you want a tiny break from the Matcha madness, go for their Kinako Dango (Japanese mochi-like sweet dumpling). It's chewy and sweet texture will leave you craving for more! Prices start from 130 to 255 baht.
Address: 15/25 Sukhumvit 63, Ekkamai 12, Bangkok
Operating hours: 10:30am – 5:30pm (Thurs – Mon), Closed on Tue & Wed.
8. Roast
A popular spot for brunch, Roast has more than just your regular egg benedicts and sandwiches (which are so delicious). They also serve irresistible desserts that will leave you wanting more. From waffles to souffles, everything is baked to utter perfection. Do try out their famous Strawberry Waffle (260 baht), the light fresh cream instantly balances out the sour-sweetness of the strawberry. All of that enveloped in crispy waffle is more the reason you will fall in love with it.
Address: 1 Helix Building B 693 695 Sukhumvit Road แขวงคลองตันเหนือ Watthana, Bangkok 10110, Thailand.
Operating hours: 10am – 10pm (Daily)
*They have another branch at Ekkamai too, check out their website for address.*
9. CODE (Cafe of Dessert Enthusiasts)
If there's a dessert that has fillings oozing out from it, you definitely have to try it! Especially if the shop is everything you embody to be – A Dessert Enthusiast. This cafe is one of the famous dessert cafe franchises as well. CODE is popular for their Instagram-worthy lava toasts, starting from 165 baht. You can go for normal fillings like matcha or chocolate. But if you want to make it a memorable one, do try their salted egg yolk and Thai tea fillings! Your tastebuds will definitely be blown away. Their crispy but soft croissants are also to die for.
Photo: @kai_jeewan (Instagram)
Address: Terminal 21, 88 Soi Sukhumvit 19, Khlong Toei Nuea, Watthana, Bangkok 10110, Thailand.
Nearest station: Asok Bts
Operating hour: 11am – 10pm (Daily)
*Check out their websites for other locations nearest to you.*
10. The Gingerbread House
Last but not least, how could we close off without including any local desserts. And fortunately, we found authenticity, contemporariness and culture – all fused into one cafe, housed in a 106-year-old building. The Gingerbread House is a bit harder to locate for tourists as it only has a nameplate in Thai. But once you stumble upon it, you'll feel like you've found a pot of gold.
The cafe specialises in only local Thai desserts that you have came to love from the street stalls. Signature Thai desserts like black jelly served with Thai tea ice cream and bua loi rice balls topped with pandan-flavored ice cream and foi thong. But if you're feeling adventurous and want to try everything, go for the Lotus Set to sample 8 different variety of Thai desserts with two scoops of ice cream and a pot of tea.
Address: 47 Dinso Rd, Sao Chingcha, Phra Nakhon, Bangkok 10200, Thailand.
Operating hours: 11am – 8pm (Tues – Fri), 9am – 8pm (Sat & Sun), Closed on Mondays.
Links: Facebook
There's always space for desserts!
That wraps up the top 10 cafes you have to visit in Bangkok for utterly divine desserts You may find some of them in your home country but when in Bangkok…you eat and don't stop till you're satisfied! And trust the Thais for delivering good food besides local delights. Go any one of them whenever you're in Bangkok!
Also read: 10 Must-Visit Instagrammable & Trendy Cafes In Bangkok
–
We would like to invite you to join our New Private Community Group! Here you are free to ask questions, share your love for food, and explore the Singapore community! We will also regularly post about casual promos and latest findings.
Click on the button below and hunt good food with us today!