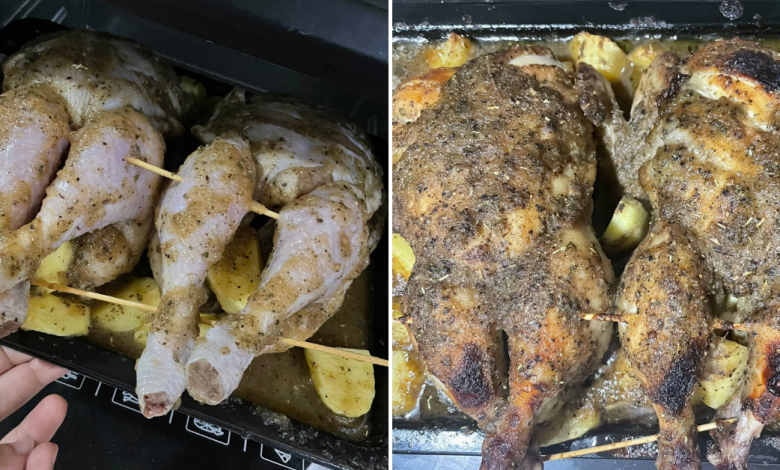 Remember the good old days when we would drop by at Kenny Rogers Roasters for a satisfying meal? Known for its classic roasted chicken with black pepper sauce, notable side dishes as well as soft muffins as sweet treats, we have all loved Kenny Rogers Roasters. This being said, there's even a recipe online that teaches you how to recreate this classic Kenny Rogers roast chicken at home.
Recreate Kenny Rogers Roast Chicken With This Recipe
Since we are all staying home for meals just a little while longer, maybe we can take the time to try out this recipe. What you'll get is a fragrant, tender, and well-marinated roast chicken that's ideal for a family meal. So without further ado, let's get started!
Ingredients:
1 whole Chicken
(A)
2 large onions
4 cloves of garlic
1 inch of ginger
1 cube of chicken stock (Knorr/Maggi)
2 tbsp black pepper
1 spoon of black pepper sauce
1 tbsp of Sunquick
100ml water
1 tsp salt
1 tbsp sugar
(B) Marinade
2 tbsp of honey (optional)
3 tbsp olive oil
1 large spoon of mixed herbs
1 large spoon of parsley
Directions
Blend ingredients A and then proceed to prepare ingredients B
Next, mix ingredients A and B
3. With the mixture, coat the entire chicken well and stuff some into the chicken
4. Leave aside for approximately 2 hours to ensure chicken is well-marinated
5. Once done, put it into the oven (small oven: 180-200 degrees, large oven: >200), top and bottom heat for 1 hour-1 hour 30 minutes
6. After the first 30 minutes, use the gravy to coat the chicken and add some oil over the chicken (to prevent it from drying out)
7. Ready to serve
Try Out This Kenny Rogers Roast Chicken Recipe Today!
And there you have it, you've just recreated the Kenny Rogers classic roast chicken. Now it's time to sit back and enjoy a truly delicious meal. Let us know how it goes in the comments, good luck trying foodies!
This recipe is by @bellaTutulip
Read More: Tom Kha Gai Recipe: Make This Creamy, Fragrant Thai Coconut Chicken Soup
Check Out: 6 Simple Steps On How You Can Make Authentic Thai Tom Yum
—
We would like to invite you to join our New Private Community Group! Here you are free to ask questions, share your love for food, and explore the Bangkok community! We will also regularly post about casual promos and the latest findings.
Click on the button below and hunt good food with us today!