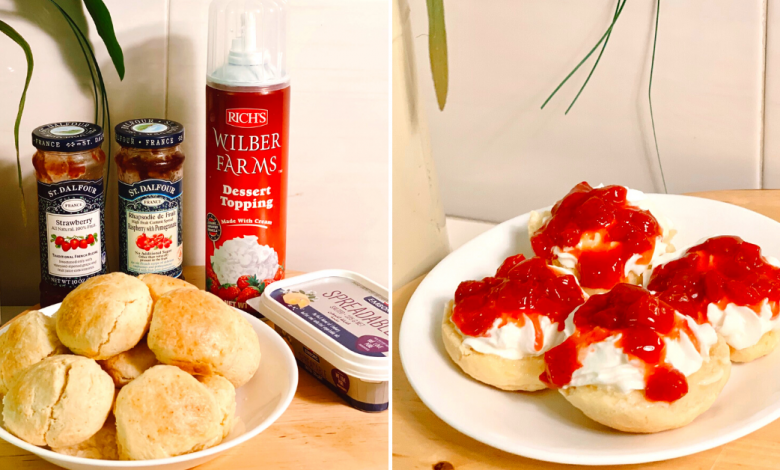 When we're all staying at home, how do we spend our time wisely? Well, we can pick up a book and start reading, or, we can even perfect some simple recipes. Indeed, if you look a little deeper, everyone is essentially a skillful chef at heart. Especially with the convenience of the Internet, nothing is too difficult to master. Today, we'll be sharing an English Scones recipe to try out.
Easy 5-Ingredient English Scones Recipe To Make While Staying Home
Pastries are always a good idea because there's no specific time to consume them. Have it for breakfast, or a quick mid-day snack, or even supper. So, if you have an oven at home and plenty of time to spare, then this recipe is perfect for you.
Posted the recipe on Twitter, @amrhoth, shared her mother's recipe of the English Scones. The best part is that this recipe does not require eggs and only makes use of 5 ingredients. Here are the recipe and steps in baking delicious English scones:
When you're done with baking, the fun continues because it's time to start off the toppings! You can add any toppings of your choice, such as whipped cream and fruit jam, chocolate chips and many more. Or, you can even eat it plain (that's the beauty of scones).
As of the current time of writing, this English Scones recipe has garnered over 12,000 retweets and 19,000 likes on Twitter. Additionally, there's quite a number of netizens who tried and tested this recipe with success. They show off their own creativity by adding different toppings such as raisins, and cranberries.
Here's a pro-tip: To avoid overbaking the scones, just keep an eye out on them. Once they turn golden brown, it's ready to be served. So, with such a simple recipe and only 5 necessary ingredients, what are you guys waiting for? Get creative and have some scones for tea-time! Who says you can't high-tea at home?
Here's a full tutorial i compile just for fun in case some of you suka tgk video tutorial instead 🤗 pic.twitter.com/NlEKEsCyhA

— 𝕒𝕞𝕣𝕙.𝕠 (@amrhoth) March 21, 2020
Also Read: Thai Travel Agents Association Proposed Quarantine-free Travel Bubble With Low Risk Countries
Check Out: Tom Kha Gai Recipe: Make This Creamy, Fragrant Thai Coconut Chicken Soup
—
We would like to invite you to join our New Private Community Group! Here you are free to ask questions, share your love for food, and explore the Bangkok community! We will also regularly post about casual promos and the latest findings.
Click on the button below and hunt good food with us today!