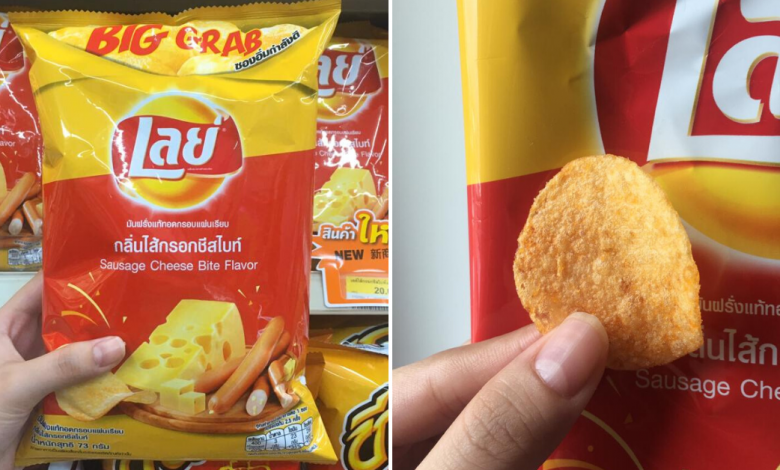 TL: DR
Lay's produce another fun flavour; Sausage Cheese Bite.
Each packet costs 20 Baht each.
Found at a local 7-Eleven store.
Lay's Thailand is famous for coming up with unique and local flavours. As a Foodie, we enjoy taste testing their fun experiments and when it's good, we will share it with each other. This is why we are very excited to inform you of our new discovery on Lay's unusual flavour; Sausage Cheese Bite potato chip.
Sausage Cheese Bite Potato Chip
Cheese flavours are almost too common to be found with any kind of snacks. However, 'sausage cheese' is a whole different delight. To capture the joy of eating sausages on a chip is definitely a next level gastronomy magic right there. Each packet will only cost 20 Baht each. You can find them at any 7-Eleven store near you.
Only In Thailand
Lays Thailand consistently adds unique flavors to the classic potato chip. Tourists often love them and they will sneak a few bags into their suitcases because the flavours simply can't be found anywhere else outside of Thailand. If you get the chance to taste one of these Cheese Sausage Bite potato chips, share with us your thoughts in the comment section.
Also Read: All Businesses Including Entertainment Venues To Resume On 1st July With Strict SOPs
–
We would like to invite you to join our New Private Community Group! Here you are free to ask questions, share your love for food, and explore the Bangkok community! We will also regularly post about casual promos and latest findings.
Click on the button below and hunt good food with us today!