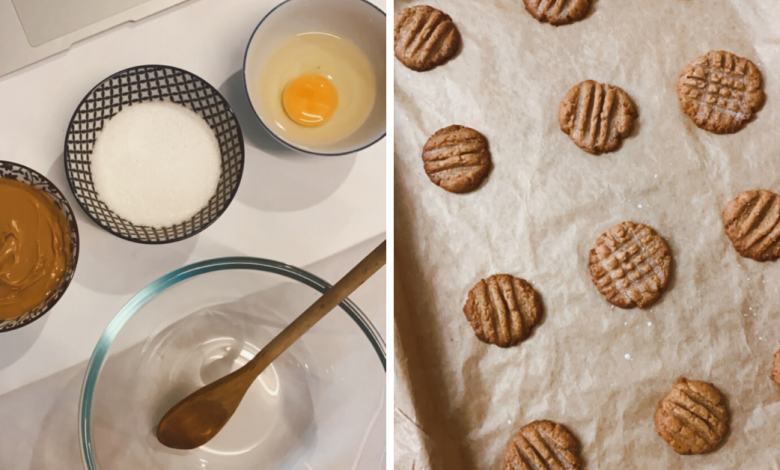 Sawasdee, foodies! Have you been keeping busy and trying new recipes? We hope you are! As the number of Covid-19 cases keep increasing, we hope that more of you will stay at home and stay safe. And with that, here's another simple recipe you can try at home and the best part is that you only need three ingredients. So, heat up your oven and let's get baking!
Make Delicious Peanut Butter Cookies With Ingredients You Can Find In Your Kitchen
A perfect tea time snack – these peanut butter cookies are delicious with a cuppa coffee or tea. Another plus point, you only need three ingredients to make these crunchy bites of goodness. Because it is so simple to make, parents can make these cookies with your kids for some fun time in the kitchen. Check out below for what you will need and let's have some fun!
Here's What You Will Need To Make Peanut Butter Cookies
If you are still wondering why you should make some cookies, we've got just the reason. This recipe only takes 8-10 minutes to bake and voilá – crunchy and delicious peanut butter cookies! Instead of going out to buy snacks, grab your peanut butter spread and make this in no time at all. And in just half an hour's time, you'll get to enjoy it with your cuppa coffee while you work!
Ingredients:
1 cup of smooth peanut butter (you may use chunky peanut butter as well)
1/2 cup of sugar
1 egg
Step 1: Preheat oven to 180°C. Then, combine peanut butter, sugar and egg into a small mixing bowl
Step 2: Using a whisk or wooden spoon, mix the ingredients until all is combined
Step 3: Roll mixture into a ball and place on baking pan with baking sheet. Using a fork, gently press to make criss-cross patterns
Step 4: Once oven is preheated, bake for 8-10 minutes at 180°C
Step 5: After 8-10 minutes, allow cookies to cool before transferring into airtight container
Try Making This Recipe And Enjoy Delicious Peanut Butter Cookies With Your Cup Of Coffee
There you have it, and that's all it takes to make this super simple peanut butter cookies recipe. Using only three ingredients and about five steps (or less), whip up a batch right now. You don't need to be a professional baker to make delectable treats. Give this recipe a try and share some pictures with us in the comments! Adios for now, and stay safe!
Read: Here's How To Make Fluffy Japanese Cotton Cheese Cake To Satisfy All Your Cake Cravings
–
We would like to invite you to join our New Private Community Group! Here you are free to ask questions, share your love for food, and explore the Klang Valley community! We will also regularly post about casual promos and latest findings.
Click on the button below and hunt good food with us today!