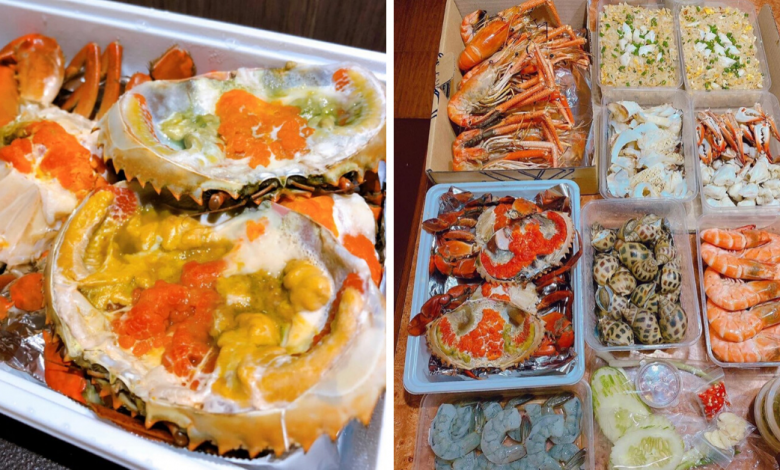 Delivering fresh and affordable seafood to your doorstep, it is no wonder why Puponfai became a hit on social media with 144,000 followers on Instagram and 18,000 likes on Facebook to date. From the variety of seafood served here like Giant Prawns and Crab Claws, Puponfai's signature best-seller is its creamy Raw Crab In Fish Sauce. Now let us show you what they offer!
Puponfai Offers A Variety Of Seafood Including Giant Prawns And De-Shelled Crab Claws
1. Raw Crab In Fish Sauce/ Steamed Egg Mud Crab
Feast your eyes on their best-seller, the Raw Crab In Fish Sauce! The crab is not used for its meat, but for the creamy roe in its head. If you don't like it raw, you can opt for Steamed Egg Mud Crab on the right instead.
2. Grilled Giant River Prawn
Just look at the size of these Giant River Prawns! Expertly grilled, these fresh prawns come with sweet and succulent meat, and a generous amount of head roe.
3. Steamed Blue Crab
The special thing about the Steamed Blue Crab is that it comes de-shelled! Enjoying crab meat has never been so easy. This comes with a option of claws, legs or a mixture of both.
4. Crab Fried Rice
The Crab Fried Rice may look simple, but it is packed with flavour! Fried in a hot wok, this fried rice is infused with the aroma of crab and the smokiness from the wok.
5. Thai Seafood Dipping Sauce
Another thing that Puponfai is famous is the Thai Dipping sauce of theirs. Dip your seafood of choice in this if you want an extra spicy kick!
Puponfai Offers Free Delivery With Orders Above 1200 Baht
In light of the Covid-19 situation, Puponfai is offering free delivery for those that order food worth 1200 Baht or more. See below for more information on how to order!
Thank You For Delivering Delicious Seafood To Us
Puponfai has made it possible for us to enjoy fresh, delicious seafood in the comfort of our homes. From crab roe to crab fried rice and giant river prawns, there are a variety of seafood offered here!
See below for the full delivery menu!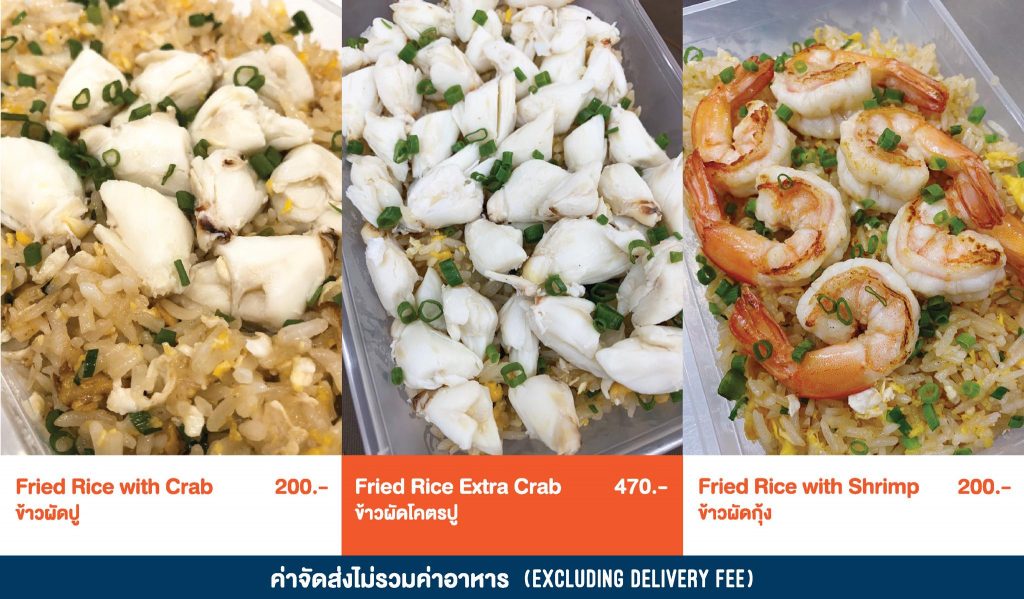 Address: 47 Soi Chulalongkorn 14, Wang Mai, Pathum Wan District, Bangkok 10330, Thailand
Operating Hours: 8am – 11pm (Everyday)
Link(s): Facebook, Instagram, Line
Also read: Top 10 Outdoor Activities For Some Thrill-Seeking Fun In Phuket
This article is written by Daniel Liew.
–
We would like to invite you to join our New Private Community Group! Here you are free to ask questions, share your love for food, and explore the Bangkok community! We will also regularly post about casual promos and latest findings.
Click on the button below and hunt good food with us today!