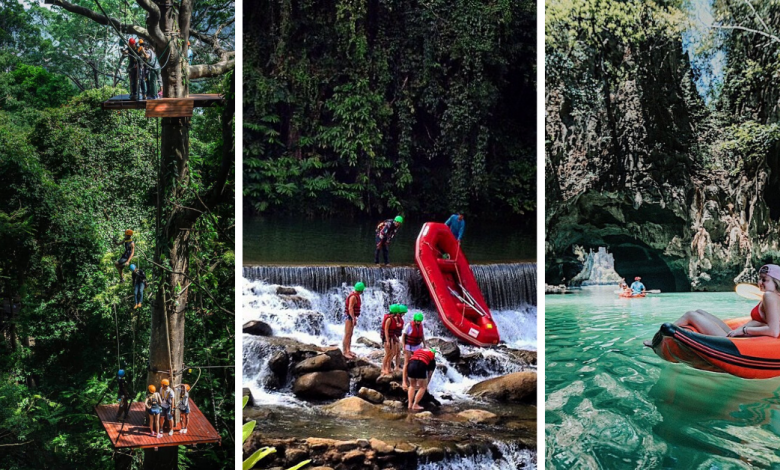 Sandy beaches and blue skies are a staple here in Phuket. So there's really no better way to truly explore the wonderful island of Phuket than to get out of your hotels and Airbnbs, and experience the sunny weather outside. Embark on a journey to experience Phuket's natural beauty and also soak in the rich cultural buildings of Phuket Old Town. Or best of all, put on your adventurous cap and braced yourself for some of these daring activities!
10 Outdoor Activities You Can Have To Do In Phuket:
1. Walking Tour Of Old Town Phuket
First off the list is something everyone should do whenever you're visiting Phuket. Explore the wondrous Phuket Old Town in all its glory through its buildings that are both rich in history and colours. The best way to do so certainly to do it on foot! Discover hidden murals on the heritage buildings, or simply just wander aimlessly through the streets and you may discover that the Old Town's hidden gems.
It's quite a distance away from the beach. Hence, if you're staying near the seaside, it's recommended to call a Grab or taxi to get to the Old Town.
2. Jungle Bungy Jump
Jumping right into a real daredevil activity is the Jungle Bungy Jump. Well, it's pretty self-explanatory from the name – you'll be bungee jumping smack right in the middle of luscious greenery. The place is run and managed by a team of professionals from New Zealand, so don't sweat about being in good hands. If you've been wanting to tick this off your bucket list, come on over and conquer this 500-meter plunge into the emerald green lake.
Phuket Jungle Bungy Jump
Address: 61/3 Wichitsongkram, Kathu, Phuket 83120, Thailand.
Contact: +66 76 321 351
Operating hours: 9am – 6pm (Daily)
3. ATV Ride
Looking for even more thrills in the wilderness? This next activity will have you breaking a nervous sweat at every turn of a corner and every bump of the road. But it'll be all worth it at the end. There are various ATV tours but one of our favourite would have to be the ATV Ride to Big Buddha. As the track not only brings you a fully-immersive experience within the lush forest, but you'll also arrive to a gorgeous view of the biggest buddha statue in Phuket.
ATV Phuket
Contact: +66 (0)76 617 747
Operating hours: 9am – 5pm (Daily)
Link(s): Website
4. Zipline @ Hanuman World
Be one with nature in this next activity, by simply "flying" from tree to tree in Thailand's Biggest Zipline Park! You don't have to be a pro to participate in this one, all you need is the guts to have some thrill-seeking fun. Admire nature's beauty like you've never seen before – high up on the trees.
Besides ziplining, you can also choose to go to their skywalk for a serene stroll among the woods. Or take it up a notch with their "roller zipline" by cutting across the entire park at high speed in one long, twisting line. There are 3 different zipline courses and it's priced from 1900 baht.
Hanuman World
Address: 105 Moo 4, Chaofa Rd., T. Wichit, Muang, Phuket, Thailand 83000.
Operating hours: 8am – 5pm (Daily)
5. Sea Cave Canoeing
For those who have been to Phuket and you think you've seen it all, you may be wrong about that. Sea kayaking around Phuket, especially Phang Nga Bay will open your eyes to a whole new hidden realm of nature's beauty – the Hongs (Thai word for "room"). These Hongs are openings to the interior of each island in Phang Nga Bay which are only accessible at low tide, hidden away from the forefront of travellers on big boat.
You can personally kayak around the bay or for convenience sake, go for a personal guide to kayak you around. This allows you to go hands free and take in all of the Hongs' beauty.
Sea Cave Canoe
Contact: +66 64 915 5533
Link(s): Website | Instagram | Facebook
6. Whitewater Rafting
This next one is a great group activity that will put you and your mates to the test out your teamwork, but also giving everyone an exhilarating time. Whitewater rafting in the Phang Nga river is yet another adventure to unlock. You'll not only need to paddle forward, but also ducking branches and hold tight to your seat. There're a four levels of river currents you can conquer but it's suggested to take the easier ones if you've never done river rafting before.
Phuket Rafting Tour
Contact: +66 ( 0 ) 76 604-683
Line/WhatsApp: +66 ( 0 ) 82 810 0087
Link(s): Website
7. Trekking Up Monkey Hill
Okay, let's take a tiny break from the super adventurous activities in this list and hike up a small hill in this next attraction. If you have a fear of monkeys, maybe you have to sit this one out. There're a total of 400 macaques on this hill, so you'll definitely bump into a whole family of them on the way up.
It's worth noting that the view on the way up is actually better than the one at the peak! The best timing to go up is 5pm, where vehicles are not allowed on the road up anymore. Hence, once you reach the peak, you're just in time for the spectacular sunset view.
Address: Ratsada, Mueang Phuket District, Phuket 83000, Thailand.
Operating hours: 24 hours (Daily)
8. Rock Climbing
Up next on the list, is something for the ultimate daredevils and of course, experienced climbers. With the abundance of limestone islands here, it's no surprise that  many travellers come all the way here just to climb these natural limestone walls. The hard work of climbing all the way to the top does not go unrewarded. Apart from the huge achievement, you'll also get to witness the breathtaking view of Phang Nga Bay and the local fishing village.
Gecko Thailand
Contact: +66 (0)91 325 4958
Link(s): Website | Facebook |Instagram
9. Island Hopping
As we're almost concluding the list of outdoor activities to do in Phuket, you can never really miss out on island hopping. There are various spots that you can explore, from white sandy beaches to colourful underwater corals, there – pretty sure you want to experience it all! Hence, it's really recommended to go for an island hopping tour when in Phuket. Various tours suited to your preferences can be found online and in town!
Top islands in Phuket: Similan Island, Phi Phi Island, James Bond Island, Hong Island & Coral Island.
10. Khao Sok National Park
If tourists-filled places are not your jam and you yearn for some peace and quiet, head on over to one of Thailand's best national park! Khao San is a 3 hour drive away from Phuket, heading towards the southern region of Thailand. Although it's not really in Phuket but you can't really miss out the chance to visit this glorious natural reserve either.
Khao San is also home to an abundance of wildlife and also exotic plants like the Rafflesia. Choose to spend either a couple hours here as you trek through the jungle or you could even spend the night camping under the starry night. Prepare your swimsuit as well as you'll stumble upon many natural pools that you can jump into for a quick swim! However, it's truly recommended to go on a guided tour instead.
Khao Sok National Park
Address: 62 Khlong Sok, Phanom District, Surat Thani 84250, Thailand.
Operating hours: 7am – 7pm (Daily)
Link(s): Website
Which adventure would you love to step into next when you're in Phuket?
That concludes the list of the top 10 outdoor activities for anyone who's travelling to Phuket next! There's pretty much something for everyone here, from a leisure walk in the town to bungy jumping in the jungle…now that's one thing you don't get to do everyday. So put on you best cap and lots of sunblock, as you embark on a journey to fully soak in the glorious adventures that Phuket has to offer.
Read next: New Guide: 10 Local Eats Not To Be Missed In Phuket
Featured image credit: @hanumanworldphuket | @m_jwad | @seacavecanoe (From left to right)
–
We would like to invite you to join our New Private Community Group! Here you are free to ask questions, share your love for food, and explore the Bangkok community! We will also regularly post about casual promos and latest findings.
Click on the button below and hunt good food with us today!