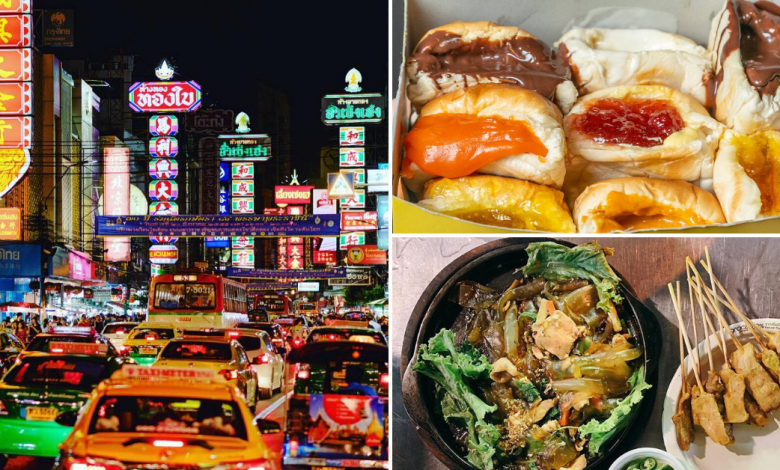 Yaowarat Road, also known as Chinatown in Bangkok, is unique due to the mix of Chinese and Thai cultures. Being one of the most popular tourist spots, the place is packed with attractions, market stalls and of course, food! Here, you can find a wide array of delightful street food as well as delectable seafood. We believe that none of you would say no to this, so keep scrolling!
Top 10 Things To Eat In Chinatown (Yaowarat) Bangkok
1. Yaowarat Toasted Bun
Yaowarat Toasted Bread is a popular spot flocked with locals and tourists every day. Still serving the traditional way, the buttered bread is toasted over charcoal fire to give it a nice crisp. Generously stuffed with fillings like condensed milk, chocolate, egg custard and more, the bun here is ever satisfying and ever delighting. As you bite into the toast, the outer layer remains crispy while the inner dough is soft and fluffy with the custard flowing in your mouth. It's heaven!
📍 452, Yaowarat Road, Samphanthawong,10100 Bangkok.
🕑 6:30 PM – 12:00 AM (Opens daily except Monday)
2. Krua Porn Lamai (Sizzling Dishes)
Porn Lamai is a legendary street food vendor that serves sizzling volcano dishes. The top dish here is undeniably Radna. It comes with a mix of prawns, squid, chicken and vegetables on a sizzling plate. You'd be pleased by the perfectly cooked meat and also flavourful broth! Besides, their phu khao fai (gravy noodles cooked on a volcanic hot-plate) and sukiyaki and Hoy Tod (oyster omelette) are highly recommended as well. The best part of all, Gordon Ramsay has even paid a visit. Now it's your turn!
📍 64, Plaeng Nam Road, Samphanthawong, 10100 Bangkok.
🕑 6:00 PM – 2:00 AM
3. Pa Tong Go Savoey
Patonggo is one of the most famous street food snacks in Thailand and this Chinatown trolley is one of the best places to find it. Patonggo is actually a Chinese fried dough (you tiao) and this stall serves it with a unique twist. Here, you can dip it in an array of toppings like pandan coconut sauce or condensed milk. Upon the first bite, the crispy crust crackles in your mouth and the sauce gives a sweet touch to it, you'll be grateful for this creation. As if that is not enough, this stall is featured in Michelin Guide 2019!
📍 489, Song Sawat Intersection, Yaowarat Road, Krung Thep, Bangkok.
🕑 6:00 PM – 10:30 PM (Opens daily except Monday)
4. Kha Moo Siri Rama (Braised Pork Leg with Rice)
Photo: Kanapos Sae-Tang (Google)Kha Moo Siri Rama is famous among Yaowarat people for its Khao Kha Moo (Braised Pork Leg with Rice). What makes their dish so delicious is that the pork leg is slow-cooked with five Chinese spices for two hours. The meat is so tender and not forgetting the homemade chilli served alongside makes every bite an absolute joy. Affordable and delectable, this is truly simplicity at its best.
📍 527, 12 Soi Charoen Krung 25, Pom Prap, Pom Prap Sattru Phai, 10100 Bangkok.
🕑 Open 24 hours
5. Nai Ek Roll Noodles
Nai Ek, who emigrated from China is the man behind the guay chub (rolled rice noodles) stalls in Chinatown. Each serving of the guay chub comes with a generous portion of minced pork balls, crispy pork and pork offal in flavourful peppery broth. Also, don't leave without trying other Chinese delights like stewed pork and herbal soups. Started with a humble beginning, this stall is now featured in Michelin Guide 2019!
📍 442, Soi Yaowarat 9, Bangkok.
🕑 7:30 AM – 1:30 AM
6. Pa Jeen Hoi Krang Luok (Cockles)
This Chinatown Bangkok food cart is well-known for serving one of the best blood cockles in Bangkok. No frills needed, the cockles are boiled to perfection with just the right amount of time. The cockles still retain a smooth and juicy texture, which burst upon each bite. A dip of its fresh, plump cockles into their homemade-recipe sauce is a heavenly combination.
📍 42-44, Phadung Dao Rd, Samphanthawong, 10100 Bangkok.
🕑 5:30 PM – 1:00 AM (Opens daily except Monday)
7. Sweet Time Dessert
Never a meal will be complete without some desserts to wash it all off. Sweet Time is a famous small dessert shop located in the middle of Chinatown. Serving an array of Chinese traditional desserts that are made of either milk, coconut milk, ginger soup or syrup, this is the perfect place to satisfy your sweet tooth. Highlights of the menu include Chinese Mix Dessert with Milk, Water Chestnut in Coconut Milk and Thai Mix Dessert. Do check them out!
📍 436, Yaowarat Road, Samphanthawong, 10100 Bangkok.
🕑 6:00 PM – 2:00 AM (Opens daily except Monday)
8. Khao Tom Jay Suay (Thai Rice Soup)
Rumoured to have been around for 100 years, this popular khao tom shop is now run by the third and fourth generations of a Chinese family. Khao Tom is the Thai-Chinese rice soup, which is not as thick as the porridge-like congee. In addition to that, you have a wide variety of side dishes to choose from to complete a bowl of rice soup. Must order dishes at Jay Suay include the delicious smoked duck, ped palo (duck stewed in Chinese five-spice broth) and jap chai (vegetable stew).
📍 610-5 Phadung Dao Rd, Samphanthawong, Bangkok 10100, Thailand
🕑 4 PM – 3 PM (daily)
9. Kui Chai (Fried Pancake with Chives)
Har Chia Jay Noi serves one of the best kui chai (fried pancake with chives) in Bangkok. The pancake here is fried at the perfect temperature until it's slightly crispy outside and tender within. The kui chai itself is good and what makes it even more delicious is their home-made tangy and spicy black soy sauce. As a whole, the dish is an appetizing blend of both texture and flavour.
📍 529, Charoen Krung Road, Pom Prap Sattru Phai, 10100 Bangkok.
🕑 2:00 PM – 8:00 PM (Opens daily except Monday)
10. Ah Yi Wan Yen (Sweet Noodles)
This dessert stall in Chinatown is a must-visit as they serve simplicity with a twist. Get ready for this mind-blowing treat, ice-cold sweet noodles that served with ginkgo nuts, beans and pine nuts. It sounds like an odd match but surprisingly, the flavour turned out to be pretty good. You need to try this sweet version of noodles at least once in your lifetime!
Read also: 10 Best Breakfast You Have To Try In Bangkok (2019 Guide)
📍 552, Samphanthawong, Yaowarat Road, 10100 Bangkok.
🕑 10:00 AM – 9:00 PM (Mon – Fri) | 10:00 AM – 10:00 PM (Sat-Sun)
List: Must-Try Food In Chinatown Bangkok
Finally, we've come to an end! We hope today's Top 10 Things To Eat In Chinatown (Yaowarat) Bangkok treated you well. With so much good food, this place is surely a must in every foodie's Bangkok itinerary! Also, if there are any that we happen to miss out, do comment to let us know. Bye!