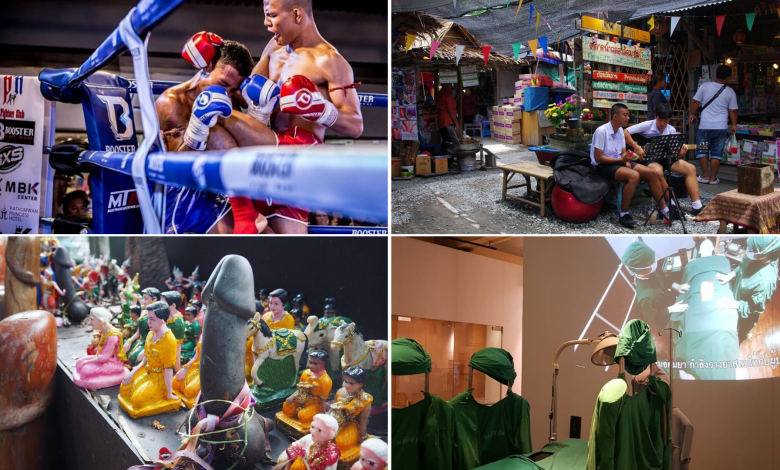 There is a treasure trove of cheap things to do in Bangkok that await you! From visiting monumental temples to watching Muay Thai fights live to even going to a museum of death, here's a list of 10 cheap things you can do in Bangkok!
10 Budget Things To Do In Bangkok!
1.
Siriraj Medical Museum – Forensic Museum
The Siriraj Medical Museum is definitely not a place for the faint-hearted! It has unusually morbid and graphic displays, so if you get queasy easily, you may want to avoid coming here! However, we have to admit, this place is extremely informative and intriguing as it features 5 separate medical areas. You are sure to leave its grounds learning something new!
Location: 2, Wang Lang Road | Siriraj, Bangkok Noi, Siriraj Hospital, Bangkok 10700, Thailand
Opening Hours: 10am – 5pm Daily, Closed on Tuesdays
Cost: 200 baht
2. Visit Lumpini Park
Calling out to all nature lovers! You have to visit Lumpini Park while in Bangkok as it's the perfect place to stop by for a relaxing day out. You may take a stroll and soak up the park's peaceful atmosphere, have a picnic with your loved one(s) or rent a bike/boat to explore for cheap. There's even a massive playground for kids! One thing's for sure, you will never find yourself being bored here!
Location: Lumphini, Pathum Wan District, Bangkok 10330, Thailand
Opening Hours: 4.30am – 9pm, Daily
Cost: Free!
3. MBK Fight Night
Have you really been to Bangkok if you have yet to attend MBK's Fight Night? This is something you simply cannot miss whether you are a fan or Muay Thai (Thai kickboxing) or not! Located at MBK Mall, it is easily accessible and there are fights happening every Wednesday, so take that into consideration when planning your itinerary!
Location: 444 Phayathai Rd, Wang Mai, Pathum Wan District, Bangkok 10330, Thailand
Opening Hours: MBK Fight Night: Wed 6pm – 8.30pm
Cost: Free!
4.Kamthieng House Museum
Kamthieng House Museum is the only authentic Lan Na (Northern Thai) architecture in Bangkok. It is truly a  gem and a place you should visit if you're interested in finding out more about Thailand's rich culture and heritage! Although it's located in one of Bangkok's busiest areas, you'd be surprised to find that the area around the museum is very peaceful.
Location: 131 Asok Montri Rd, Khlong Toei, Watthana, Bangkok 10110, Thailand
Opening Hours: 9am – 5pm, Closed on Sundays & Mondays
Cost: 100 Baht (Adult), 50 Baht (Child)
5. Khlong Lat Mayom Floating Market
Surely you have seen the colourful and vibrant pictures of the floating markets in Bangkok before, but it is a true sight to behold and you should definitely check it out while in the country. We have found that Khlong Lat Mayom Floating Market is one that is not so "touristy" and is still relatively accessible. You can find anything under the sun there, so go with an open mind!
Location: 15 Bang Ramat Rd, Bang Ramat, Taling Chan, Bangkok 10170, Thailand
Opening Hours: Only open 7am – 5pm on Weekends
Cost: Free to visit
6. Bangkok's Airplane Graveyard
This one is a great place for friends and families to explore. Bangkok's Airplane Grave houses the wings, fuselages, and debris from jets that have been left in wrecks, including that of a McDonnell Douglas MD-82 and a Boeing 747. If you're looking to do something more unique while in Bangkok, you can't give this place a miss!
Location: Ramkhamhaeng Alley 103, Hua Mak, Bang Kapi District, Bangkok 10240, Thailand
Opening Hours: 9am – 6.30pm, Daily
Cost: 200 Baht
7. Wat Pho Temple
Temples are a must-visit while in Bangkok! Wat Pho (the Temple of the Reclining Buddha) is famed for its 46m long reclining Buddha covered in gold leaf. The environment of the temple is extremely peaceful, so you can fully immerse yourself in its atmosphere. However, it is to be noted that you'll need to remove your shoes before entering and be dressed in appropriate attire (No exposed shoulders, shorts and skirts must be below knee length).
Location: Maharat Road, Phra Nakhon, Bangkok 10200, Thailand
Opening Hours: 8.30am to 6.30pm, Daily (massage available until 6pm)
Cost: 100 Baht
8. Chao Mae Tuptim Shrine – Phallic Shrine
Chao Mei Tubtim Shrine is conveniently located at Swissôtel Bangkok hotel near the bank of the Khlong Saen Saep. It is said to house the spirit of the female fertility goddess, whom visitors hoping to start a family often pray to. You can also find giant phalluses all over this shrine which makes for very interesting instagram pictures and captions!
Location: 166/1 Soi Wat Wiset Kan, Siriraj, Bangkok Noi, Bangkok 10700, Thailand
Cost: Free!
9. Explore Bangkok's Chinatown
Like other countries, Bangkok also has its own little Chinatown! Except, it's not so little…with bright neon lights, huge crowds and cheap Bangkok (Thai) and Chinese street food, you're going to find yourself wanting to stay here for a while.
Location: Yaowarat Rd, Krung Thep Maha Nakhon, Thailand
Opening Hours: Shops typically open by 7.30am and close by 10pm
Cost: Free to visit
Read More: MUST-TRY: 10 Best Restaurants in Bangkok (2019 Guide)
10. Queen Sirikit Botanic Garden
To view Bangkok's floral and fauna in its full glory, you should definitely visit Queen Sirikit Botanic Garden. From going on a canopy walk to viewing the various beautiful flowers in Bangkok, there are endless things to do here! Its lively atmosphere makes it a great place to bring your friends and family, or even a date!
Location: 9 Mae Raem, Mae Rim District, Chiang Mai 50180, Thailand
Opening Hours: 8.30am – 5pm, Daily.
Cost: 100 Baht (Adult), 50 Baht (Child)
10 Cheap Must-Do Things In Bangkok!
We hope this list gave you an idea of the cheap things you can do in Bangkok, with some of the things on the list even being free! Remember to always be respectful and keep the places you visit in Bangkok clean so they can continue to offer these amazing attractions at cheap/free rates!