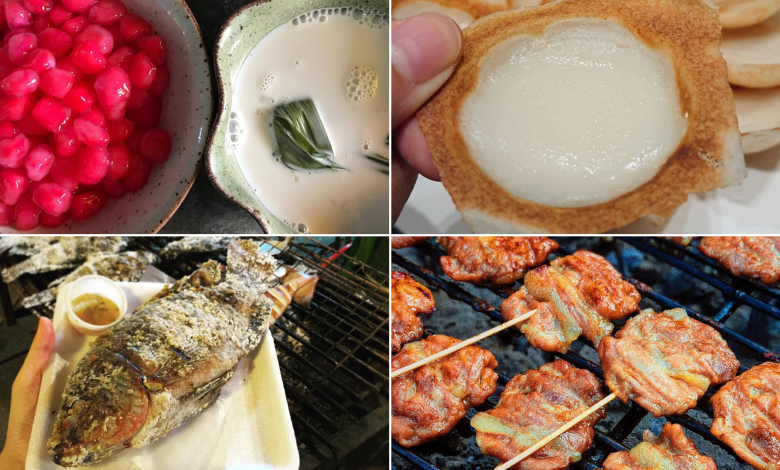 Phuket is home to many of Thailand's most delicious local eats! With so many things to consider, from Roti Pancake to Thai Fish Cakes, to even Salted Fish – here is a list of what you must try when you're in the area!
10 Phuket Local Eats You Must Try
Also read: 25 Street Food in Bangkok
1. Roti Pancake
Roti pancake is a special Thai style of sweet pancakes. Typically topped with thick coconut milk and ice cream, it has two parts – dough and filling. The dough is a mix of flour, egg, sugar, salt and condensed milk! You may choose to add any fruit of your choice for the filling. I mean, have you really been to Thailand if you haven't tried this?
2. Khao Man Gai (Thai Chicken Rice)
Winner winner, chicken dinner! Khao Man Gai is a chicken rice dish that boasts delightful and fragrant flavours! You can expect it to be served with boiled or fried chicken, steamed rice, chicken broth and a unique sauce mix! This is a dish you can't go wrong having.
3. Massaman Curry
Worried about not being able to take spicy food in Thailand? Massaman Curry is the solution to your problems! Unlike most curries where spice is the main component of the dish, this curry brings a familiar sweetness. It can be served with rice, noodles or even bread!
4. Red Ruby (Tub Tim Krob)
This tastes especially good after you've just had a hearty and spicy meal. You can find this refreshing dessert at many street food stalls. The pretty red rubies are actually crunchy water chestnut pieces and can be eaten with a variety of other ingredients like sweet potato pieces and tapioca.
5. Thai Fish Cakes (Tod Mun Pla Krai)
Deep-fried crispy battered fish cakes are best eaten hot out of the fryer and dipped into a slightly tangy and spicy chilli dip. A common ingredient used in making these fish cakes is Thai Red Curry, which makes these bad boys extra yummy! You simply have to try this!
6. Thai Steamed Dumplings (Kanom Jeeb)
You can find Kanom Jeeb in many vibrant colours! They look very similar to siew mai (which is a Dim Sum dish). Kanom Jeeb is a Thai style steamed meat dumpling with shrimps, shiitake mushrooms, and water chestnuts paired with a fried garlic-soy sauce.
7. Grilled Chicken / Pork Skewers
Moo Ping (skewered pork) is cooked over charcoal which gives a certain smokiness to the meat. Some are purely meat skewers, and some come mixed with vegetables. Either way, this makes for a great snack! However, Muslim friends might want to avoid buying these unless stated halal-certified, as many of such stalls sell pork.
8. Thai Salted Fish (Pla Pao)
Don't be put off by the seemingly immense amount of salt coated around these fish. The salt actually helps to seal in the juices of the fish when it is grilled over the charcoal. Although some choose not to eat the skin, you'd be surprised at how tasty it is! Peeling off the skin would reveal soft, tender fish meat which is amazing with both jasmine and sticky rice!
9. Thai Traditional Sweet Rice Cake (Kanom Krok)
Another thing you must eat in Phuket is Kanom Krok. It is cooked in a griddle, and when eaten fresh & hot, they possess a slightly molten centre and a lightly crisp exterior. This is something like a bite-sized lava cake!
Read More: 10 Hidden Bars In Bangkok You Have To Visit (2019 Guide)
10. Thai Fresh Spring Rolls with Herbs (Kuay Teow Lui Suan)
Unlike the ones in Vietnam, these are wrapped with large pieces of kway teow (flat & wide rice noodles). You can find Kuay Teow Lui Suan filled with a variety of ingredients, served with Thailand's signature chilli dip. Additionally, there are even vegetarian versions of this available that are equally delicious!
10 Phuket Local Food You Must Try
This concludes the list of 10 local eats you must try in Phuket. We hope you have found this list helpful! Let us know in the comments if we missed out any of your personal favourites! Happy eating!