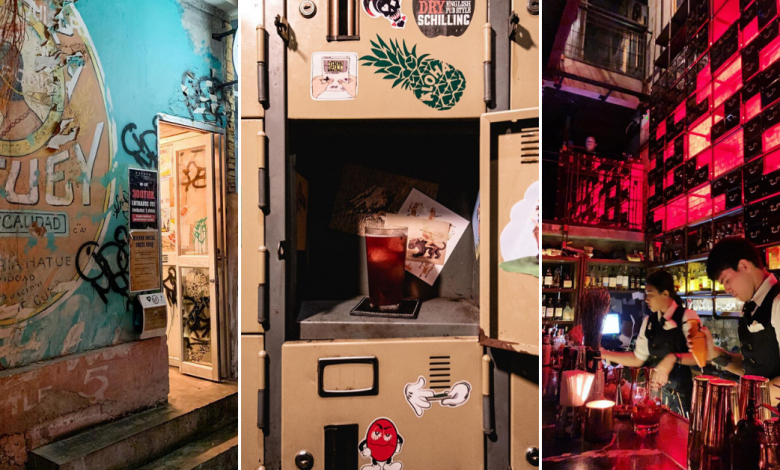 They say, "Some things are best kept a secret." Well, we couldn't agree more…especially when it comes to hidden bars that is! Although kept in a secluded area where not many may know of, looking for it is part of the whole experience of hidden bars. Here, we've compiled a list of hidden bars in Bangkok you have to check out!
10 Secret Bars in Bangkok Waiting For You To Uncover:
1. #FindThePhotoBooth
First off the list, is this bar hidden inside another bar. I know, it's crazy how they came up with the concept. The photo booth is the entrance to the other bar. As you find your way to enter via the photo booth, don't forget to take a picture or two! You may encounter a darkroom, but don't worry, you'll find your way.
You'll know that you've found it when you're welcomed by a well-illuminated sleek-looking bar. Enjoy the classics or be adventurous and order a cocktail with local 'twist'! Sway to deep house music and chat the night away at this hidden gem of a bar.
Address: 14 Soi Sukhumvit 11 Rd, Khlong Toei Nuea, Khlong Toei, Bangkok 10110, Thailand.
Operating hours: 6pm – 2am (Sun – Thurs), 6pm – 3am (Fri & Sat)
2. Havana Social
Pretty sure everyone knows Havana pretty well, mainly because of the pop song. Well, if that's your vibe and you love dancing the night away to live bands and DJs – this is your scene! Going full-on with the theme of pre-revolution Cuban, the entire club is decked out in vintage furniture and crumbling plasters.
However, your night of adventure begins even before you step into Havana Social! To locate this secret bar, you can only distinguish it by a mock retro phone booth with a small 'Telefono' sign. Now here comes the tricky part – you have to dial a secret code using the old-fashioned phone. No, there's no hard mathematical questions or mind-boggling quiz to get the code. All you have to do is just give them a call on the day you're going to Havana Social, and they'll hand you the secret code of the day!
Address: 1/1 Sukhumvit Rd. Soi 11, Bangkok, Thailand
Operating hours: 6pm – 2am (Daily)
Contact no.: +66 80 467 7409 (Remember to call for the *cough* secret code)
3. Ku Bar
Up next, is this secret bar in Old Town that emits a eerie vibe, especially with it nestled in an abandoned-looking building behind a spirit house. Brave your souls by going through a heavy gate and climbing up an equally scary stairway. As you come face-to-face with wood-paneled doors, you can breathe a sigh of relief.
Upon entering Ku Bar, a whiff of warm and relaxing vibe welcomes you. A prominent white marble bar occupies most of the room – delivering an overall minimalistic deco. Hang back and enjoy one or two of their concoctions infusing local ingredients like Chinese celery.
However, do note it is best to reserve in advance before you head on over here!
Address: 469 Phra Sumen Rd, Wat Bowon Niwet, Phra Nakhon, Bangkok 10200, Thailand.
Operating hours: 7pm – 12am (Thurs – Sun), Closed Mon – Wed
Contact no.: +66 2 067 6731
4. Rabbit Hole
As one of Asia's 50 Best Bars in 2019, Rabbit Hole is definitely worth finding your way through. Hidden in plain sight, the bar helmes a two-door wooden entrance on the outside. But once you step foot inside, it's hard not to be in awe of the three-storey bar. Soak in the jubilant atmosphere and admire the jaw-dropping interior, especially the huge booze rack right behind the marble bar.
There are plenty of seats here, so if you prefer a more hush-hush atmosphere, head on to the top floors. Trust the bartenders here to serve up some authentic concoctions that you won't be able to find elsewhere. If you're feeling fancy, go for their White Truffle Martini. Authentic white truffle oil is used!
Address: 125 Thonglor Sukhumvit 55, Bangkok, Thailand 10110.
Operating hours: 7pm – 2am (Daily)
Links: Website | Facebook | Instagram
5. "THE KEY" Room no.72
One of the best things about hidden bars is the thrill of finding your way in, and this next bar is all about locating "The Key". Tucked inside of Josh Hotel, you have to ask for a 'keycard' at the lobby in order to access the bar. How mysterious!
As you enter the bar, you'll feel as if you've been transported into the realms of an old Hollywood movie. Paying tribute to the 1920s, the space painted in deep red is illuminated by dim lights and wide mirrors. The emerald bar top is certainly the cherry on top. For those who seeks for a fancy night out and wants to get lost in time, this is the bar for you!
Photo: @_okvatchara (Instagram)Address: The Key Room No. 72, G/F, Josh Hotel, 19/2 Ari Soi 4 (Nua), Bangkok, Thailand.
Operating hours: 6pm – 1am (Sun – Thurs), 6pm – 2am (Fri & Sat)
6. Q&A Bar
Alleyways are the perfect place for bars to stay hidden in plain sight. And Q&A is exactly where you'll find it at! Look for it's small nameplate or huge marble wall outside. A long and narrow space resembling a classic railway carriage dining car greets you at the entrance.
With only 10 seats along the glossy bar, you definitely have to call them up for reservations. Creating an exclusive drinking experience, start a conversation with the bartender or even with other patrons. Get yourself a signature cocktail from their menu. Or even better, order a personalised drink fit for your own taste buds from the bartender!
Address: 235/13 Sukhumvit 21(Asoke), Klongtoey Nua , Wattana, Bangkok 10110
Operating hours: 7pm – 2am (Daily)
Contact no.: +66 2 664 1445
7. Honest Mistake
Want to play a part in an old Chinese mafia movie? Head on over to Honest Mistake – they have sold us on their cheeky lil' name. If you expect to find a cutesy ditsy bar, be prepared to be surprised. First, you'll stumble upon a 'pawn shop' where you have to buy your entry with a 'bribe'. If it all goes well *wink wink*, then you'll granted access to the the third floor.
Honest Mistake takes on the 20s Chinese-era to a whole new level with jaw-dropping decor. A dimly lit mahjong table and luxurious velvet furniture set amongst neon red Chinese signs welcomes you. Even their cocktails are infused with Chinese herbs, giving you the ultimate all-in-one experience!
Address: 488 Phahonyothin Rd, Samsen Nai, Phaya Thai, Bangkok 10400, Thailand.
Operating hours: 7pm – 2am (Mon – Sat), Closed on Sundays.
8. Foo John Building
Riding along Chinese movie vibes, is this bar that immediately reminds you of a retro Hong Kong diner. Distinguish it from the red neon Chinese letters at the front entrance and step onto the vintage mosaic tiles. The booth seats may put you off track a little as the two lower floors actually houses a French bistro – Fou de Joie. If you're feeling like crepes and wine, then go ahead and stay here for its delicious food and fantastic red wine. Go on upstairs  for the secret cocktail bar that not many know of. Their classic cocktails are pretty fairly priced starting from 280 baht.
Address: 831 Charoen Krung 31 Alley, Talat Noi, Samphanthawong, Bangkok 10100, Thailand.
Operating hours: 6pm – 12am (Wed – Sun), Closed Mon & Tues.
9. #FindTheLockerRoom
Before #FindThePhotoBooth, the brains behind the celebrated hidden bar concept had first opened up #FindTheLockerRoom. And boy, this is a real treasure to hunt for. It's so secretive, they don't even have much of a clue on how it looks like or even a Facebook page. Well, all you have to do is to #FindTheLockerRoom.
When you do manage to find you way in, you're instantly taken to a modern and sleek intimate space that sees very few seating. There are two floors with counter seating to this mysterious place so patrons won't miss a chance to see the bartenders in action. People here are deadpan about their cocktails. Hence, cocktail fanatics shouldn't miss a chance to visit this place!
Address: 406 Sukhumvit Soi 55 (Thonglor), Bangkok, Thailand.
Operating hours: 6pm – 2am (Daily)
Links: Instagram
10. 23 Bar & Gallery
Last but certainly not least, is this bar/art gallery smack right in Chinatown. Wander around Chinatown and you may stumble upon this place. Set along with other similar looking shoplots, the elusive 23 Bar & Gallery can be identified by its blue metal gate and the number 23.
This easy-going vibe is the spot for you and your friends to chill and drink beers or even admire pop-up art exhibitions by local and international artists. Don't be fooled by its decor as it encompasses a shabby Chinese shophouse. But there are live DJs playing pop music at the corner, so grab your friends and vibe to it. Drinks here are extremely affordable with beers starting at the price of 100 baht and liquor at 120 baht.
Address: 92 Soi Nana, Charoen Krung Rd., Bangkok.
Operating hours: 8pm – 1am (Tue – Sun), Closed on Mondays.
Are you ready to hunt them down one by one?
That concludes our list of top hidden bars in Bangkok you have to pay a visit. Go for a non-typical experience of uncovering hidden bars, it's be nothing like you've ever encountered! Because in the end, it'll all be rewarded with a taste of Bangkok's finest cocktail craftsmanship.
Read more about the Top 10 Spots To Get The Best Of Bangkok's Nightlife
–
We would like to invite you to join our New Private Community Group! Here you are free to ask questions, share your love for food, and explore the Singapore community! We will also regularly post about casual promos and latest findings.
Click on the button below and hunt good food with us today!