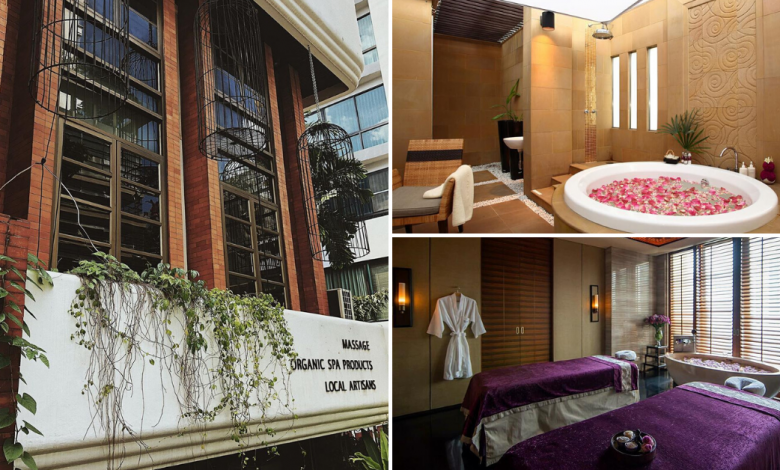 Sawasdee, foodies! In a vibrant and cultural city like Bangkok, there's so much to experience: eating, shopping, and drinking. How about doing something different like going to a spa? We all know that there are tons of massage parlors in Bangkok, but what if you're feeling like pampering yourself or your partner? This is a list of top 10 spas in Bangkok if you want some rejuvenation! Lie back, relax, and bliss out!
10 Best Pampering Spa Places You Can Find In Bangkok, Thailand
1. Devarana Spa
Devarana Spa is a luxury Thai inspired spa chain and is part of the internationally reputable Dusit International Group, which prides themselves on delivering "outstanding best spa services" at selected five-star hotels in major cities in Bangkok. Who says spa treatments are only for ladies? Head to Devarana Spa as a couple and enjoy this lovely experience together!
"Devarana" (pronounced te-wa-run) comes from Thai-Sanskrit, meaning "garden in heaven". At the Devarana Spa in Bangkok, you can select from an incredibly wide range of spa and massage treatments that suit your liking. Choose from head massages, compress massages, traditional Thai massages, and so much more.
Address: 946 Dusit Thani Bangkok, Upper Lobby, Rama IV Road, Silom, Bangrak Bangkok, 10500, Thailand
Contact: +6602 636 3596
Operating hours: Sunday to Saturday, 10AM – 10PM
2. Myth Massage
This place called Myth Massage is perfect for those who want to experience a traditional Thai massage the Thai way. Myth Massage is a lovely spa that blends rustic elements with modern decor. Also, the prices here are very reasonable and you can fully enjoy a massage that echoes age-old practices.
Various types of massages are available, these include, hand and foot massage, head massage, and aromatherapy massage. Even better news, you can combine several treatments in one session! If you've got aching feet and need a good soothing massage, their foot massage is only THB 200! In addition, there are onsite fortune tellers if you're interested for a reading.
Address: 28/3 Soi Ruam Ruedi, Lumphini, Pathum Wan District, Bangkok 10330, Thailand
Contact: +6662 335 5600
Operating hours: Daily; 10AM – 12AM
3. Yunomori Onsen and Spa
Yunomori Onsen and Spa brings the Japanese bathing culture all the way to Thailand. Coupled with traditional Thai massage techniques, it is a really unique and relaxing experience at this spa! Guests can bathe in healing water that is sourced from the thermal springs of Wat Wangkanai. The healing water really helps in detoxifying and relaxing the mind as well as the body.
This place is essentially a retreat from the bustling city life. Whether you are in need of an escape for an hour or an entire day, you can definitely count on Yunomori to deliver you a refreshed and healthier self after a trip to their onsen and spa. Let them nurture you back to perfect health!
Address: 120/5 Sukhumvit 26 Alley, Khlong Tan, Khlong Toei, Bangkok 10110, Thailand
Contact: +6602 259 5778
Operating hours: Daily; 9AM – 12PM
4. Siam Kempinski Spa
Located in Siam Kempinski Hotel, Kempinski The Spa has its own serene atmosphere, offering guests an escape from hectic everyday life. This spa provides natural treatments which aim to rejuvenate guests back to the harmony of nature.
This spa is nestled within the luxurious Siam Kempinski Hotel and Kempinski The Spa bases its treatments around the four seasons…how cool is that! Every treatment at their spa is personalised to the individual's requirements and body type. You can guarantee this place to really pamper you to your heart's content!
Their treatments focus on nature, using a plethora of herbs, plants, and flowers to offer you the best spa experience. Plus, they've got various massages, facials, and body scrubs for you to indulge yourself in. Besides offering insanely luxurious services, Kempinski The Spa has very comfortable and attractive treatment rooms that'll leave you feeling like you're floating away in a tranquil dream.
Address: Siam Kempinski Hotel Bangkok, Rama 1 Road 991/9, 10330, Bangkok, Thailand
Contact: +6602 162 9000
Operating hours: Daily; 10AM – 10PM
5. BHAWA Spa
The philosophy and inspiration behind BHAWA Spa is a mix of Indian and Thai cultures. "BHAWA" is an Indian word that means 'the status of being". It encourages us to pay close attention to the present time, to nature, and to the true meaning of life. Sounds idyllic, doesn't it? This spa is all about that balanced and harmonious life that we all strive for, after all.
BHAWA Spa prides themselves on using ancient knowledge and wisdom to curate their massage techniques and spa treatments. Spa treatments include, healing treatments, detoxifying treatments, massage therapy, as well as facial therapy.
Address: 83/27 Witthayu 1 Alley, Lumphini, Pathum Wan District, Bangkok 10330, Thailand
Contact: +6602 252 7989
Operating hours: Daily; 10AM – 11PM
6. The Oriental Spa
If you're feeling splurgy, there's none other than the luxurious The Oriental Spa by Mandarin Oriental Bangkok for you to go all out. This spa is a great place for individuals who want a more sophisticated pampering style. Helmed by the likes of Mandarin Oriental Group, The Oriental Spa is one of the best spas in Bangkok.
The Oriental Spa in Mandarin Oriental Bangkok is home to the award-winning, Warrior massage. The Warrior massage is a combination of rhythmic massage, acupressure, and dynamic stretching to ensure that you are limber and reinvigorated. It is basically a mixture of traditional massage and Ruesri Datton (Thai hermit exercise).
It is no doubt that you'll have a wonderful time at The Oriental Spa because they employ skilled and experienced therapists who offer a wide range of treatments from around the world. Plus, these therapists combine ancient wisdom and contemporary knowledge to offer the most amazing spa experience.
The Oriental Spa offers massages, pedicures, facials, cleansing and detox treatments, waxing, body wraps, and even, skin peels. The service here is exceptional and we bet you'd definitely want to return! Aside from those amazing treatments, the ambience of the spa is super aesthetic and is perfect for taking great pictures for the gram'.
Address: 48 Oriental Ave, Khwaeng Bang Rak, Bang Rak, Bangkok 10500, Thailand
Contact: +6602 659 9000
Operating hours: Daily; 10AM – 10PM
7. Banyan Tree Spa
Located in Banyan Tree Hotel Bangkok, the Banyan Tree Spa Bangkok has a panoramic view of the city's skyline and it is where you can enjoy a holistic spa experience. Spa treatments are specially concocted with fresh and natural ingredients to replenish your body.
Hiring highly-skilled therapists, the award-winning Banyan Tree experience is about reawakening sensory pleasures. Rest assure that you can sit back, relax, and completely unwind when you are at Banyan Tree Spa Bangkok. It's time you let go of your worries and just enjoy a lovely spa experience.
Address: S Sathon Rd, Khwaeng Thung Maha Mek, Sathon, Bangkok 10120, Thailand
Contact: +6602 679 1200
Operating hours: Daily; 9AM – 10PM
8. The Oasis Spa
The Oasis Spa is said to be Thailand's most prestigious, yet casual day spa because it has fourteen locations in four major cities all over Thailand. The Oasis Spa really focuses on rejuvenation and well-being. They use specialised treatments to provide the best of spa experiences in all their outlets.
Leave it to their highly-trained therapists to ensure that you're feeling good by the end of your treatment. Every aspect of their treatments have been crafted to create a personal paradise that combines contemporary and traditional techniques for an ultimate spa experience.
Address: Multiple locations.
Contact: +6602 262 2122
Operating hours: Daily; 10AM – 10PM
9. Luxsa Spa
Nestled in Hansar Hotel Bangkok, Luxsa Spa uses Thai healing methods based upon four body elements to create tranquil spa treatments. Don't you think that all we need sometimes is a good massage to get us back on track? This place is perfect for those of you who need some form of healing, whether mentally or physically.
More good news, Luxsa Spa does not only let their guests relax and rejuvenate but they're also pretty cautious about your spendings too. Luxsa Spa creates special packages and promotions so that anyone can enjoy a wonderful spa experience!
Address: 3/250 Soi Mahatlek Luang 2, Lumphini, Pathum Wan District, Bangkok 10330, Thailand
Contact: +6602 209 1234
Operating hours: Daily; 10AM – 10PM
10. The Peninsula Spa
The Peninsula Spa Bangkok is located in a stunning three-storey Thai colonial-style building that overlooks the Chao Phraya River. If luxury had a scale, The Peninsula Spa would be on the highest end of it. This spa is incredibly beautiful and luxurious, only offering the of pampering and indulgence to their guests.
Their spa utilises traditional methods from European, Oriental and Ayurvedic philosophies that creates contemporary comforts for every guest. The Peninsula Spa even has a bespoke treatment that is tailor-made to suit specific needs for an enlightening experience. This is the go-to place for those who love all things fancy and luxurious.
Address: 333 Charoen Nakhon Rd, Khwaeng Khlong Ton Sai, Khlong San, Bangkok 10600, Thailand
Contact: +6602 020 2888
Operating hours: Daily; 9AM – 11PM
List Of 10 Luxurious Spas To Pamper Yourself In Bangkok
There you have it, those are 10 of the best luxurious spas in Bangkok. Each of them are unique to their own treatments and concept but, we are sure that all of them will delight you! You deserve to treat yourself every now and then, so book an appointment and have the best time!
Also read: 10 Most Luxurious Hotels In Bangkok For A Crazy Rich Asian Experience
–
We would like to invite you to join our New Private Community Group! Here you are free to ask questions, share your love for food, and explore the Bangkok community! We will also regularly post about casual promos and latest findings.
Click on the button below and hunt good food with us today!