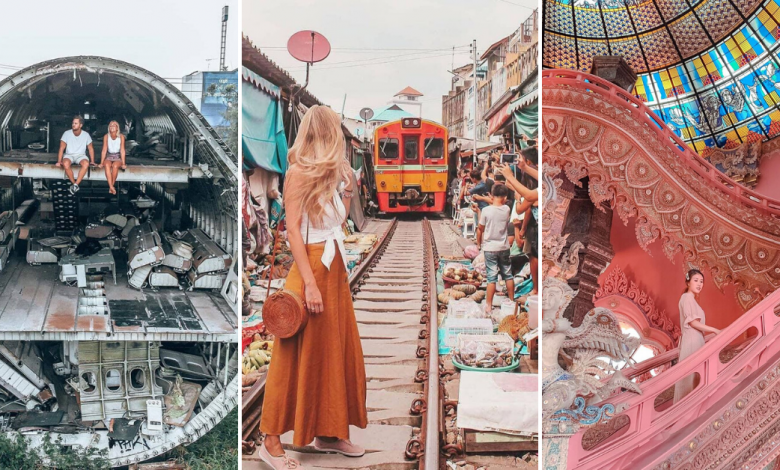 Here are 10 Instagrammable spots in Bangkok 2020.
If you're planning a trip to Bangkok and want to make sure you hit all the dazzling spots, we got you covered. Here, we've curated a list of 10 Most Instagram-Worthy Spots in Bangkok that will aesthetically feed your 'gram. From ornate shrines to beautiful landmarks and iconic buildings, make the most of your time in Bangkok and get beautiful pictures!
10 Most Instagram-Worthy Spots in Bangkok 2020
1. Wat Arun
Set on the banks of the Chao Phraya River, Wat Arun is one of the most stunning temples in Thailand.  The temple is beautifully decorated with tiny pieces of colored glass and Chinese porcelain placed delicately into intricate patterns. It is truly one of a kind and every corner makes a perfect backdrop to mark your visit. It goes without saying that this place must be on your list if you ever visit Bangkok.
📍 158, Thanon Wang Doem, Wat Arun, Bangkok Yai, Bangkok 10600, Thailand
⏰ 8 AM – 5.30 PM
2. Mae Klong Railway Market
Just as the name suggests, Mae Klong Railway Market is a traditional market that set on an active train track. Eight times a day, the train comes through and vendors get their goods off the tracks just in time, making way for the train. How cool is that! On top of that, it happens only in Bangkok, so remember to get your camera ready as this is an experience you will surely want to capture!
3. Erawan Museum
Tucked away in Samut Prakan, the insanely beautiful Erawan Museum is well-known for its huge three-headed elephant art display. The museum is divided into three main floors representing the Underworld, Earth and Heaven. Not only does it hold an interesting history, but the pinkish building also provides a perfect background for insta-worthy photos. Both inside and out, it's a fascinating space and well worth a visit.
📍 Kasem Sukhum Alley, Mae Klong, Samut Songkhram, 75000, Thailand
⏰ 4 AM – 5 PM (daily)
4. Grand Palace
No trip to Bangkok is fully complete without seeing the spectacular Grand Palace. Lies at the heart of Bangkok, it was home of the Thai King for 150 years. In addition to that, you'll find a myriad of ancient treasures as well as Emerald Buddha, which is the most important Buddhist temple in the country! With its beautiful architecture and ornate detail, no doubt this is a must to capture, see and feel for yourself when you visit Bangkok.
📍 Na Phra Lan Road, Old City (Rattanakosin), Phra Nakhon, Bangkok 10200, Thailand.
⏰ 8.30 AM – 3.30 PM
5. China Town
Chinatown in Bangkok is another great photo stop for a pop of colour on your feed. Due to the mix of Chinese and Thai cultures, this area is unique and fascinating with stunning temples, street food and everyday street scenes. If Instagram is your main agenda, you'll be glad to know that the vibrant street and large colourful display boards make a good backdrop for the 'gram.
6. Damnoen Saduak Floating Market
An iconic attraction in Bangkok, Damnoen Saduak Floating Market is the most popular market for a good reason. It's a market set on the Damnoen Saduak Canal and comprised of floating boats manned by Thai women selling their own local produce. Whether be it crossing the bridge or go on a boat, there are plenty of Instagrammable spots located throughout the market waiting to be discovered.
📍 Damnoen Saduak, Ratchaburi 70130, Thailand.
⏰ 7:00 AM – 5:00 PM
7. Airplane Graveyard
Nestled in Ramkhamhaeng neighbourhood lies an abandoned airplane graveyard that has never been disremembered. Always wanted to pose in a cockpit? C'mon, here's your chance to shine! The airplanes will give a rustic and nostalgic feel and you can take the coolest pictures. Explore around the place and create your own interpretation for a picturesque photograph with the massive plane and surrounding lush greenery.
📍 Ramkhamhaeng Alley 103, Hua Mak, Bang Kapi District, Bangkok 10240, Thailand.
⏰ 9:00 AM – 6:30 PM
8. Wat Benchamabophit
Wat Benchamabophit, also known as 'the Marble Temple' is one of the most beautiful temples in the city. It presents an undeniably Insta-worthy spot with the pillars, courtyard, and lion statue guardians that are made of Italian Carrara marble! Immerse in the beauty of perfect symmetry of the building with a blend of Thai and European architectural styles. You will surely have a good time here while taking some beautiful pictures for your 'gram.
📍 69 Nakornpathom Rd, Dusit, Bangkok 10300, Thailand
⏰ 6:00 AM – 6:00 PM (daily)
9. Chocolate Ville
Chocolate Ville is a mini themed dining park designed to look like an old European village. It will make you feel like you just walk into a quaint little town of Europe with the cobblestoned streets, vintage buildings, historical clock tower and a red telephone booth. Everything about the décor is picturesque, you can surely get one-of-a-kind shot here at this beautiful village.
📍 23, 1-16 Prasert-Manukitch Rd, Ram Inthra, Khan Na Yao, Bangkok 10230, Thailand
⏰ 4 PM – 12 AM
10. Mahanakhon SkyWalk
If you're planning to capture the whole cityscape at the highest building, Mahanakhon Skywalk is the perfect place to be. Located at the top of Thailand's tallest completed building, you will get 360-degree views of the gorgeous city skyline from up here. The view is really breathtaking, so we suggest to put on your best outfit and whip out your phones to immortalise the moment on the 'Gram.
📍 114 Narathiwat Road, Silom, Bangkok 10500, Thailand
⏰ 10:00 AM – 12:00 AM
List: 10 Instagrammable Places In Bangkok
Finally, we've come to an end! We hope today's '10 Most Instagram-Worthy Spots in Bangkok' treated you well. So what are the places that you are most excited about? Let us know in the comments. One last thing, don't forget to share it with your friends and family!
Read also: 10 Must-Visit Instagrammable & Trendy Cafes In Bangkok (2019 Guide)
–
We would like to invite you to join our New Private Community Group! Here you are free to ask questions, share your love for food, and explore the Bangkok community! We will also regularly post about casual promos and latest findings.
Click on the button below and hunt good food with us today!