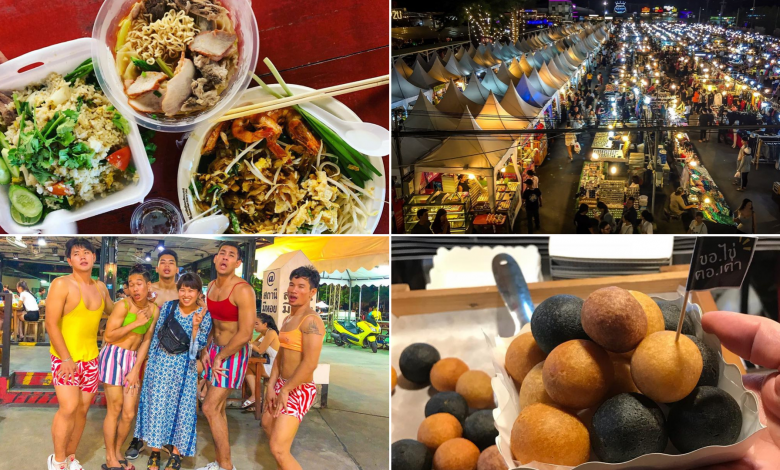 If there's one thing you have to do when you visit Bangkok, it would be to visit their night markets! Night markets have all the amazing things combined in one place — affordable clothing, cheap street food, and good vibes. Here are 10 night markets near Pratunam you must check out when in Bangkok!
10 Exciting Night Markets near Pratunam (2020 Guide)
1. INDY Market
If you're searching for a place that "only tourists know", look no more. Although INDY Market is is only 20-30 minutes away from central Bangkok, not many tourists seem to know of this hidden gem. This night market has a large variety of interesting things to shop for and eat, and there's even a shop selling fake dental braces!
Location: Suk Sawat Rd., Khwaeng Chom Thong, Khet Chom Thong, Krung Thep Maha Nakhon 10150
Opening Hours:  6pm – 12midnight, Daily
2. Mali Market Bangkok
For a night market experience that encompasses more than just eating and shopping, Mali Market is the place to go! However, that's not to say there won't be ample shopping and delicious treats waiting for you.  It offers many games and activities for people of all ages, so you'll surely find something you like here! The sparkly fairy lights and colourful mini flags definitely add to the lively atmosphere, making the whole experience just that much better.
Location: 111 Moo 5 Pak Kret 39 Pak Kret District, Nonthaburi 11120
Opening Hours: 5pm – 12midnight, Daily
3. Palladium Night Market (Heart of Pratunam)
If you're in Bangkok, you can't miss Palladium Night Market because it's right smack in the middle of Pratunam! There are tons of different options when it comes to shopping for both men & women as well as mouth-watering street food. You won't run out of options here!
Location: 487 Phetchaburi Rd, Makkasan, Ratchathewi, Bangkok 10400, Thailand
Opening Hours: 6pm – 12midnight, Daily
4. Asiatique the Riverfront
You'll know you've arrived at Asiatique The Riverfront when you see their iconic Ferris Wheel with the "Chang" sign and stunning bright lights. This location in particular is extra insta-worthy, as there are many photo taking spots such as the colourful Merry-Go-Round! Although the food here is slightly pricier than other night markets, it is definitely worth the experience!
Location: 2194 Charoen Krung Rd, Wat Phraya Krai, Bang Kho Laem, Bangkok 10120, Thailand
Opening Hours: 4pm – 12midnight, Daily
5. Chang Chui Market Bangkok
Chang Chui Market is a unique one as it houses a big retired Thai Jet right in the middle of the market! It also has many unconventional forms of street art scattered around the place, adding to the quaint atmosphere. They also have a wide range of street food available, and even offer deep fried insects (if you're up for a challenge)!
Location: 460/8 Sirindhorn Rd, Bang Phlat, Bangkok 10700, Thailand
Opening Hours: 4pm – 11pm, Closed on Wed
6. Talad Neon
Talad Neon Night Market is a great place to go if you're on a trip with your family! It is also only a stone's throw away from Pratunam, making it very convenient if you're in the vicinity. From charcoal waffles, to lemonade to even cocktails infused with edible glitter, you won't have trouble finding interesting meal options here!
Location: 1087, 167 Phetchaburi Rd, Makkasan, Ratchathewi, Bangkok 10400, Thailand
Opening Hours: 5am – 12midnight, Daily
7. Artbox Night Market Bangkok
Artbox is a well known container concept Night Market that has even expanded to other countries such as Singapore. Its main focus is on food, so if you really just want to enjoy street food, this is the place for you! However, please note that Artbox does not have a fixed location, so you have to check their latest Facebook posts to get updates!
Opening Hours: 4pm – 12midnight, Daily
8. Rod Fai (Ratchada) – Train Market
This is a smaller (but still very happening) version of Talad Rod Fai at Srinakarin. The one at Ratchada is also a Train Night Market, but is located at a more convenient location for better accessibility! Here, you can definitely still find antiques, snack stalls and lots of trendy clothes!
Location: Ratchadaphisek Rd, Din Daeng, Bangkok 10400, Thailand
Opening Hours: 5pm – 1am, Daily
Read More: 10 Best Breakfast You Have To Try In Bangkok
9. The Owl Market Bangkok
The Owl Market is another night market that is less heard of, but holds many hidden treasures. From lava-filled soft buns to giant meatballs, this place is simply food galore! During festive periods, they even have special events, so do check it out!
Location: 14/87 Thanon Liang Mueang, Bang Kraso, Mueang Nonthaburi District, Nonthaburi 11000, Thailand
Opening Hours: 3pm – 12midnight, Daily
10. Huamum Night Market
Huamum Night Market hosts a special oyster bar which would make a very relaxing place for a date or to catch-up with friends! They have a cafe where hunks are clad in dresses, a stall selling protein & collagen-based smoothies and many other quirky shops for you to explore! There's no lack of chic clothing options available here as well, so what are you waiting for?
Location: 678 Prasert-Manukitch Rd, Lat Phrao, Bangkok 10230, Thailand
Opening Hours: 5pm – 12midnight, Daily
10 Exciting Night Markets near Pratunam, Bangkok!
Night Markets are a must visit while in Bangkok as you can truly experience the Thai culture in terms of food, music, and the arts. Regardless if it's a short vacation with friends/family or a holiday with your significant other, you will not run out of things to do at night markets!
We hope you found this list of 10 Night Markets near Pratunam helpful! Happy exploring!