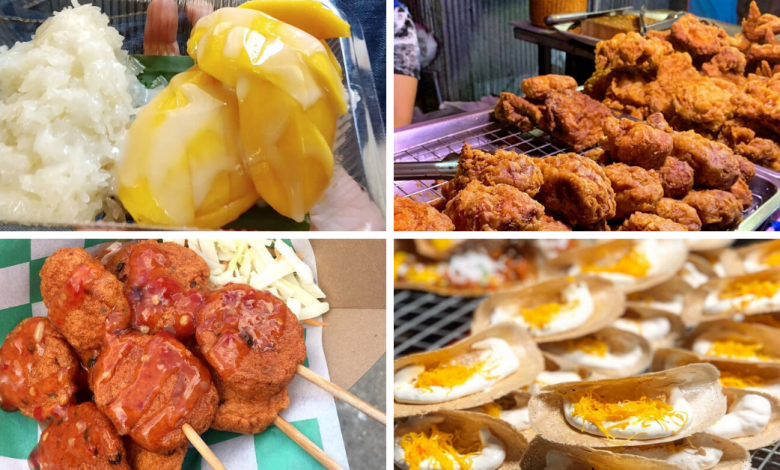 Bangkok's food scene is undeniably a must-try! Even though it is rapidly piling with Instagrammable cafes and fine-dining, what makes Bangkok's food scene so interesting is the street food and snacks! Authentic Thai snacks served straight from street vendors hidden amongst the buzzing city of Bangkok are the best.
10 Street Snacks You Must Try When You Visit Bangkok!
Here is a list of the 10 street snack you MUST try!
1. Gai Tod – Fried Chicken
You must be thinking, "Isn't it just normal fried chicken?". Trust me, Gai Tod is fried chicken on another level. It can't pinpoint what makes it so special, but let me assure you that it is extremely fragrant and tender! Consequently, Gai Tod can be easily found in most Bangkok night markets and even along the streets.
2. Moo Ping – Grilled Pork Stick
Unlike any other ordinary grilled pork skewer, Moo Ping is marinated meat that is flattened so that it can be evenly heated. Therefore, the entire skewer is properly cooked and does not end up too dry or overcooked. Moo Ping is usually marinated with fish sauce, palm sugar, garlic and slathered with special Thai sweet sauce!
3. Tod Mun Pla Krai – Thai Fish Cake
Tod Mun Pla Krai is unlike any other fish cake you've tasted elsewhere. Usually served to you hot straight from the deep fryer with a side of tangy and spicy chili dip, it is probably one of the more underrated street snacks you can find in Bangkok!
4. Kanom Krok Bai Toey – Pandan Cake
Kanom Krok Bai Toey is a green pandan cake made from flour, salt, coconut sugar, and pandan leaves, cooked on an iron griddle. In particular, what makes Kanom Krok Bai Toey so special is its slightly chewy texture. Above all, this bite-sized street snack is easily one of my favorites!
5. Hoy Tod – Oyster Omelette
In brief, what makes the Hoy Tod in Bangkok so different from any other ones you have tried is how it is slightly more starchy yet crisp at the same time. In addition to that, the oysters are also more juicy and plump!
6. Khanom Bueang – Thai Crispy Crepe
This traditional sweet street snack consists of crispy crepe made of rice flour filled with rich meringue and grated coconut shavings! Therefore, if you have the chance to try to fresh ones hot off the griddle, you will definitely fall in love with this traditional street snack.
7. Kanom Kai Nok Krata – Sweet Potato Balls
This well-loved street snack is named after its shape and size that resembles a quail egg. Khanom Kai Nok Krata is actually deep-fried sweet potato balls. In particular, what makes this street snack so special is its crispy texture on the outside and chewy yet airy inner layer. However, this street snack is not commonly found on the streets in Bangkok anymore. Therefore, make sure to grab as many as you can when you chance upon it on the streets.
8. Khao Niao Ma Muang – Mango Sticky Rice
Khao Niao Ma Muang is one of the most iconic street snacks in Thailand! No trip to Bangkok is complete without a taste of this class Thai dessert. Generally, it is served with fluffy glutinous rice served alongside fleshy cheeks of ripe mango and topped off with a generous slather of rich coconut cream syrup. In brief, it is a must-try when you are in Bangkok!
9. I Tim Kati – Coconut Ice Cream
What better way to beat the heat in Bangkok? I Tim Kati is made from Thailand's favorite ingredient, Coconut Milk. Especially creamy and refreshing, this street snack is the best thing you can get on a hot day at Chatuchak Market! Together with a variety of toppings such as sticky rice, corn, and crispy mung beans, I Tim Kati is one of the most popular street snacks in Bangkok! Furthermore, it is easily found in Bangkok so you definitely will not miss out on this delicious dessert.
10. Roti Gluay – Fried Pancake
Freshly fried in front of you, Roti Gluay is extremely sinful but indulgent! This street snack comes in many flavors, but the most popular one is banana with chocolate sauce. Many also opt for condensed milk or just sugar! Be warned this street snack is incredibly addictive, if I may say so myself.
Read More: 10 Things You MUST Try At 7-11 in Bangkok, Thailand
10 Bangkok Street Snacks You Must Not Miss Out!
If you are visiting Bangkok soon, make sure that you try out these 10 street snacks that can be easily found in the countless local night markets! Also, let us know which is your favorite Thai street snack in the comments below!