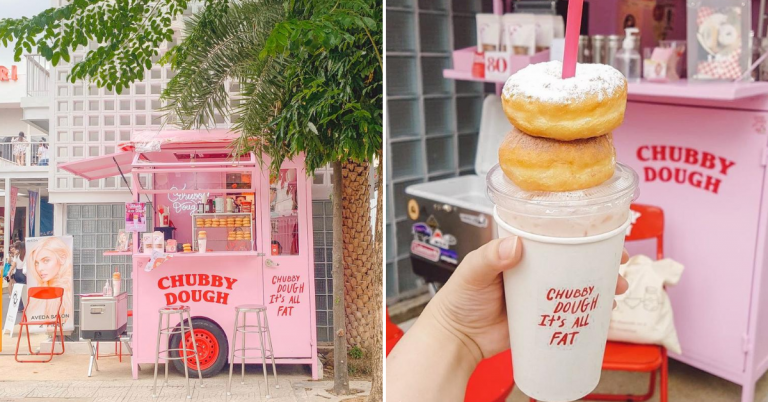 Hello Foodies! While known for its beautiful shrines and floating markets, none of us can deny that Bangkok is also immensely popular for its bustling, atmospheric street markets, where you'll find everything from super-affordable fashion to countless finger-licking delicacies! The newly-opened Chubby Dough is another pop-up shop that cafe hoppers should check out for delicious desserts!
Chubby Dough: A Pink Cart Serves Doughnuts And Milkshakes!
Chubby Dough is a pink cart located in Phaya Thai. Nestled in front of the community space, Gump's Ari amidst the hustle and bustle of all the shop lots in the area, the store offers American-style doughnuts that come with its signature chewy texture and less sweet taste. Moreover, the cart is a perfect spot for you to add to your Instagram feed!
There are various selections of doughnuts to choose from, including Original, Strawberry, Cocoa, and Sweet Potato priced for only at 100THB/5 pieces. We hear their Honey Dougnuts are exceptional too!
Doughnut + Milkshake = Perfect Combo!
Also, don't forget to pair the dessert with milkshakes available in three flavours: Strawberry, Chocolate, and Coffee. The strawberry milkshake is the smash hit, offering a milky sweet taste with a little tangy note from the added strawberry jam. Absolutely perfect combo!
So if you're looking for your next dessert place, to get some snaps with the pink cart for your Instagram collection or just indulge American doughnut, now you know where to go!
Address: 46, 2 Phahonyothin Rd, Samsen Nai, Phaya Thai, Bangkok 10400, Thailand
Operation Hours: 10 AM – 6 PM (Sunday – Thursday); 10 AM – 8 PM (Friday & Saturday)
ALSO, CHECK OUT: This Vintage Cafe Operated By A 70 y/o Lady Is Hidden Behind A Junkyard In Bangkok

–
We would like to invite you to join our New Private Community Group! Here you are free to ask questions, share your love for food, and explore the Bangkok community! We will also regularly post about casual promos and latest findings. Click on the button below and hunt good food with us today!