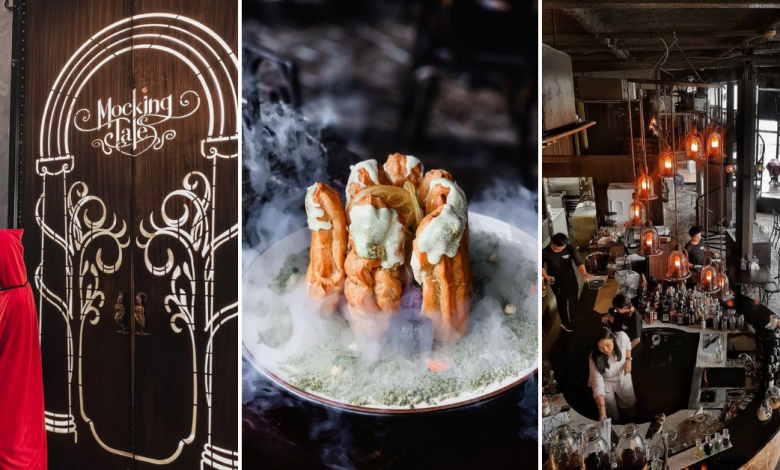 "Once upon a time, in the deep forest, there lived a…….." Almost every fairy tale begins with a mysterious tone, and so is Mocking Tales, but not the most kid-friendly. Today we're bringing you foodies along with us to experience one of the most indulgent and enchanting dining experiences in Bangkok. Think Hogwarts, or even Game of Thrones when it comes to Mocking Tales, a restaurant best known for its mystical, spooky-looking desserts.
Stepping Into Mocking Tales:
Pictures online do no justice when it comes to picturing Mocking Tales. The facade looks more of a dark-themed gift shop than an actual restaurant. You know the scene where Harry Potter picked his wand in Ollivanders, the wand shop? The restaurant does resemble a lot to that. Tip: For a full experience, put on a costume that is available on the left side, behind the front door.
We would highly recommend to come during the evening where the ambiance is a lot dimmer, the experience of one dining in a story book with shining armors, rotten cellar, the mysterious element just gets stronger during the evening.
More: Find Sculptures like Pikachu, Captain America and More at Wat Pariwat, Bangkok!
Bestsellers at Mocking Tales:
Don't be afraid to ask for recommendations from the floor staff, they're experts and will provide suggestions that suit your preference. Or, be like us, just order everything from their bestselling menu.
The Inferno Mountain came looking like a volcano, a chocolate cone with red sauce dripping down. Next thing you know, alcohol is set ablaze and the flaming liquid is poured over, melting down the chocolate. Inside you'll find scoops of ice creams in different colours, paired with chunks of brownies.
As mentioned above, Mocking Tales is not the most kid-friendly place despite its mystical ambiance. Why you ask? Most of their desserts are infused or incorporates alcohol, like the one above and Dragon's Breath. A banoffee tart, milk ice cream and triple sec covered with a cloud of cotton candy and cinammon sprinkled atop. It is then again, flambeed for that over-the-top, Instagram-worthy video and snaps.
Not restricted to these two, Mocking Tales serves a plethora of desserts and cocktails that are the perfect representation of "eat with your eyes first." They have really interesting and quirky names too, just explore the menu.
Did we mention the restaurant also serve equally delectable mains and snacks? There's no need to make an extra trip for a meal before visiting this place. Do check out their social media for limited time promotions and deals.
Verdict:
So is Mocking Tales worth a visit? Definitely. The ambiance itself is enough to convince any foodies to make a trip down here. We will let pictures do the talking and leave it to you to experience this magical place on your own, or with company. Don't forget to share your thoughts in the comments and tag your friends to let them know about this place. Stay safe and have a great one!
Address: Thonglor Rd, Khlong Tan Nuea, Watthana, Bangkok 10110, Thailand
Operating Hour: 11 a.m.-1 a.m. (Daily)
Links: Facebook | Instagram
–
We would like to invite you to join our New Private Community Group! Here you are free to ask questions, share your love for food, and explore the Bangkok community! We will also regularly post about casual promos and latest findings.Click on the button below and hunt good food with us today!