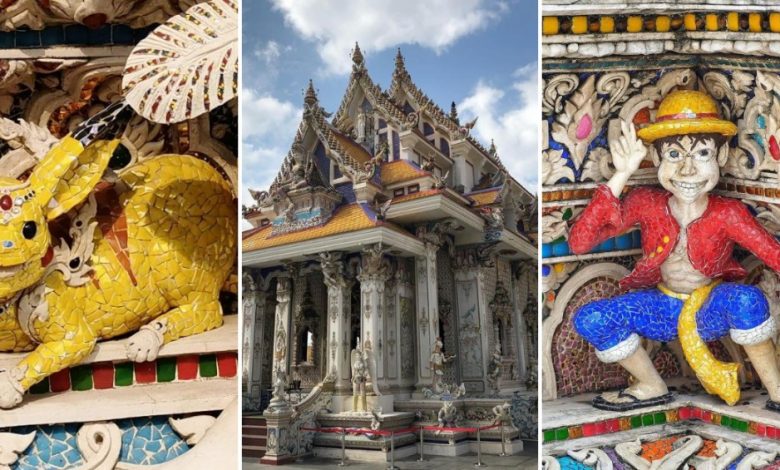 Good day foodies, how are you? While Bangkok is known for their magneficient temples with incredible craftmanships, we couldn't help but to think they're a little…..indifferent at the end of the day. It wasn't until we figured out Wat Pariwat, crowned as one of the most unique temples in Bangkok that changed our perception completely. Here, you could find a plethora of unique modern sculptures like Pikachu, One Piece, Captain America and more! Continue reading to find out more about Wat Pariwat, and let the quest begin.
A Brief Background of Wat Pariwat:
Unlike many other well-known temples that are strategically located, Wat Pariwat is nestled a bit far off the tourist area, along Bangkok's Chao Phraya river. To simplify, the temple houses several structures: a main building that houses a huge Buddha shrine, several smaller buildings for occassions, and an ordination hall with spectacular international, non-conventional sculptures that became the star show of this place.
Also Read: This Spot in Bangkok Lets You Clock in To a 90's Office-Themed Cafe
Unique Sculpture Quest in Wat Pariwat:
Did you know Wat Pariwat is also famously known as the "David Beckham temple?" Thanks to the golden sculpture of Beckham carved during his Manchester United days that could be found somewhere in the temple. Other pop culture figures are also hidden (or not so) in the temple, like Pikachu, Doraemon, Captain America and more. Now that you guys have known about Wat Pariwat, why not visit this temple with someone and challenge them to a sculpture quest? Here's the list of unique figures that could be found:
Obama taking a selfie
Dobby the House Elf from Harry Potter
Falkor the Luck Dragon from NeverEnding Story
A big-breasted bunny with a selfie stick
An elephant-fish hybrid
Captain America
Winnie the Pooh climbing a tree
A Japanese Doraemon figurine
A portrait of Albert Einstein
A mutant panda
A sword-wielding rat warrior
While sculpture quest sounds exciting, don't forget to linger longer to admire its historical sides. The magnificent craftmanship of Wat Parimat is not to be missed out. Their incorporation of modern figures serve as a motive to appreciate and attract the younger generations. Let us know your thoughts in the comments and pay a visit to Wat Pariwat if possible. Don't forget to practice social distancing and stay safe, buh bye!
Location: 734 Rama III Rd, Bang Phong Phang, Yan Nawa, Bangkok 10120, Thailand.
Operating Hours: 8 a.m.-6 p.m. (Daily)
Contact: +66 2 294 7711
We would like to invite you to join our New Private Community Group! Here you are free to ask questions, share your love for food, and explore the Bangkok community! We will also regularly post about casual promos and latest findings.Click on the button below and hunt good food with us today!