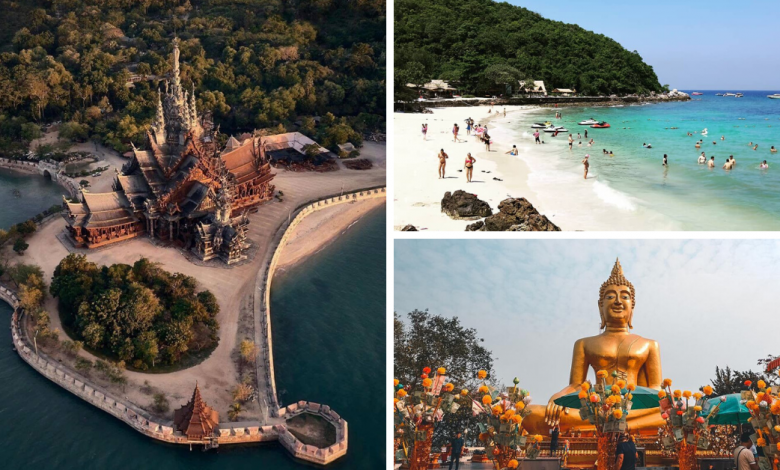 Sawasdee, foodies! Pattaya is no doubt the vibrant coastal city of Thailand that is known for its water sports and nightlife. Even when the sun rises in the east and sets in the west, Pattaya's beaches continue to be filled with life. We all know that there's plenty to do in Bangkok but what about in a coastal city that never sleeps like Pattaya?
10 Things To Do In Pattaya (2020 Guide)
What to do in Pattaya 2020? Here is a list of 10 most interesting things you can do in Pattaya.
Pattaya is no longer just a beach to attract beach-goers and tourists. It is a place for all because there is something for everyone; whether it is couples, families, business travellers, or travel tourists. In the day, the coastal city rides along its waves with water sports and sun worshippers. In the night, the actions moves from street to street with beer bottles clinking and music playing in the air. Check out these 10 things you can do for a fantastic time in Pattaya!
1. Visit The Pattaya Floating Market And Eat Durian
The floating markets in Thailand are among the main attractions of the country. Almost every tourist travelling to Thailand must visit a floating market. For Bangkok's floating market guide, read here. Now, in Pattaya, a city that is along the sea, you can bet that their floating markets are a must see.
Pattaya's Floating Market is great for foreign travellers to Thailand because this market sells plenty of local and South East-Asian fruits that are definitely worth trying. Travellers especially keen on tasting the king of fruits which is the durian, should definitely give it a go. There are plenty of vendors selling durian so it wouldn't be difficult to find!
Pattaya Floating Market
Address: หมู่ที่ 12 451/304 Sukhumvit Rd, Pattaya City, Bang Lamung District, Chon Buri 20150, Thailand
Opening hours: Daily; 9AM-8PM
2. Bring Your Family To The Water Park For A Splashing Good Time
Ramayana Water Park is the largest water park in Thailand and you can bet that it's all non-stop fun because there is so much to enjoy! It is a vast aquatic playground surrounded by natural forests in the Silverlake area, which is south of Pattaya.
This water park features 50 slides, a small lagoon for kids, and a bigger pool area for adults. It is a perfect place for people of all ages because there is something for every age group to do. Kids can enjoy shallow pools and a selection of spray toys. And, adults who want to chill can spend time under private cabanas atop a hill.
Address: หมู่ที่ 7 9 Ban Yen Rd, Na Chom Thian, Sattahip District, 20250, Thailand
Opening hours: Daily; 10AM-6PM
3. Visit The Most Iconic Structure In Pattaya: The Sanctuary Of Truth
Undoubtedly one of the most beautiful structures in Thailand, the Sanctuary of Truth in Pattaya is truly stunning. The entire structure is intricately carved from teakwood and it houses a 105-metre tall hall in its built. This sanctuary is neither a temple nor a palace, it was constructed as an appreciation for philosophy, art, culture, and faith.
As a visual stunner, you can bet that there are plenty of spots to take an insta-worthy shot for your gram'. Whip out your phone cameras and snap away because every inch of this structure is an aesthetic. While you're at it, don't forget to take the time to look, admire, and most importantly, appreciate the entirety of its majestic structure. It is absolutely beautiful, isn't it?
Address: 206/2 หมู่ที่ 5 ถนน Pattaya-Naklua, Bang Lamung District, Chon Buri 20150, Thailand
Opening hours: 8AM-6PM
4. Mesmerise Your Eyes With Neon Street Lights At Walking Street Pattaya
This Walking Street is the biggest and busiest party hotspot in all of Thailand. Aside from certain nightlife spots in Bangkok, the Pattaya Walking Street is buzzing with neon lights and a rockin' nightlife. Travellers will have their eyes glued to brightly lit neon lights that call out to you to eat, to drink, and of course, to party!
Locals and tourists are all busy walking the entire street that is filled with restaurants, bars, massage parlours, and even hotels. There is definitely something that'll catch your eye and whatever it is, go for it! This walking street is also a great picture spot for your gram' because who doesn't like the glow of neon lights, right?
Walking Street, Pattaya
Address: Southern end of Beach Road, South Pattaya
5. Visit A Beautiful Garden And Stretch Your Eyes On Landscapes Of Green
The Nong Nooch Tropical Garden is a beautiful vast landscape of greenery that spans 2.4 square kilometres. The entire area is not only a garden because it has daily cultural shows, restaurants, and even accommodation. But, tourists must take a lovely stroll and visit the different individually themed gardens.
This tropical garden also has a Dinosaur Valley where you can take wonderful pictures of the landscape. A stroll around the botanical garden is almost like walking around the entire world because of its many gardens. Don't be surprised to find a 17th-century French garden, a Stonehenge garden or even, a European Renaissance garden. It is no doubt that this attraction is a visual delight!
Address: 34 Na Chom Thian, Sattahip District, Chon Buri 20250, Thailand
Opening hours: Daily; 8AM-6PM
6. Play Tricks With Your Eyes At A 3D Museum
Looking to capture some great memories…in pictures? This place is perfect for families and friends because everyone will have a blast attempting to set poses in this 3D museum. Art in Paradise is a fun and out of the ordinary take on an art gallery with three-dimensional paintings that'll captivate you.
This 3D museum is very interactive and you'll have to work on your poses! Don't be fooled by the amazing paintings because they're so real! Art in Paradise houses over 100 individual art pieces that cover several different themes. They cover optical illusions, wild animals, nature, and past civilisations. Camera at the ready, strike a pose, and go get that shot for the gram'.
Address: หมู่ที่ 9 78/34 Pattayasaisong Rd, Bang Lamung District, Chon Buri 20150, Thailand
Opening hours: Daily; 9AM-9PM
7. Visit A Buddha Temple And Count Your Blessings
The Wat Phra Yai Temple sits on the very top of Pratumnak Hill with a big and gold Buddha statue glistening over the area. This Buddha statue is 18 metres tall and and is the largest statue in the region. Although this temple is very popular with tourists, there is still plenty to do around it.
There are many wreaths of flowers and burning incense that set the mood for a tranquil visit. The staircase that leads up to the temple has beautifully painted gold dragons that make the whole area picturesque. It's wonderful to look at from the bottom because you get a view of the Big Buddha at the end and it's a perfect shot for the gram'. Count your blessings and leave with happy memories!
Wat Phra Yai Temple
Address: Pratumnak Hill, Pattaya City, Bang Lamung District, Chon Buri 20150, Thailand
8. Go To The Aquarium And Don't Be Afraid To Touch Some Animals
Underwater World Pattaya is a great place for families. There are live feeding times where visitors can watch how sea creatures eat! Visiting the aquarium makes up a perfect family day, doesn't it?
There are plenty of sea creatures and animals that you can see at this aquarium. Underwater World features up to 2,500 marine animals and over 200 species. It'll be a fun learning experience for the kids and…adults are never too old to learn too!
Visitors can witness real-time action as they walk down a 100-metre acrylic tunnel that showcases all different kinds of underwater animals swimming around you. Also, everyone can have a go at feeling the skin of certain sea animals at the 'Touch Pool'. How about touching the skin of a bamboo shark, that sounds exciting, right?
Address: 22 22 หมู่ 11 Sukhumvit Rd, ตำบล หนองปรือ Bang Lamung District, Chon Buri 20150, Thailand
Opening hours: Daily; 9AM-6PM
9. Head To A Miniature Park And Explore The World In 80 Minutes
Mini Siam is a miniature park where travellers can tour the world in just 80 minutes if you're up to speed. But, having a look at iconic landmarks of the world in mini sizes will stop you in your tracks to take lots of pictures! That's right, Mini Siam houses many iconic landmarks in small sizes such as the Eiffel Tower, Tower Bridge, and the Sydney Opera House.
There's so much to see at Mini Siam and it's definitely exciting to see famous landmarks even if it's sized down. This place is great for those who love taking tons of pictures because there is literally so many spots that you'll be spoilt for choice!
The entry to this miniature park costs about THB 250 for adults and THB 120 for children (for foreigners). Thai locals definitely get cheaper rates! So, if you're Thai and you're in Pattaya for the weekend, this is a great hangout spot!
Mini Siam Pattaya Thailand
Address: 387 Sukhumvit Rd, Pattaya City, Bang Lamung District, Chon Buri 20150, Thailand
Opening hours: Daily; 7AM-9PM
10. Fun In The Sun At One Of Pattaya's Most Beautiful Beaches
Yes, we weren't going to mention any of Pattaya's beaches but how can we not when they look amazing? The Coral Islands, or Koh Larn, in Pattaya is one of the region's most beautiful beach. The waters reflect the blue sky and white sand stretches for miles on end. It's absolutely scenic and it's built for a fantastic day in the sun.
This beach is so beautiful that we guarantee that your photos will look amazing no matter where you take your shots! Get your summer bod ready, wear that swimsuit you've always wanted to and put on your sunnies because it's about to get real hot. Fret not, jump into the water because it's cool and it'll leave you refreshed!
The Coral Islands, Koh Larn
Address: Bang Lamung District, Chon Buri 20150, Thailand
Which Of These 10 Things Are You Most Excited To Do?
There you have it, that's our list of 10 most interesting things that you can do in Pattaya. Yes, Pattaya is famous for its nightlife and beaches, but this coastal city never sleeps because there is so much more than meets the eye. What are you waiting for? Book a trip to Pattaya now and enjoy all that this vibrant seaside city has to offer!
–
We would like to invite you to join our New Private Community Group! Here you are free to ask questions, share your love for food, and explore the Bangkok community! We will also regularly post about casual promos and latest findings.
Click on the button below and hunt good food with us today!