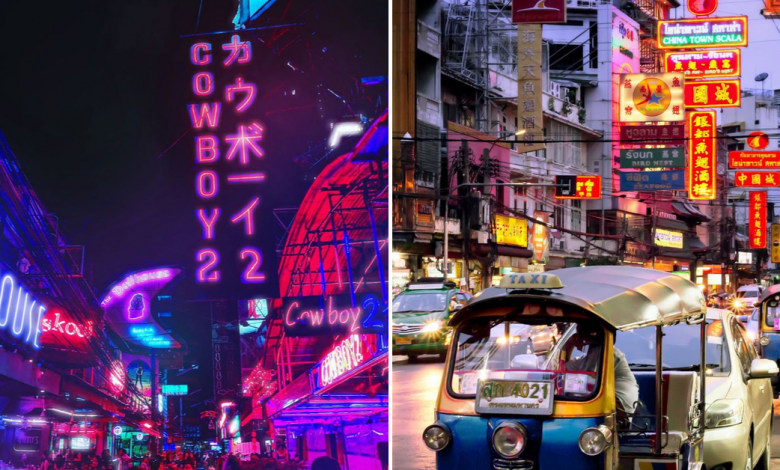 Bangkok is more than just its rich food culture. It is when after the sun sets, that Bangkok city truly comes alive. We are bringing you Top 10 Spots To Get The Best Of Bangkok's Nightlife. You've never really experienced Bangkok until you've explored the nightlife it has to offer. From a highly raved night market by the locals to the top places for bar-hopping, we got you covered!
10 Places You Have To Visit In Bangkok At Night:
1. Rod Fai Market (aka Talad Rod Fai Night Market)
Your Bangkok nightlife experience wouldn't be complete without visiting at least one night market! So why not start with the most authentic one – Rod Fai Market at Srinakarin. This open-air bazaar is famous for its wide variety of vintage collectables and niche items.
The space is separated into 3 different sections, each catering to different needs. If vintage and thrifting is not your scene, you can still stop by to check out the awesome collectables being displayed by the traders in the warehouses.
Rot Fai Market is located behind Seacon Square Shopping Mall. And unfortunately, it is not the most convenient to go there by public transport. It's recommended to take the BTS Skytrain to On Nut Station first, you can then call Grab or a taxi from there.
Address: 51 Srinagarindra Road, Nong Bon, Prawet, Bangkok 10250, Thailand.
Operating hours: 5 pm – 1 am (Thurs – Sun), Closed Mon – Wed.
2. Artbox Bangkok
This iconic metal shipping container market has stepped foot on other countries in Southeast Asia, so how could you not visit the one in Bangkok – it's birthplace?
It's shopping haven here! With the likes of local fashion brands, one-of-a-kind artworks and trendy accessories, you'll be here for hours without even realising it. As one of the trendiest outdoor market in Bangkok, visitors can also enjoy live music in the evening while relishing in amazingly curated creative food.
Address: Chuvit Garden, Sukhumvit 10 Alley, Khlong Toei, Bangkok 10110, Thailand
Operating hours: 4 pm – 12 am (Daily)
3. Yaowarat Road (Chinatown)
You've not really visited Chinatown till you've experience it when night falls. It's pretty spectacular as the streets are flooded with neon lights by the brightly lit sign boards of dated hotels and shops. Certainly, one of the main attraction here is basically to explore the streets for food and also…MORE FOOD!
Besides that, you can hit up a hidden bar or two or even venture into the Tao Lat Market, Bangkok's oldest market. Take a walk through the 200-year-old market that also carries exotic fruits and spices you can't find anywhere else.
Address: 295-297 Yaowarat Rd, Samphanthawong, Bangkok 10100, Thailand.
Additional info: Take MRT Underground to Hua Lamphong Station, then walk for 15 minutes to Yaowarat Road. 
4. Khao San Road
A 1 km-long street lined with cheap hostels and bars – this is the ultimate backpacker's paradise. It's literally jam-packed with tourists from around the world! If you're in the mood for something that's a little more laid-back, Khao San Road is the place to be at.
There are also tons of street vendors selling all types of street food at your disposal. From pad thais to coconut ice creams, you are spoilt for choices! Not only that, there are countless massage parlours you can choose to relax at. Just head on in to anyone will do just fine, since they all offer similar prices for a massage.
Address: Khwaeng Talad Yot, Khet Phra Nakhon, Bangkok 10200, Thailand
Operating hours: Most stalls and bars opens from 6 pm – 4 am (Daily)
Additional Info: Closest BTS stations to Khao San Road are Siam Station, Ratchatewi Station, and National Stadium Station.
5. Thong Lor
Helmed as one of the Bangkok's most well-known entertainment streets, Thong Lor holds several popular sophisticated bars and clubs in the area. If you're feeling a bit more splurge-y, then this is your scene to go bar-hopping at. There are also a wide variety of restaurants serving various cuisines to meet any appetite of the day.
Thong Lor is easily reachable by BTS Skytrain, just stop at Thong Lor station and the adventure awaits you.
If you do chance upon a building with huge gaping holes in it, don't think that it's under construction, it's meant to be that way! Bad Motel – a three-storey shophouse is host to a cocktail bar, restaurant and art space. You have to visit this one-of-a-kind bar when you're at Thong Lor.
Bad Motel
Address: Sukhumvit 55, Thonglor (between Soi 15 and 17, next to J Avenue), Bangkok BTS: Thong Lor
Operating hours: 5 pm – 1 am (Daily).
6. Ekamai
This next spot is really close by to Thong Lor and it's quite similar to it. In the day time, Ekamai has lots of hipster cafes often frequented by Thai youngsters and expats. But at night, it turns into a rather glamorous and more high-end area for bar hopping.
If you don't want break the bank but still want to have a good time at Ekamai, Baan Puen is a great option. Located under the roof of the Ekamai Mall, Baan Puen provides more of a laid-back and relaxed atmosphere for patrons. The drinks and food here are relatively inexpensive and you get to listen to the live band that the owner is in. Baan Puen is perfect for gatherings and just a no-frills kinda night.
Baan Puen
Address: Third Floor, Ekamai Mall, Sukhumvit Soi 63 and Ekamai Soi 10, Bangkok, 10110.
Operating hours: 6 pm – 2 am (Daily)
7. Asiatique
YES, more shopping! This  night bazaar/ shopping mall is not only popular among tourists but also the locals. It's simply a chance to get away from the hustle and bustle of the city for a bit. Don't worry about getting lost here as there's a map indicating each division of the market. You can simply check out the directory map to manoeuvre your way around.
If you're sick and tired of shopping, Asiatique also has a wide range of dining options and entertainment. Enjoy Calypso Cabaret, one of the most renowned cabaret show in Thailand, with your friends. Or simply enjoy the skyline of Bangkok and river breeze by going on a ride on the Asiatique Ferris Wheel.
Address: 2194 Charoen Krung Rd, Wat Phraya Krai, Bang Kho Laem, Bangkok 10120, Thailand.
Operating hours: 4 pm – 12 am (Daily).
Additional info: There's a free boat shuttle service that runs every 15 minutes, between 4 pm to 11 pm.
8. Soi Cowboy
As you stumble upon another street flashed in neon lights, you will realise that this is not just any other street – but a red light district. Come here during a Friday or weekends, and you will get to really witness this street come alive. A scene you won't probably get to see back at your hometown.
One of the more famous red light district in the Bangkok, you can definitely chill out here with your friends. Do be careful of being scammed to pay more for what it's worth and look out for hidden costs!
Address: Sukhumvit Road between Asoke Road and Sukhumvit Soi 23 (Opposite Terminal 21 Shopping Mall)
Operating hours: Most bars open at 6 pm till late. 
9. RCA ( Royal City Avenue)
Looking for a place to dance the night away and shimmy to the latest music? Look no further as RCA is perfect for you. As one of the heart of Bangkok's clubbing scene, RCA has some of the best dance floor in the city. Get your dose of international DJs, local artists and live musicians all gathered here in one spot! So put on your dancing shoes and your best dress, because many of the clubs here do have a fairly strict dress code.
Address: 31 5 Phetchaburi Rd, Bang Kapi, Huai Khwang, Bangkok 10310, Thailand.
Operating hours: Most bars/ clubs open at 8 pm till late. 
Read: 10 Night Markets in Bangkok Near Pratunam
10. Chao Phraya River
Find the large crowd of people and super congested traffic a little overbearing? A dinner cruise along the Chao Phraya River is highly recommended.
Simply enjoy a feast of buffet dinner consisting of both local and international cuisines. All of which comes with a breathtaking riverside view of famous temples and other landmarks all lit up against the dark skies. Most of the cruises also come with music and live entertainment, setting a joyous mood for the night.
There are several different companies offering dinner cruises, depending on your budget.
Which spots are on your must-visit list in Bangkok?
After knowing the top 10 spots to get the best of Bangkok's nightlife, book your ticket and explore all the wonderful night activities you can explore in Bangkok now!