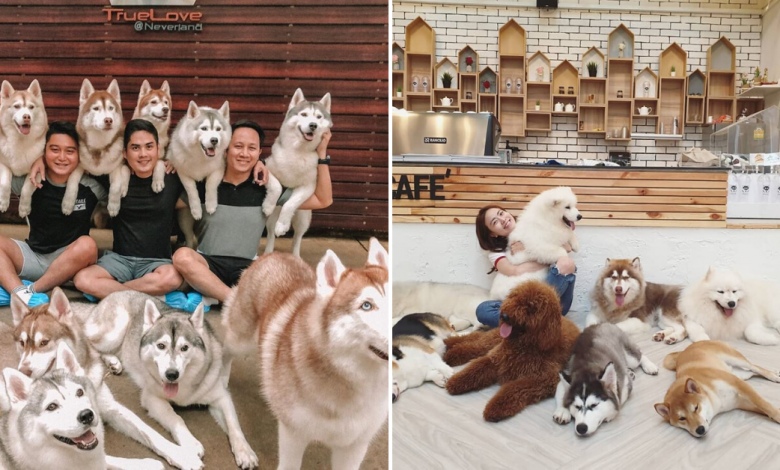 When you're in Bangkok, you can always expect to be surprised by the people's ability to bring something eccentric to the table. In this case, the pet cafes here are vastly different than the ones we've been to. Because it's not just cats and dogs here, but raccoons, meerkats, fennec foxes and more!
Read on to find out which pet cafes you have to pay a visit to when in Bangkok.
Top 10 Pet Cafes In Bangkok With The Most Adorable Animals
1. Rabbito Cafe
First off our list, is this super adorable cafe with fluffy little creatures hopping around at all times. There are more than enough rabbits for each customers to pet and play with. If you sit still, one of them might even hop onto your lap! Seeing these furry cuties is more than enough to put a smile on anyone's faces.
You can literally spend the entire day here as they don't have a time limit for customers. Besides that, their food and beverages are affordably-priced, so you don't have to break the bank to enjoy this little rabbit paradise.
Address: 29-29/1 Sukhumvit Soi 101/1, Di Wavery Community Mall, Bangkok 10260, Thailand.
Operating hours: 12pm – 7pm (Tues – Sun), Closed on Mondays.
2. The Animal Cafe
As one of the more exotic pet cafes in Bangkok, the Animal Cafe is well-known for having animals like caracal and serval cats, fennec foxes and raccoon. If you've never seen any one of these animals, this is your one chance to get up close and personal with them.
Apart from that, you can also take pictures at the Harry Potter-themed first floor of the cafe with googly-eyed owls. Or enjoy a scrumptious meal at the dining area with cats freely roaming around. Better watch out for your food, those little sneaky cats may try to snatch one out of your plate.
Address: 311/2 Sathu Pradit 19 Alley, Chong Nonsi, Yan Nawa, Bangkok 10120, Thailand.
Operating hours: 11am – 9pm (Daily)
3. Caturday Cat Cafe
Calling all cat lovers! This cafe is heaven for you and your favourite furry feline animal. You know you're at the right place when you stumble upon a super cute outdoor setting with a whole cat-theme going on. Once inside, you'll be amazed by the number as well as the variety of cats at this cafe. They are quite playful and lively so you'll definitely get a chance to play with more than just one of them.
Address: 89/70 Phayathai Rd, Thanon Phetchaburi, Ratchathewi, Bangkok 10400, Thailand.
Operating hours: 12pm – 9pm (Tues – Fri), 11am – 9pm (Sat & Sun), Closed on Mondays.
4. True Love at Neverland
Who would have known in a city as hot and humid as Bangkok has a place filled with Siberian Huskies? Well, I guess anything can come true in 'Neverland'. Jokes aside, this husky cafe is widely known in Bangkok. Don't worry, the dogs here are truly taken care of with ample air-conditioned air and cold water to cool them off in the hot  weather. A huge space right next to the cafe is allocated for both the dogs and customers to interact freely.
There is a 500 baht entrance fee that comes with a free cake and drink. You can't reserve or book a slot for visiting time. Their ticket counter opens at 10:30am and it closes when all tickets of the day are sold out. So it's best for you to arrive as early as possible to snag yourself a chance to meet these lovely siberian furries.
Address: 153 Soi Ari Samphan 2, Samsen Nai, Phaya Thai, Bangkok, Thailand.
Operating hours: 12pm – 5pm (Daily); 2 session per day – 12:30pm & 3:30pm
Link(s): Facebook
5. Little Zoo Cafe
Imagine corgis and their big bread-like butts shaking around…pretty sure that alone has put a smile on your face. Now you can see a bunch of them at this cafe! Be real careful as you pet and snuggle these fluffy babies in your arms, because you might end up wanting to take one home in the end of the day.
Apart from corgis, Little Zoo has other animals for you to interact with as well! With the likes of parakeets, guinea pigs, racoons, fennec foxes and more. There's even a separate room filled with precious little meerkats that crave for your attention and soft pats.
Address: 424/7 Siam square, Rama I Rd, Pathum Wan District, Bangkok 10330, Thailand.
Operating hours: 11am – 8pm (Daily)
6. Big Dog Cafe
You know the saying, "Go big or go home." Well, this cafe certainly went full on with the first part of the saying.
Extremely cuddly big dogs are here to make your day as they slobber all over you while you nuzzle against their huge furry body. Besides huskies, there are rare breeds here such as the Alaskan Malamute and Chow Chow for you to pet and play with. Don't be scared as these bear-like dogs tower over you when they stand up!
Make sure to call beforehand and reserve a spot as they have specific timings that you can enter!
Address: 82 Ratchadaphisek Rd, Huai Khwang, Bangkok 10310, Thailand.
Operating hours: 9am – 10pm (Daily)
Contact no.: +66 95 259 2392
7. Dog In Town
Nestled in an area filled with hipster cafes and trendy bars, Dog In Town definitely stands out. Not only because of its glass house concept, but also tons of freely roaming doggies in the cafe. The entrance fee to enter the cafe is 300 baht but it comes with a free drink of your choice.
Enjoy a cuppa in the minimalist-inspired space with a furry friend sleeping by your feet. Playtime is held on the grass land outside during the day as well, so you're able to play and run around with the dogs at a much bigger space.
Address: 16/1 Ekkamai Soi 6, Klongton-Nua, Wattana, Bangkok, Thailand 10110.
Operating hours: 11am – 8pm (Sun – Thurs), 11am – 9pm (Fri & Sat), Closed on the 3rd Tuesday of every month
Link(s): Website | Facebook | Instagram
8. HOPs Dog Cafe
Yes, it's another dog cafe. But how can you ever get sick of seeing their cute faces with large, watery eyes. In HOPs Cafe, there are about 7 different types of dogs laying around at all times. Pick your favourite breed and remember to take some adorable pictures of them! Get your sweet tooth cravings fixed here. A wide variety of desserts are offered AND they're adorably decorated too!
Address: 458, 458/1 Siam Square Soi 8, Khwaeng Pathum Wan, Pathum Wan District, Bangkok 10330, Thailand.
Operating hours: 11am – 9pm (Tues – Fri), 10am – 9pm (Sat & Sun), Closed on Mondays.
9. Coffee & Puppy
Next up, if you're a serious foodie looking for real good food but also want to hang out with adorable creatures – come dine at Coffee & Puppy. Besides the two Promenarian which belongs to the cafe's owner, the other dogs are brought along by the customers themselves. So be prepared to meet all kinds of dogs at this cafe!
They even have a dog menu so that all furry friends that are brought here can feast on deliciously curated meals as well.
Address:36 3-4 Chaeng Watthana Rd, Thung Song Hong, Lak Si, Bangkok 10210, Thailand.
Operating hours: 11am – 9pm (Sat & Sun), Closed on Weekdays.
10. Pooltime Cafe
This swimming pool inspired cafe is much more than it looks. From the outside, it looks like a really instagrammable cafe, but lo and behold, 3 mischievous raccoons are waiting for your arrival inside.  Although these raccoons are domesticated and tame, they can't help their natural playful instinct from getting out. You're actually advised to keep your jewelleries away from them during playtime!
*NOTE* Pooltime Cafe is currently relocating to a new shop, do look out for updates at their FB or Instagram.
These Pet Cafes In Bangkok Are Truly Worth The Hype
That rounds up the top 10 pet cafes in Bangkok that you have to experience at least once in your lifetime! Where else can you find fennec foxes sleeping on your lap or serval cats hopping onto your back. So head on to any one of these pet cafes for the ultimate pet experience. But remember, pet-lovers or not, do remember to respect the animals and their spaces!
Read more: 10 Crafted Beer Spots For The Perfect Hop-py Endings In Bangkok
–
We would like to invite you to join our New Private Community Group! Here you are free to ask questions, share your love for food, and explore the Bangkok community! We will also regularly post about casual promos and latest findings.
Click on the button below and hunt good food with us today!