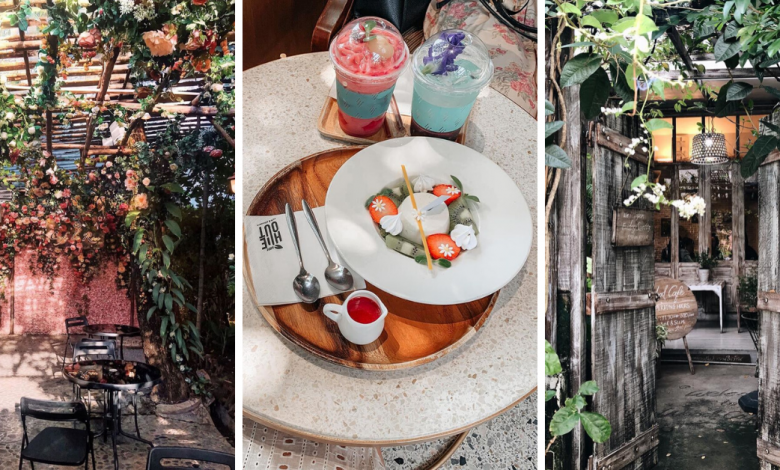 Hello, cafe-hoppers! There is a saying that goes, "work hard, brunch harder", and no truer words have been said. Without a doubt, brunch is always a good idea. Nothing comforts the heart like a lazy Sunday brunch with the girls, am I right? Well, ring your gal pals now because we've got 12 brunch spots for you to try in Bangkok. Plus, these cafes are super Instagrammable so it's a complete brunch with stunning photos for the gram' too.
12 Gorgeous Floral-Themed Cafes You Must Visit In Bangkok
1. Kinn Kaffe & Craft
Nestled in Chatuchak, Kinn Kaffe & Craft will satisfy all your coffee cravings because their brews are delicious. Another plus point, they serve plenty of yummy cakes! Coffee and cakes? Name a better duo – we'll wait. Must-try: Romeo & Juliet (it's their signature drink and it comes with KitKat!) and their Coconut Cake (made with real coconut meat!). Aside from serving Instagram-worthy delectable desserts, their interior space looks amazing that you'll have a hard time choosing a spot!
Address: 6/22, Soi Ladprao 25, Chan Kasem, Chatuchak, Bangkok 10900, Thailand
Opening hours: Monday, Tuesday, Friday, 11AM – 7PM; Saturday & Sunday, 10AM – 7PM; Closed on Wednesday and Thursday
Link(s): Facebook
2. Floral Cafe @ Napasorn
If you happen to be visiting Bangkok's famous 24-hour flower market, you must visit this secret hidden cafe that houses an enchanting floral space. It is absolutely lovely and our eyes can't get enough of how stunning it looks from every corner! Here's a fun fact: this place changes it's floral decor according to the four seasons. This can only mean one thing..that it's time to book a flight ticket to Bangkok every quarter when the seasons change!
Address: 67 Chakkraphet Rd, Wang Burapha Phirom, Phra Nakhon, Krung Thep Maha Nakhon 10200, Thailand
Opening hours: Daily, 10AM – 10PM
3. Baker x Florist
This cafe is more than just your usual brunch experience, because you can have a little cosy picnic with your girlfriends! Drop by Rama 9 lane and we are absolutely certain that you won't miss it because your eyes will spot a ton of beautiful floral arrangements at the cafe's facade. Here are a couple of things you should try at this cafe: Autumn Branch (latte), Ruby Rose (mocktail), and Salmon Steak Caper Sauce with Mashed Potatoes (main). Also, don't forget to try their delectable cakes!
Address: 66 ถนน พระราม 9 ซอย 41 Suan Luang, Bangkok 10250, Thailand
Opening hours: Weekdays, 6AM – 6PM; Weekends, 8AM – 8PM
4. Little Hideout
Little Hideout is a perfect cafe for a lazy Sunday brunch with your friends or family. This cafe boasts a cosy and comfortable environment with really aesthetic interiors. Besides making a trip over here for their delicious food and smoothies, most of your time will be spent taking Insta-worthy pictures! Must-try: Ispahan Smoothie, Banoffee Bar, Millefeuille Hazelnut, and Fondant au Chocolat. They've got plenty of mouth-watering desserts that you'll be spoilt for choice but don't leave without at least trying one of them!
Address:  172 Chim Phli Rd, Chim Phli, Taling Chan, Bangkok 10170, Thailand
Opening hours: Tuesday to Friday, 9AM – 6PM; Weekends, 11AM – 7PM; Closed on Mondays
5. Flower in Hand by P
Aside from being a floral shop, Flower in Hand by P is also a botanical cafe where one can enjoy a cuppa coffee or tea surrounded by fresh-smelling flowers. Because flowers are not only for gifting, they've managed to incorporate real flowers as an ingredient into their food as well. Head on over to their cafe and expect to be delighted with floral-infused cakes, cookies, and other sweet treats! Also, check out their floral bouquets here if you're interested in buying some gorgeous flowers.
Address: Royal Park, Samsen Nai, Phaya Thai, Bangkok 10400, Thailand
Opening hours: Daily, 10AM – 6PM; Closed on Mondays
6. Too Good For You
Of stunning floral wall arrangements and pink neon lights, Too Good For You is a cafe that definitely looks too good to be true. It's no doubt that locals from Thailand as well as tourists from all over the world flood to their cafe for a photo opt. This is simply because their interior space is so gorgeous! We are not exaggerating when we say that their flower wall is all of your floral dreams come true. In addition, their food and drinks look too pretty to eat. Must-try: Hey Rosie! and TGFY's Signature Creamcheese!
Address: Unit #OS 005, 388 Rama I Rd, Pathum Wan, Pathum Wan District, Bangkok 10330, Thailand
Opening hours: Friday to Sunday, 10AM – 9PM; Closed on all other days
7. Wood Cafe
Like its name suggests, Wood Cafe has a naturesque vibe with their wooden furnishings and wooden structure. Nothing brings you back to the forest like wood-floored panels and door shutters, am I right? Grab a brunch date here for a rustic meal time with your friends and spend some time leisurely catching up. Before you leave, be sure to take some pictures for the gram' because there are so many cute corners for you to choose from. Nonetheless, pick any spot, snap away and we have no doubt your picture will turn out looking great!
Address:  Soi Lat Phrao Wang Hin 48, Lat Phrao, Bangkok 10230, Thailand
Opening hours: Friday, 11.30AM – 8.30PM; Saturday & Sunday, 11.30AM – 9PM; Closed on all other days
8. Café La Rose
Say it with us: florals! florals! florals! If the rose happens to be your favourite flower, well then, we have great news for you. Cafe La Rose is definitely your go-to place for your rose dreams come to life. This cafe spared no expense in decorating their space with tons of colourful roses! It is a feast for your eyes and your tummy as well because their food looks equally beautiful. Must-try: Chocolate Lava Cake, Rose Bouquet Ice Cream with Egglet Waffle, and Rose Gelato. Time to look at pretty roses and also indulge in edible roses!
Address:  66 Phibun Wattana 10, Samsen Nai, Phaya Thai, Bangkok 10400, Thailand
Opening hours: Daily, 11AM – 10PM; Closed on Mondays
9. Organika House (Spa & Cafe)
Organika House is a Victorian-looking cafe that pretty much soothes the soul with its white and green-colored interiors. This cafe prides themselves on offering a one-of-a-kind experience to Bangkok crowds in a comfortable and friendly yet luxurious ambience. This stunning tea room also serves incredible-looking cafe food that will tantalise your taste buds. Here are some of the dishes that you should try: Smoked Salmon Eggs Benedict, Chilled Angel Prawn, Buttermilk Pancake and Whole Apple Crumble. For a list of their full menu, view here.
Address: Siam Square Soi 7, Pathum Wan, Pathum Wan District, Bangkok 10330, Thailand
Opening hours: Daily, 10AM – 10PM
Link(s): Website, Facebook, Instagram
10. Patom Organic Living
Located in the Thonglor neighbourhood, this cafe set in a lush green landscape provides you with an escape from the busy streets of Bangkok. More than just a cafe, you could say that Patom Organic Living is a movement and a lifestyle. This cafe prides themselves in sourcing the highest quality of ingredients from local organic farmers, essentially bringing the freshest of what the farms have to offer to your plate. Don't miss out on their appetising traditional Thai desserts while you're here because they are both yummy and healthy for you!
Address: 9, 2 Phrom Phak Alley, Khlong Tan Nuea, Watthana, Bangkok 10110, Thailand
Opening hours: Daily, 9.30AM – 6PM; Closed on Mondays
11. Mitta Cafe
It is a bright sunny day in Bangkok and you've got time to spare, so, where do you go? We've got just the place for you – Mitta Cafe. This cafe is perfect for those of you looking for some downtime. Their ambience is super relaxing because this place is filled with shady trees, plants and flowers. Got a couple of hours to spare? Take a seat, order a cuppa coffee and enjoy a slice of cake. We are certain that it'll be a lovely afternoon whether you are dining solo or with some gal pals for catch up sesh at this naturesque cafe.
Address: 520 ถ. พระราม 2 ตำบล แสมดำ Bang Khun Thian, Bangkok 10150, Thailand
Opening hours: Daily, 8AM – 5PM
12. The Blooming Gallery
This cafe called, The Blooming Gallery, features a picturesque floral ceiling that will delight your eyes. The ceiling is not the only thing that is pretty here because they have delicious food and drinks to boot. More commonly known as a floral cafe in the Thonglor district of Bangkok, this cafe also happens to be a bar. Must-try food include: Morning by the Blooming Garden, The Duck Pond, The Wood Lane (dessert), and Rose Bush (dessert). Bonus: they've got plenty of Insta-worthy corners for a great photo opt for the gram'.
Address: 8 ทองหล่อ 88/1 Thong Lo 8 Alley, Khlong Tan Nuea, Watthana, Bangkok 10110, Thailand
Opening hours: Daily, 10AM – 10PM
Link(s): Website, Facebook, Instagram
Which Cafe Are You Excited To Visit?
That's the end of our 12 must-visit floral and forest-themed cafes in Bangkok. There are so many cafes to explore in Bangkok but this narrows your list down to the most Instagrammable ones! Take a break from your hectic work week, and schedule a brunch date with the gals to catch up on some gossip. After all, nothing bonds girlfriends than trying to get that perfect shot for the gram'.
Also read: The Commons Saladaeng: 7 Spots To Eat At The Most Hipster Ground In Bangkok
–
We would like to invite you to join our New Private Community Group! Here you are free to ask questions, share your love for food, and explore the Bangkok community! We will also regularly post about casual promos and latest findings.
Click on the button below and hunt good food with us today!