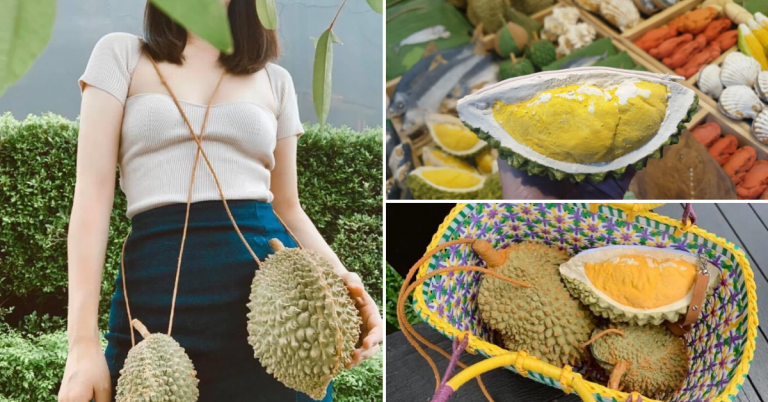 Hi, there foodies! Today, let's put aside food deals and take a short trip down this particular iconic food lane. Durians are a common sight on our dining table but what if you could bring them anywhere you go? A shop in Thailand is selling realistic durian bags and purses that have been making their rounds on social media lately. Keep reading to find out more about this viral bag!
Creative Durian Bags Made Into Fashion
The durian bags and pouches from Farmrak come in all shapes and sizes. Just like the original fruit, you can buy several durians whole or the sliced version. These purses seem big enough to fit in your wallet, keys, and phone which makes it convenient for casual hangouts and shopping!
The sling bags costs THB390 (RM54), while the purse costs THB990 (RM137). Delivery fees start from THB354 (RM49) onwards depending on the postage weight.
Fruits And Fishes Mimic Bags!
If you are not a durian fan, not to worry, the Thai shop also carries a variety of realistic fruits and vegetable designs. It seems that Durian isn't the only thing that you can add to your upcoming prank menu!
Address: สวนจตุจักร Kamphaeng Phet 2 Rd, Chatuchak, Bangkok 10900, Thailand
Opening Hours: Wed to Thurs, 7:00am to 6:00pm; Fri, 6:00pm to 12:00am; Sat to Sun, 9:00am to 6:00pm
Contact Number: +66 2 132 1888
Chatuchak Market also has stalls that offer several bags designed to mimic fruits, seafood, and vegetables. Make sure to find them the next time you make a visit or get in touch with the merchant on Instagram.
Also Read: NEW: This Garden-Themed Cafe Has A Beautiful Glasshouse, Bean Bag Room And A Train
–
We would like to invite you to join our New Private Community Group! Here you are free to ask questions, share your love for food, and explore the Bangkok community! We will also regularly post about casual promos and latest findings. Click on the button below and hunt good food with us today!