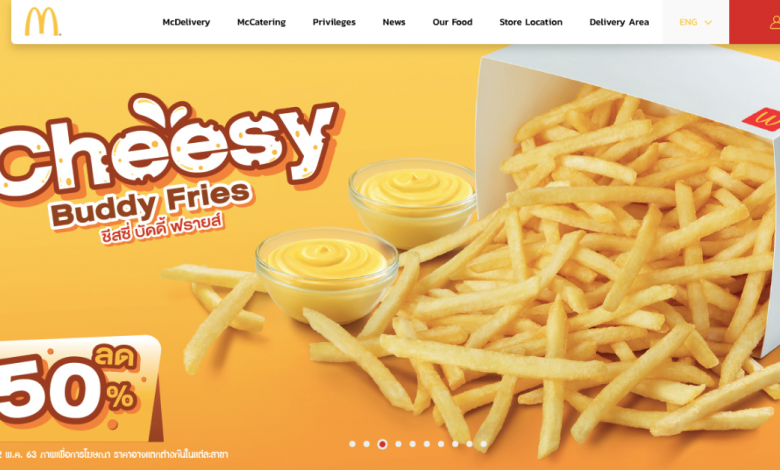 TL;DR
McDonald's Thailand is offering 50% off Cheesy Buddy Fries.
Customers can now get Cheesy Buddy Fries at THB 79 only.
Available from 27 March 2020 – 12 May 2020.
Applicable for home service, drive-thru, and McDelivery.
Sawasdee, foodies! Happiness is French fries. Okay, no one really said that but we can all agree that it's true. More specifically, happiness is…McDonald's French fries. And, that brings us to the real reason you're here, so here goes: McDonald's Thailand is offering 50% off for their Cheesy Buddy Fries for over a month long!
Get McDonald's Cheesy Buddy Fries At 50% Off For Only THB 79 From 27 March To 12 May 2020
Bad days are best forgotten over French fries and, no truer words have been said. If you are having a bad day, it just got a whole lot better because now you can enjoy Cheesy Buddy Fries at 50% off. Bigger than before, you get more fries and more cheese, for half the original price. What a great deal!
You can not get your Cheesy Buddy Fries at THB 79 only. Moving onto more good news, this amazing promotion is applicable for home service, drive-thru and also, McDelivery. So, that means you can have delicious French fries delivered straight to your doorstep! Wait no more – get some fries and satisfy all your fast food cravings!
Don't Forget To Try McDonald's Thailand New Lychee Sakura Desserts
Looking for a perfect ending to your meal? Look no further – try their Japanese-inspired Lychee Sakura drink and ice cream! Available for a limited time only, these two new menu items are limited edition so be sure to try them before it's gone. It's pink, it's pretty and we bet that it's delicious! What are you waiting for? Get your Cheesy Buddy Fries now and enjoy! Bye for now!
Also read: Starbucks Thailand Now Has Chocolate Pudding In Sleek Minimalist Black Cups
–
We would like to invite you to join our New Private Community Group! Here you are free to ask questions, share your love for food, and explore the Bangkok community! We will also regularly post about casual promos and latest findings.
Click on the button below and hunt good food with us today!