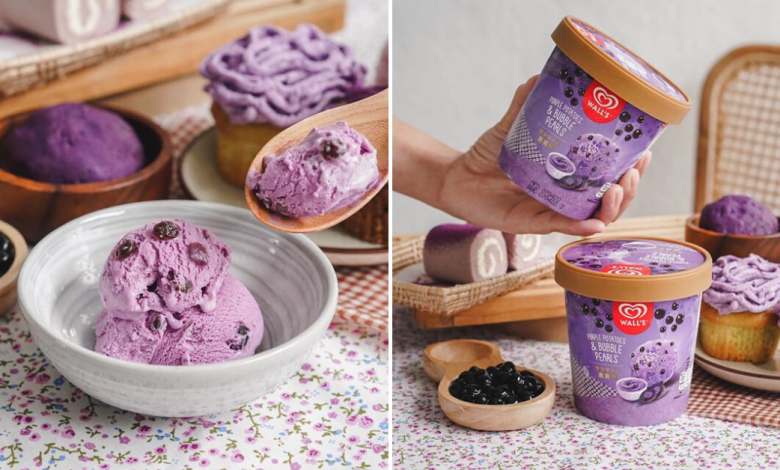 Hello Foodies! The boba craze has been around for so long, we thought that the phase will end soon. Guess we were wrong because this new version of the beloved beverage could be an upgrade of the previous craze!
Ice Cream For Hot Sunny Days
Recently, Bangkok's popular ice cream brand, Wall's, introduces its latest twist to our beloved street beverage. This Japanese Purple Potato & Bubble Pearls ice cream might just be your go-to dessert on a tropical hot day. Just walk over any mall near you and get your pint of ice cream now for only ฿79. However, you can also just order it online, or buy it from your usual ice cream tricycle.
Open the lid and you will find generous dollops of boba. Cooldown your body with the smooth milky ice cream and experience the joyful chewy boba bouncing in your mouth. Don't worry, it's sold all over the country so you can find this Insta-worthy dairy delight literally anywhere.
A Delight To Your Palate
This new concoction is sure to bring delight and become a much-needed mood-booster for us in this dire era. Do not lose hope yet and hopefully, it will pass soon. If you get the chance to taste this festive beverage, make sure to tell us your opinion in the comment section below!
Read More: Stranded Tourists Show Their Appreciation For Thailand's Warm Hospitality During COVID-19
–
We would like to invite you to join our 
New Private Community Group
! Here you are free to ask questions, share your love for food, and explore the Bangkok community! We will also regularly post about casual promos and latest findings.
Click on the button below and hunt good food with us today!