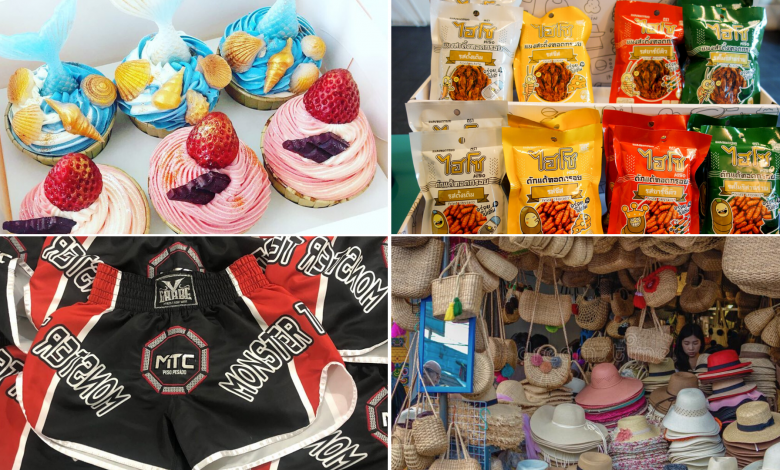 When in Bangkok, you will find many interesting and cheap things. So how do you know what to bring back as a souvenir? This list includes 10 souvenirs you must get in Bangkok!
10 Souvenirs To Buy In Bangkok!
1) Instant Pad Thai
If you've tried Pad Thai, you would know just how good it is! It is definitely something you should bring back and share with your friends and family! Good news is, you can easily find instant Pad Thai at convenience stores and supermarkets.
2) Accessories
Accessories can be found as cheap 22 baht in Bangkok, especially at night markets! They have a mix of more traditional earrings as well as quirkier ones, so you can take your pick! These would make great gifts to the ladies (or men) in your life!
3) LePan Banana
If you like Tokyo Banana, you're going to love Lepan Banana! It's Thailand's version of the sweet snack and is much cheaper in comparison. However, if you haven't already tried this, we really recommend you do! Its light yet creamy consistency is super addictive.
4) Soaps and Spa Products
Thought those cupcakes were edible? We thought so too. Those are actually soap! With the variety of shapes and scents, you're sure to find something that reminds you of a friend or family member! Of course, they also have the phallic ones that you always see on Instagram. But whether or not to get that, we'll leave it up to you!
5) Packaged Fried Insects
We can already see how this one would be a great conversation starter. Fried insects aren't a new concept in Thailand in fact, they're something you'd commonly see in the markets there. If you have curious friends who are also scared to try these, you could get the flavoured ones to ease the experience!
6) Handmade Bags
Handmade bags are normally on the pricier side, but in Bangkok, you can snag one for a relatively cheap price! Some bags have special details on them or certain colourways that make them extra unique. You could even get a matching bag with your Friend since it's not very expensive!
7) Durian Chips
Not everyone will like Durian, but it's something that everyone should try at least once! If you're not a fan of the mushy texture, you can find it in chip form all over Bangkok. This is another thing we highly recommend because they're really crispy and fragrant!
8) Phone Cases
Phone cases are another gift that don't cost much and have a lot of variety! They don't take up much baggage space and everyone will find a use for it because, who doesn't use phone cases? From phone cases with your favourite cartoon characters to squishable phone cases, you name it, you've got it.
9) Instant Green Curry
Green Curry is a must-try in Bangkok. For friends who love the taste of it or those who have yet to try the dish, this would be a perfect gift! However, it is a paste and requires to be cooked with other ingredients, so do take note of that.
10) Muay Thai Shorts/Boxers
Muay Thai is a big thing in Thailand and even in other parts of the world! For friends who play the sport or are interested in Muay Thai, these shorts would be a great gift! Even if they haven't heard of the sport, these shorts are very comfortable and look cool, so we're sure they would appreciate it anyway!
Read More: New Guide: 10 Local Eats Not To Be Missed In Phuket
10 Souvenirs To Buy In Bangkok!
That concludes the list of 10 souvenirs you should get in Bangkok! We hope you found this list helpful as we tried to keep the pricing of these souvenirs relatively affordable. Do let us know in the comments if you end up buying any of these things! Happy Shopping!